So I wanted to talk about two Pokemon in particular that I've been enjoying quite a bit:
Venomoth @ Buginium Z
Ability: Tinted Lens
EVs: 252 SpA / 4 Def / 252 Spe
Timid Nature
- Quiver Dance
- Bug Buzz
- Sludge Bomb
- Sleep Powder / Roost
Venomoth is easily one of the most dangeorus sweepers right now. It's able to setup on virtually every Fairy-type and lost two key offensive checks in Entei and Darmanitan. Each of the new drops can't really handle it with the lone exception of Scarf Flygon (not all that good rn imo) Once Venomoth gets off a Quiver Dance, there aren't many teams that can fend it off. The severe lack in good Scarfers above base 90 Speed, less priority users, and more common defensive Fairies with the additions of Flygon and Kommo-o all contribute to Venomoth being an insanely good wincon for offense / bulky offense teams. Savage Spin-Out is insanely powerful with Tinted Lens backing it; capable of OHKOing Kommo-o from full with just a single boost. Sludge Bomb is mandatory to hit bulky Waters and Kommo-o should you have to use the Z-move on something else as the 30% poison chance can let you break them. Sleep Powder creates setup chances for Venomoth and, in particular, lets it 1v1 Mantine if its Z-move is expended already. Roost is still nice against fatter teams or teams that try weakening Venomoth into KO range of certain priority. Overall, it's a pretty easy Pokemon to set up and if you're wanting a wincon for more offensive teams, look no further.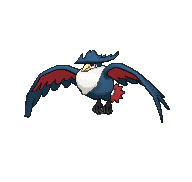 Honchkrow @ Life Orb / Flynium Z
Ability: Moxie
EVs: 252 Atk / 4 SpD / 252 Spe
Adamant Nature
- Brave Bird
- Sucker Punch
- Superpower
- Steel Wing / Pursuit / Mirror Move
While it's not as easy to support as Venomoth, it's still very worth your time to support Honchkrow as it's a very powerful force in the meta. Brave Bird, Sucker Punch, and Superpower smacks around most of the tier for heavy damage. Steel Wing is the primary option to shut down Diancie and to KO weakened Rock- and Fairy-types without resorting to Brave Bird (recoil) or Superpower (stat drops) Pursuit can be nice to catch fleeing opponents on the way out, particularly with the Flynium Z variant since Steel Wing loses a lot of power without Life Orb. Mirror Move is exclusively an option for the Flynium Z set as it gives Honchkrow an instant power boost on something it forces out or a Pokemon that simply can't harm Honchkrow. Adamant is almost always preferred for the boost in power, but note that Jolly is certainly an option as quite a few Pokemon aim for Adamant Honchkrow as a Speed benchmark. Note that only Life Orb variants can really afford to use Jolly as the Flynium Z variant needs all the power it can get. As for which variant to use, Life Orb is preferred as it keeps your Z-move open to something else on the team to use (examples include Flygon, Venomoth, etc.) but should your team not end up having a Z-move user, then it's a perfectly usable option. While Flynium Z Honchkrow fares much better against bulkier teams that rely on Brave Bird and Life Orb recoil stacking up too quickly for it, the Life Orb variant has a much stronger matchup against offense and bulky offense teams where Sucker Punch is needed on multiple targets and you may not always be able to get the chip damage you need for the Flynium Z variant to KO them.