always forever









Moderator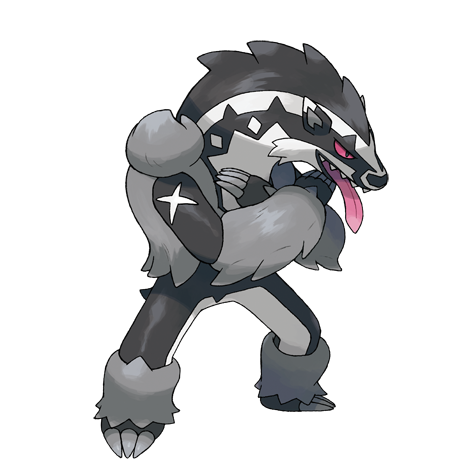 Base Stats:
93 HP | 90 Atk | 101 Def | 60 SpA | 81 SpD | 95 Spe (520 BST)
Abilities:
Reckless | Guts | Defiant (Hidden Ability)
[Notable Moves]
- Brick Break
- Bulk Up
- Close Combat
- Double Edge
- Facade
- Fire Punch
- Gunk shot
- Hone Claws
- Ice Punch
- Knock Off
- Low Kick
- Obstruct
- Parting Shot
- Seed Bomb
- Stomping Tantrum
- Thunder Punch
- X-Scissor
- Body Press
- Counter
- Dig
- Iron Tail
Level Up Moves:
- [00] Night Slash
- [01] Night Slash
- [01] Switcheroo
- [01] Pin Missile
- [01] Baby-Doll Eyes
- [01] Tackle
- [01] Leer
- [01] Sand Attack
- [01] Lick
- [09] Snarl
- [12] Headbutt
- [15] Hone Claws
- [18] Fury Swipes
- [23] Rest
- [28] Take Down
- [33] Scary Face
- [38] Counter
- [43] Taunt
- [48] Double-Edge

TMs:
- [TM07] Pin Missile
- [TM08] Hyper Beam
- [TM09] Giga Impact
- [TM14] Thunder Wave
- [TM15] Dig
- [TM16] Screech
- [TM21] Rest
- [TM23] Thief
- [TM24] Snore
- [TM25] Protect
- [TM26] Scary Face
- [TM27] Icy Wind
- [TM31] Attract
- [TM33] Rain Dance
- [TM34] Sunny Day
- [TM36] Whirlpool
- [TM39] Facade
- [TM40] Swift
- [TM41] Helping Hand
- [TM47] Fake Tears
- [TM53] Mud Shot
- [TM57] Payback
- [TM58] Assurance
- [TM59] Fling
- [TM65] Shadow Claw
- [TM76] Round
- [TM79] Retaliate
- [TM85] Snarl
- [TM98] Stomping Tantrum

TRs:
- [TR01] Body Slam
- [TR04] Surf
- [TR05] Ice Beam
- [TR06] Blizzard
- [TR08] Thunderbolt
- [TR09] Thunder
- [TR20] Substitute
- [TR26] Endure
- [TR27] Sleep Talk
- [TR31] Iron Tail
- [TR33] Shadow Ball
- [TR37] Taunt
- [TR38] Trick
- [TR42] Hyper Voice
- [TR59] Seed Bomb
- [TR73] Gunk Shot
- [TR77] Grass Knot
- [TR85] Work Up
- [TR95] Throat Chop
- [TR99] Body Press

Egg Moves:
- Parting Shot
- Quick Guard
- Knock Off
[New Moves]
Obstruct

16 PP
- Accuracy (the effect is used on itself so it never misses)
It is a Protect move that also lowers the defense of the opposing Pokemon by two stages when hit with a contact move.
Body Press

(Contact Move)
80 BP
100% Accuracy
16 PP
This move is like Foul Play, but you use your own defense stat in the damage calculation.
[Pros]
- All of its abilities are great for offensive pokemon. In particular Guts + Flame Orb + Facade with setup moves such as Bulk Up seems really scary against slower Pokemon.
- Although its Speed and Attack are not great they are pretty decent after a boost is threatening.
- It has a lot of different coverage options, allowing it to tech many different matchups such as Togekiss with Max Steelspike thanks to Iron Tail. Here is a list of types where it gets access to decent physical attacks: Normal, Fire, Electric, Grass, Ice, Fighting, Poison, Ground, Bug, Ghost, Dark, and Steel.
- It has decent natural bulk allowing it to tank a good chunk of moves that are not powered up by Dynamax.
[Cons]
- It does not get access to Belly Drum and Extreme Speed like everyone was hoping for since non-Galarian Linoone receives them.
- It does not have a great attack or speed stat, meaning it does not hit very hard before it has set up and is outspeed by a good chunk of the metagame.
- It is 4x weak to Fighting, which is common offensive coverage especially since Max Knuckle is very popular.
[Dynamaxing Potential]
- Has tons of cool coverage to abuse in Dynamax, Close Combat under Dynamax can boost its attack, Double Edge/Facade under Dynamax can lower the foes Speed by one stage, and it can raise its Defense and Special Defense stat with Max Steelspike and Max Quake respectively.
- Gains a considerable amount of bulk and has a decent enough Speed to be threatening Dynamaxed, however, other offensive teammates such as Pokemon look better choices for using Dynamax.
[Potential Movesets]

Obstagoon @ Flame Orb
Ability: Guts
EVs: 252 Atk / 4 SpD / 252 Spe
Jolly Nature
- Bulk Up
- Facade
- Knock Off
- Close Combat / Low Kick
Obstagoon @ Choice Band
Ability: Reckless
EVs: 252 Atk / 4 SpD / 252 Spe
Jolly / Adamant Nature
- Double-Edge
- Knock Off
- Close Combat
- Parting Shot
The first set is probably the better of its sets, being able to set up in front of defensive Pokemon and do a ton with Facade + Guts boosted attacks. Knock Off is good Dark-type coverage, and Close Combat/Low Kick can be used in the last slot. It can be abused while Dynamax with Max Knuckle to give Obstagoon a free boost to its Attack. The second set just tries to take advantage of Reckless with Double Edge but it is not as good as the Guts Flame Orb set, nothing much to explain there. Parting Shot seemed interesting as a method of picking up momentum for the team.