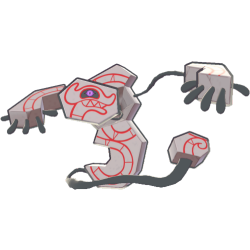 ----

Runerigus

-
-
Base Stats:
58 HP | 95 Atk | 145 Def | 50 SpA | 105 SpD | 30 Spe
Ability:
Wandering Spirit - The Pokémon exchanges Abilities with a Pokémon that hits it with a move that makes direct contact.
Moves:
Notable Moves:
- Shadow Claw
- Earthquake
- Body Press
- Trick Room
- Toxic Spikes
- Stealth Rock
- Will-O-Wisp
- Hex
Runerigus enters the scene in the shadow of his Unovan cousin, packing some fancy new rock gloves to shift into the role of a Physical attacker rather than Special. With a STAB Earthquake and a Mummy upgrade, Runerigus hopes to improve on the precedent set by Cofagrigus.
Pros:
- Very nice bulk, most notably in the physical department with 145. A Special Defense of 105 is not too shabby either.
- In the past, HP Fighting was key for Cofagrigus to deal with Dark and Normal types. This Generation blesses the Riguses with a new move called Body Press, a Fighting type move that gets stronger the higher one's Defense. Runerigus has one of the highest Defenses in Galar.
- Wandering Spirit allows Runerigus to counter physical attackers who are reliant on abilities to perform well.
- Immunity to Normal, Fighting and Electric.
- The aforementioned Normal immunity as well as access to Stealth Rock and Toxic Spikes make it a sufficient trapper lead.
Cons:
- Speed is miserable. Of course, while that means it can perform well in what Cofagrigus' best niche was, Runerigus will struggle outside of it
- Cofagrigus enjoys Nasty Plot to boost its Special Attack. Runerigus has no such physical counterpart.
- HP is also miserable, and unlike Speed, there is no real bonus to such low HP, especially on a hopeful tank.
- Picking up a secondary typing gives it three new weaknesses over Cofagrigus.
- No other ability options.
Dynamaxing:
- Runerigus' three types give it access to three bonus effects that are all helpful to it.
- Max Knuckle is the most helpful; the best way for Runerigus to reliably increase its attack stat.
- Increased HP helps patch up the weakest part of Runerigus' defense.
- Certainly an option for Trick Room Runerigus; low speed makes it not such a fantastic idea otherwise.
Sets:

Trick Room or Treat
Runerigus @ Leftovers / Life Orb
Ability: Wandering Spirit
EVs: 252 HP / 252 Atk / 4 SpD
IVs: 0 Spe
Brave Nature
- Shadow Claw
- Earthquake
- Body Press
- Trick Room
With such low speed, it's unsurprising that Runerigus finds the most use with a Trick Room set. Cofagrigus found viability in past Gens with a similar set, but Runerigus' physical inclination gives it an edge. Shadow Claw is Runerigus' main STAB move, because the only other accessible physical Ghost move is Phantom Force, which has a slight niche in stalling out Dynamaxes but is mostly inferior otherwise. Earthquake is for secondary STAB. Body Press is Runerigus' main boon. With Hidden Power gone, Runerigus would have struggled against Normal and Dark types that check its primary STAB, but Body Press arrives in the same generation and scales off its fantastic defense stat. Runerigus has the bulk to be able to set up Trick Room itself.
Don't Touch Me
Runerigus @ Leftovers
Ability: Wandering Spirit
EVs: 252 HP / 252 Def / 4 Atk
Impish Nature
- Will-O-Wisp
- Toxic Spikes / Haze
- Shadow Claw / Hex
- Body Press
For a more tank-focused set, Runerigus can use Will-O-Wisp to further decrease the amount of damage physical attackers can deal to it. For opposing other tanks, Runerigus can use Toxic Spikes. Alternatively, one can use Haze to introduce them to Runerigus' life of no relevant stat-boosting moves. Shadow Claw is Runerigus' usual Ghost STAB, but Hex is a possibility, as Runerigus' Special Attack is just above half of its Attack, so will be slightly stronger if the enemy is burned or poisoned. Body Press is used once again in tandem with Runerigus' brilliant Defense and to check Dark and Ice types.
StealthRock.jpg
Runerigus @ Leftovers
Ability: Wandering Spirit
EVs: 252 HP / 252 Def / 4 SpD
Impish Nature
- Stealth Rock
- Toxic Spikes
- Earthquake / Shadow Claw
- Body Press
If you want to use Stealth Rock just because Runerigus has it, then it's ideal to use it as a lead and set up hazards for as long as the opponent will let you. Having Ghost type means it's immune to Rapid Spin, a desirable trait for any trapper lead. Either STAB option is viable, but Earthquake has an edge as opposing lead trappers are typically weak to it. Body Press is fantastic as always.
Last edited: