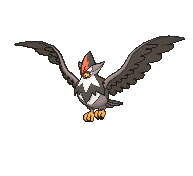 Staraptor
The Predator Pokémon


X

Flavor Text - "The muscles in its wings and legs are strong. It can easily fly while gripping a small Pokémon."
Y Flavor Text - "When Staravia evolve into Staraptor, they leave the flock to live alone. They have sturdy wings."

Pokédex Number - #398 (National) | #101 (Coastal)
Type -



Base Stats - 85 HP / 120 Atk / 70 Def / 50 SAtk /

60

SDef /

100

Spe
​
Abilities
[Intimidate] : Upon entering battle, the opponent's Attack lowers one stage. In a Double Battle, both opponents' Attack are lowered. Pokémon with the Clear Body, Hyper Cutter, or White Smoke ability are unaffected. In a link battle, if both sides switch on the same turn, and first player sends out a Pokémon with Intimidate, the opponent's Attack will be lowered before the opponent's Pokémon switches.
[Reckless (Hidden)] : The power of moves that have recoil damage is increased by 20%.

Notable Moves (Bold indicates STAB)
- Quick Attack (Start)
- Endeavor (Lvl 18)
- Close Combat (Lvl 34)
- Agility (Lvl 41)
- Brave Bird (Lvl 49)
- Roost (TM 19)
- Frustration (TM 21)
- Return (TM 27)
- U Turn (TM 89)
- Substitute (TM 90)
- Double Edge (Egg Move)
- Pursuit (Egg Move)
- Tailwind (Transfer)
- Defog (Transfer)

General Analysis
Ever since it's introduction back in Diamond/Pearl (Generation IV), Staraptor has lingered in BL. Too powerful for UU but not viable enough for OU. With the advent of X/Y (Generation VI), the Predator Pokemon finally has a chance to break free of its BL status and fly into the competitive environment of OU.

One of Staraptor's most defining qualities has to be its brute strength. Boasting one of, if not, the strongest Brave Bird in the entire game, Staraptor is not a trivial Pokemon to be overlooked.

Staraptor possesses an average Base 100 Speed, a tier that seems to grow larger with each passing generation. While Staraptor is not the fastest Pokemon out there, it is definitely faster than any relevant defensive threat and a handful of offensive threats as well.

If one were to classify Staraptor's playstyle, one word comes to mind : kamikaze. At the cost of being able to 2HKO/OHKO a majority of the OU metagame, Staraptor suffers from a very short life-span. Staraptor's main STAB moves induce massive amounts of recoil, hindering its longevity severely. It's extreme susceptibility to passive damage doesn't help either. Regardless, Staraptor is an extremely rewarding Pokemon in the right hands, whether its breaking down defensive Pokemon or cleaning up late-game.

Staraptor has become much more viable in OU this generation than any other because of the introduction of Talonflame. The infamous "Double Bird" core is very effective when utilizing Staraptor's raw power and Talonflame's high base speed and priority Brave Bird. The fact that Staraptor can easily 2HKO any of Talonflame's counters with the appropriate move, makes it such a viable threat in Generation VI.
The raw strength of Banded Brave Bird does not stop with Talonflame (although Talonflame is one of Staraptor's ideal partners). Physical Lucario, Gyarados, Genesect, etc. all appreciate Staraptor's ability to soften up walls that impede their sweeps.

Movesets
"YoloRaptor"
[Choice Banded Staraptor]
move 1: Brave Bird
move 2: Close Combat
move 3: U-Turn
move 4: Double Edge
ability : Reckless
item : Choice Band
nature : Jolly / Adamant
evs : 252 Atk / 4 Def / 252 Spe

Set Description :
With a Choice Band equipped, Staraptor possesses an immediate +1 boost in Attack.
Brave Bird is its primary STAB and Flying has a deceptively good offensive coverage resisted only by Steel, Rock and Electric.
Close Combat is a god-send for this thing allowing Staraptor to pummel would-be counters for Staraptor such as Tyranitar.
U-Turn is great for maintaining offensive momentum, scouting how the opponent will respond and allowing Staraptor to escape unfavorable situations.
Double Edge is also STAB and while it lacks the coverage of Brave Bird, it allows Staraptor to potentially OHKO certain Brave Bird switch-ins, mainly Rotom Wash and Rotom Heat.
Jolly Nature is the primary nature. It allows Staraptor to beat +Spe Genesect, Lucario (base), +Spe Kyurem-B and speed tie other base 100 Pokemon.
A simple offensive ev spread of 252 Atk / 4 Def / 252 Spe is to utilize Staraptor's true power to the fullest while optimizing its speed. 4 Defense evs allow Staraptor to switch in 5 times maximum into Stealth Rock, should such a rare scenario ever occur.

"The Janitor"
[Choice Scarf Staraptor]
move 1: Brave Bird
move 2: Close Combat
move 3: U-Turn
move 4: Double Edge
ability : Reckless
item : Choice Scarf
nature : Jolly / Adamant
evs : 252 Atk / 4 Def / 252 Spe

Set Description :
Scarfed Staraptor is outclassed in terms of revenge-killing due to the existence of Choice Banded Talonflame. However, as a cleaner, Staraptor actually works better because it boasts significantly more power over its counterpart allowing Staraptor to be a much more efficient late-game cleaner.
The set is pretty much identical to its Choice Band counterpart. The only difference is the preference in Jolly nature over Adamant ; this allows Staraptor to outspeed and score an OHKO on Scarfed Genesect, a very popular Scarfed Pokemon.

I feel it should be mentioned that scarfed staraptor also performs well as a dedicated team lead since most leads don't want to eat one of staraptors moves turn one and if they comfortably can you can u-turn to the appropriate answer.
Last Thoughts :
What do you think? Just how well can Staraptor perform in this environment considering the various buffs (such as Defog, Talonflame and the re-introduction of Excadrill)? Discuss!
Last edited: