Moderator
Approved by The Immortal and drampa's grandpa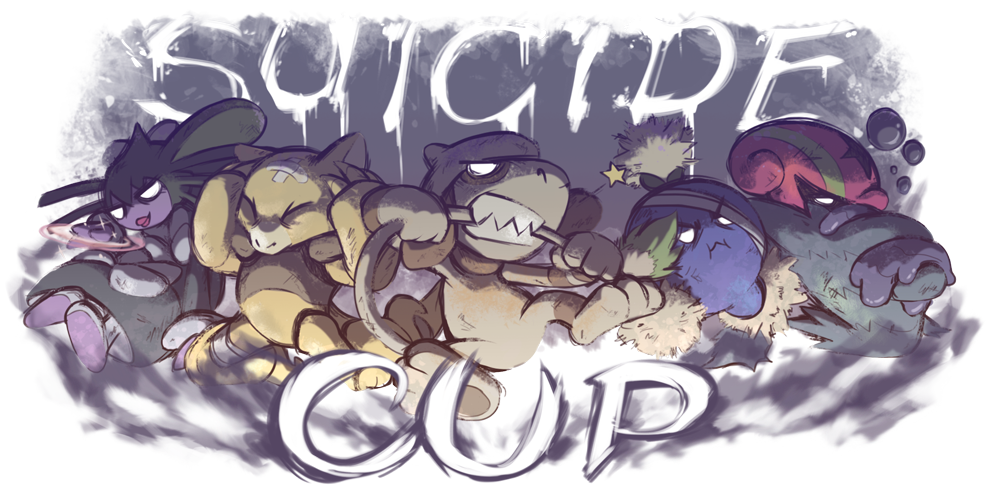 Now playable here on the trash channel!
Premise:
In this OM, you win by losing! That is to say the win condition is changed from knocking out all of your opponent's Pokemon to winning by knocking all of yours out first.
Pokemon in Suicide Cup are limited in how they are able to KO themselves, as spamming Memento or Healing Wish would become uncompetitive quickly and are banned. Instead, Pokemon have to rely on indirect damage from effects like Black Sludge, Substitute, Belly Drum, Steel Beam, and even now entry hazards with the new move in Court Change! This leads to a ton of counter play with Taunt, Imprison, Trick, Heal Pulse, and more.
Rules:

Mechanic:
First player to knock out 6 of their own Pokemon wins.
Clauses:
Ubers Clauses
All Pokémon must be level 100
You must have a full team of 6 Pokemon
Family Clause: You can only use one Pokemon from their respective evolutionary line
Banned Pokemon
Banned Items
Banned Moves
Explosion
Memento
Healing Wish
Self Destruct
Final Gambit
Magic Room
Misty Explosion
Unbanned Moves
Banned Abilities
Strategy:
New to gen 8:

Court Change lets Cinderace and a whole heap of supportive Pokemon have viability thanks to the feasibility of sacking mons due to heavy SR weaknesses. Dugtrio makes a great setter thanks to Arena Trap, and mons like Charizard and Zen Darm are already viable in addition to their x4 SR weakness. This can be risky with the transition of SR into Court Change as the opponent can prevent it with Taunt as well as sack their own mons while SR is up on their side, or even run Defog on already viable mons like Hawlucha. Replay 1, Replay 2.
Steel Beam allows its users to cut their health in half while attacking with a high powered Steel stab. With Black Sludge and Substitute, it can KO the user in just 2 turns. This can be dangerous, as abusers like Bronzor and Togedemaru have very low special attack, and only a few mons in the game (Raltz, Impidimp, Cutiefly, ect) can actually be 1HKO'd by Bronzor. Still, having negative special defense and a weakness to Steel is very useful, as Steel Beam sacks are some of the only ways to check it. Replay 1, Replay 2.
Snatch and Magic Coat are gone, which previously were some of the best moves to check faster Substitute / Belly Drum and Taunt users, respectively. In their place is Imprison, which has its own benefits but lost the priority, making faster Imprison users like Rapidash-Galar and Prankster Sableye much more viable.
Kommo-o is the sole user of Clangorous Soul, a new self status move that raises the main stats for a third of the users HP. This move is a little underwhelming on a mon that is already 2HKO'd by Belly Drum and Sub, but nonetheless it gives Kom a niche over the faster and better typed Darmanitan-Galar.

Substitute is everywhere, as its the main way to lose a solid chunk of HP while also granting immunities to dangerous moves like Heal Pulse and Trick.
Pokemon want to have the lowest stats possible to minimize the damage they give while maximizing the damage they take.
The exception to this is when a Pokemon's lowest HP is not divisible by 4, as most sets need to be divisible by 4 to take the most from Substitute and be in range of Steel Beam / Belly Drum 2HKOs.
Shadow Tag is legal, making the Goth family great for trapping opponents and possibly ending games thanks to Trick and items like Pecha Berry removing the main forms of losing health from Black Sludge or Toxic Orb.
Prankster users have the fastest Taunts and Imprisons in the game, but have to worry about the many Dark types immune to them.
Belly Drum into Substitute with Black Sludge is a 2HKO, and is checked by faster Taunt / Imprison users. Belly Drum and Steel Beam users need to have their HP stat divisible by 8 for the 2HKO, as this allows Black Sludge damage to an integer. For example, Charizard could have 6 HP IVs to be at 272 HP and guarantee the Belly Drum into Sub KO.
Snore is often ran on Pokemon that lack a better 4th move as it can be pressed when taunted with no fear of actually damaging the opponent.
Council:
Ho3nConfirm3d
We Wuz Nidokangz
NOC Unlucky 13
SBPC
Discord:
https://discord.gg/bmTunPt
Last edited: