Moderator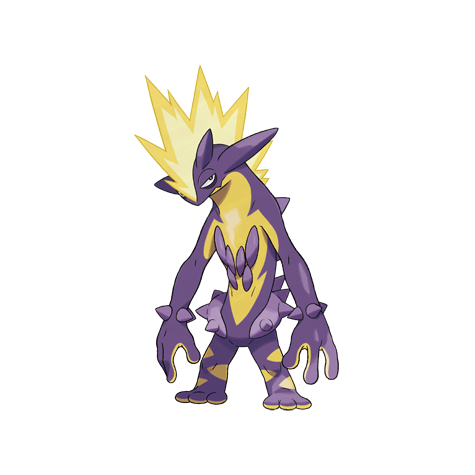 Toxtricity


Base Stats
: 75 HP | 98 Atk | 70 Def | 114 SpA | 70 SpD | 75 Spe
Abilities
: Punk Rock | Minus | Technician (H)
Level Up Moves:
- [00] Spark
- [01] Spark
- [01] Eerie Impulse
- [01] Belch
- [01] Tearful Look
- [01] Nuzzle
- [01] Growl
- [01] Flail
- [01] Acid
- [01] Thunder Shock
- [01] Acid Spray
- [01] Leer
- [01] Noble Roar
- [04] Charge
- [08] Shock Wave
- [12] Scary Face
- [16] Taunt
- [20] Venoshock
- [24] Screech
- [28] Swagger
- [32] Toxic
- [36] Discharge
- [40] Poison Jab
- [44] Overdrive
- [48] Boomburst
- [52] Shift Gear
- [52] Magnetic Flux

TMs:
- [TM00] Mega Punch
- [TM01] Mega Kick
- [TM03] Fire Punch
- [TM05] Thunder Punch
- [TM08] Hyper Beam
- [TM09] Giga Impact
- [TM11] Solar Beam
- [TM14] Thunder Wave
- [TM16] Screech
- [TM17] Light Screen
- [TM18] Reflect
- [TM21] Rest
- [TM22] Rock Slide
- [TM23] Thief
- [TM24] Snore
- [TM25] Protect
- [TM26] Scary Face
- [TM31] Attract
- [TM39] Facade
- [TM40] Swift
- [TM43] Brick Break
- [TM44] Imprison
- [TM48] Rock Tomb
- [TM54] Rock Blast
- [TM57] Payback
- [TM59] Fling
- [TM63] Drain Punch
- [TM65] Shadow Claw
- [TM69] Psycho Cut
- [TM70] Trick Room
- [TM74] Venoshock
- [TM76] Round
- [TM77] Hex
- [TM80] Volt Switch
- [TM81] Bulldoze
- [TM85] Snarl
- [TM93] Eerie Impulse
- [TM96] Smart Strike
- [TM97] Brutal Swing
- [TM99] Breaking Swipe

TRs:
- [TR08] Thunderbolt
- [TR09] Thunder
- [TR20] Substitute
- [TR22] Sludge Bomb
- [TR26] Endure
- [TR27] Sleep Talk
- [TR30] Encore
- [TR35] Uproar
- [TR37] Taunt
- [TR42] Hyper Voice
- [TR57] Poison Jab
- [TR73] Gunk Shot
- [TR78] Sludge Wave
- [TR80] Electro Ball
- [TR82] Stored Power
- [TR86] Wild Charge
- [TR95] Throat Chop

Egg Moves:
- Endeavor
- Metal Sound
- Power-Up Punch
Notable Moves
:
- Taunt
- Toxic
- Overdrive
- Boomburst
- Shift Gear
- Fire Punch
- Sludge Bomb
- Sludge Wave
New Ability
:
Punk Rock
- Boosts the power of sound-based moves. The Pokémon also takes half the damage from these kinds of moves.
As of right now, we're not sure how much sound-based moves are boosted.
New Moves
:
Overdrive
- The user attacks opposing Pokémon by twanging a guitar or bass guitar, causing a huge echo and strong vibration.
Overdrive is a sound-based move and boosted by Punk Rock as a result.
Pros
:
- Toxtricity possesses over a good offensive typing combined with decent coverage options.
- Its typing also makes it immune to Toxic and resistant to common types.
- It also has access to some niche options that make it unpredictable to some extent.
Cons
:
- Because it's relatively slow, Toxtricity will struggle doing much against offensively-oriented teams.
- It lacks reliable recovery and isn't very bulky, meaning it can be worn down relatively quickly.
- Toxtricity has to rely on coverage options coming from its weaker offensive stat, such as Fire Punch, in order to deal with Pokemon like Ferrothorn.
I think Toxtricity will definitely find a niche for itself in OU thanks to its solid matchup against bulkier teams, though it'll likely fall to UU or maybe even RU anyways because of its considerable drawbacks.
Gigantamaxing Potential:
- Toxtricity is one of the few Pokemon that has access to the mechanic known as Gigantamax, meaning it is probably affordable on certain teams.
- Through its Gigantamax form, Toxtricity gains access to a strong Electric-type signature move called G-Max Stun Shock, which will either poison or paralyze the foe.
- To add onto that, Gigantamax Toxtricity also gets to make use of some stronger coverage options in Max Flare.
Potential Movesets
:
Toxtricity @ Life Orb / Silk Scarf / Expert Belt
Ability: Punk Rock
EVs: 4 Atk / 252 SpA / 252 Spe
Hasty / Naive / Mild / Rash Nature
- Overdrive
- Boomburst
- Fire Punch
- Toxic / Sludge Bomb / Shift Gear / Taunt
As you can tell, I tried to be as inclusive as possible. A Life Orb allows Toxtricity to overwhelm Ferrothorn and specially defensive Hippowdon pretty easily, though it also makes it get worn down really quickly. Silk Scarf is a decent option that allows Toxtricity to still pressure Hippowdon with Boomburst, without being worn down, although it comes at the cost of worsening rolls against Ferrothorn. Lastly, Toxtricity could even run an Expert Belt in order to 2HKO Ferrothorn without losing HP so quickly. Thanks to Toxtricity's ability, Punk Rock, Boomburst can become a really spammable move that can allow it to overwhelm checks such as Hippowdon. Fire Punch is useful coverage for Ferrothorn. The last slot can honestly be a bunch of different things. Personally, I think Toxic's going to be the most useful because its distribution is far worse in SWSH compared to any previous generation, and will allow Toxtricity to pressure Hippowdon even further. Sludge Bomb is an alternative option that can pressure Fairy-types, while still allowing Toxtricity to cripple Hippowdon pretty well. I doubt it'll be anywhere near consistent, but Toxtricity could make use of Shift Gear to get some sweeps against unprepared teams. It also allows it to overwhelm Ferrothorn with much less chip damage. Lastly, I figured that I should include Taunt because Toxtricity can make decent use of it by preventing bulkier Pokemon from healing, though it can 2HKO most of the important ones anyways.
Black Sludge might be an option for an item as well, as it can counteract being worn down decently.