Introduction
Hey everyone, my name is Jediment. I've been lurking around the competitive Pokemon community since around 2007, mainly playing around the release of new games. It's been absolute ages since I've posted an RMT - I'm not a well known tournament player and I've never topped the ladder so I'm not sure how much interest it'll generate, but I worked on this team a lot and wanted to share. Despite me being a pretty average player, I managed to get myself up as high as around 1450 Elo / 60% GXE on the OU ladder with around 100 games.
Concept
My preferred playstyle has evolved over my career as a player, but a while ago I settle on hyper offense as my preferred team style for its straightforward game plan. This team takes a fairly standard hyper offense approach: control the opponent's speed so I can crush them with my team's overwhelming power. I pack three different forms of speed control, each intended to take on different types of threats, ultimately supporting some extremely strong setup Pokemon. Like many hyper offense teams, this one doesn't like to do too much switching. It prefers to grab initiative once and just run away with the game from there.
Team Members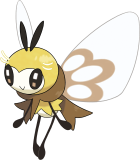 Ribombee @ Focus Sash
Ability: Shield Dust
EVs: 252 SpA / 4 SpD / 252 Spe
Timid Nature
IVs: 0 Atk
- Sticky Web
- Moonblast
- Bug Buzz
- Stun Spore
Ribombee is traffic cop #1 and the team's primary speed control. Her main goal is to put down sticky web, and ideally spread paralysis as much as possible. With Smeargle gone, Ribombee makes for the best webs lead available - her surprisingly strong Moonblast can OHKO offensive Grimmsnarl leads that threaten with a prankster taunt, and Stun Spore can put the brakes on turn 1 setup users like Gyarados and Excadrill. I rarely get much use out of Bug Buzz, but it hits Reuniclus hard. I've considered switching it out for Reflect, but I'm not sure I would get much use out of it either way.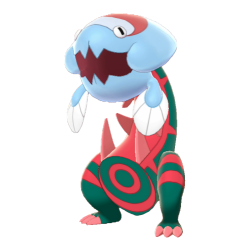 Dracovish @ Life Orb
Ability: Strong Jaw
EVs: 252 Atk / 4 SpD / 252 Spe
Jolly Nature
- Fishious Rend
- Psychic Fangs
- Crunch
- Substitute
It's no secret that The Big Vish is one of the scariest wallbreakers in the meta right now. Fishious Rend synergizes amazingly with sticky web, allowing Dracovish to outspeed many Pokemon it normally wouldn't and completely decimate them. Psychic Fangs is Dracovish's next strongest move thanks to the Strong Jaw boost, and has the benefit of also breaking screens. Crunch helps vs Aegislash, but in practice I almost never use it. Substitute is a cool option that prevents Dracovish from getting crippled in matchups against really defensive Pokemon, especially Corsola-Galar. Lastly, I opt for Life Orb so I'm not forced to lose momentum if the opponent switches in their own Dracovish or another 4x water resist.

Gengar @ Kasib Berry
Ability: Cursed Body
EVs: 252 SpA / 4 SpD / 252 Spe
Modest Nature
IVs: 0 Atk
- Nasty Plot
- Shadow Ball
- Sludge Wave
- Thunderbolt
Gengar saw a massive buff this generation with its new access to Nasty Plot, as well as Max Ooze. This set takes full advantage of Gengar's raw power and its great base speed. With sticky web up, Gengar can outspeed scarfed base 95s (and outspeeds non-scarfed base 95s even with no webs), meaning it's pretty safe to just click Sludge Wave/Max Ooze. If Gengar can get off a nasty plot, it's basically a free win unless there's a scarf Hydreigon or a Sucker Punch user still running about. Thunderbolt helps check Gyarados and Corviknight, the latter of whom often switches into it predicting a sludge wave. My favorite tech on this set is the Kasib Berry - it means Gengar will always win against opposing Ditto and Aegislash unless it has significant prior damage.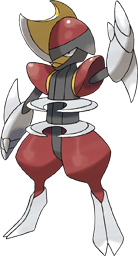 Bisharp @ Black Glasses
Ability: Defiant
EVs: 252 Atk / 4 SpD / 252 Spe
Adamant Nature
- Sucker Punch
- Iron Head
- Swords Dance
- Brick Break
Traffic cop #2! Initially I felt Bisharp was the team's weak link, but as I spent more time I discovered that he in fact is the true hero of the group. Defiant is just ridiculously good in the Gen VIII metagame, allowing Bisharp to punish defog, opposing sticky web, max darkness, max strike and loads of other effects. Bisharp's raw power with sucker punch is pretty crazy, and he can easily sweep opposing teams with priority spam. SD lets Bisharp take advantage of his good defensive typing to boost and force switches, while iron head gives it a shot against most fairies. Brick break is the odd one out - losing knock off was sad for Bisharp, but at least now it can clear screens and hit Ferrothorn.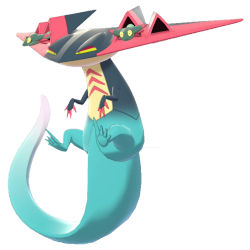 Dragapult @ Air Balloon
Ability: Cursed Body
EVs: 252 HP / 148 Def / 108 SpA
Bold Nature
- U-turn
- Fire Blast
- Dragon Pulse
- Will-O-Wisp
This one is for sure a bit out of left field. Being so reliant on sticky web, I needed something that could block and punish attempts at rapid spin. The game's premier spinner right now is Excadrill, and Gengar is definitely not the one to punish that. Bulky ghost types that don't completely lose initiative are surprisingly hard to come by, but I zeroed in on Dragapult for its surprisingly decent bulk, high speed and wide movepool. This set can confidently switch into basically any Excadrill set and punish with either WoW or Fire Blast. FB also deals around 85% to typical Ferrothorn sets, letting Dragapult OHKO it with a bit of prior chip damage. Despite the complete lack of speed investment, it still reaches 320 speed, enough to outspeed base 95. U-turn lets me keep initiative if Dragapult forces a switch, while Dragon Pulse provides a more useful attacking move against any non-Steel types. I use Dragapult as a utility pivot to keep initiative and spread burns, while netting surprise damage with Fire Blast.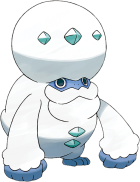 Darmanitan-Galar @ Choice Scarf
Ability: Gorilla Tactics
EVs: 252 Atk / 4 SpD / 252 Spe
Jolly Nature
- Icicle Crash
- U-turn
- Earthquake
- Flare Blitz
Big Lips is the game's premier scarf user thanks to his crazy power, and the role he serves as traffic cop #3 is pretty similar to how he functions on other teams. Darmanitan keeps really fast stuff in check, revenge kills sweepers and forces switches on scary attackers like Hydreigon. It's not uncommon for me to abuse Dynamax on Darmanitan to undo his choice lock. The moveset chosen here is pretty unremarkable - I mainly spam crazy powerful Icicle Crashes, and bring out Flare Blitz or EQ for predicted switches to Ferrothorn and Toxapex respectively. U-turn is good for holding initiative when I know the opponent will be forced out.
Threats
While this team has no trouble executing its sweeps in most circumstances, there are a handful of major threats that need to be carefully played around, or the team can be overwhelmed.​
Early Gyarados: Taking down Gyarados requires me to either land a successful stun spore or have Gengar or boosted Bisharp on the field before Gyarados can start to set up. Since it's immune to sticky web, once it gets going there's little I can do to stop it as Bisharp's sucker punch can't OHKO, especially with Dynamax.​

Scarf Hydreigon: Another web-immune murder machine that can shrug off sucker punch, Hydreigon is especially scary if it can abuse Dynamax to lose its choice lock. With a scarf, it outspeeds Darmanitan and can OHKO with flamethrower. My best answer is to force the opponent to Dynamax something else, then trap Hydreigon into an unfavorable choice lock. It really helps if Ribombee survived, especially if it survived with an intact Sash, as it opens up a chance for a Moonblast kill.​

Hawlucha: See a pattern here? Things don't have to play by the rules of the speed control I set up, fliers and levitaters with high speed, are a huge threat to the team. Hawlucha is like Gyarados in that once it's started to set up it's just too late.​
Closing Thoughts
I really appreciate you all taking the time to read through my team. I may not be an amazing, ladder topping player but I'm pretty happy with how the team came out and how I've been playing with it. I'd be really happy to hear your thoughts and feedback on the team.​