approved by A Cake Wearing A Hat
Hosted by UU Roomstaff
banner by Fusion Flare
UU Room Events
​
This thread is the information hub for UU PS! Room Events hosted by the UU Roomstaff, and apart from Tour Nights, our Project Hosts team. In particular, this is where all information about upcoming UU Roomtour Nights will be kept. We are currently hosting the following events, which will all occur in our Pokemon Showdown room
https://play.pokemonshowdown.com/underused
.
UU Roomtour Nights
​
In a similar vein to RoA tour nights, UU Roomstaff will now be hosting official preplanned tour nights in the UU PS! room. These will also include Old-Gen tours designed to showcase the various generations of Underused and help those looking to learn Old-Gens of UU to get experience playing against those more experienced in these tiers.
All official roomtours detailed in this thread will count towards an official leaderboard, with Winners earning 3 points, Runners-Up earning 2 points, and Semi-finalists earning 1 point. At the end of
each month
, the person with the most points will be able to choose one of the following prizes, and will be added to the Hall of Fame.
Any ties in terms of points will be settled by who has more overall Wins, or by whoever has been runner-up more often if Wins are also tied. If 1st place is still tied after this, both players will fight a Bo3 to determine the winner.
Upcoming roomtour nights will be advertised in this thread, and a timetable of upcoming events can also be found in the post below. All results of Roomtour nights will be posted by the hosts in this thread. You can also see a schedule of upcoming roomevents by typing "/roomevents" in the UU room on PS!
See our
Old Gens Hub
run by
r0ady
for more information about these tiers, and for sample teams!
UU Seminars
Want to share your opinions on UU topics, and have open discussions about the UU metagame? Seminars are for you! During UU Seminars, Roomstaff will hold a structured discussion on current UU metagame topics, which will be predetermined before the session, such as,

"What are your opinions on how/if Scyther has effected the UU metagame?"
"How has the introduction of Flip Turn effected Barraskewda's position in the UU metagame?"

With a lot of DLC mons about to drop, this will provide a great forum allowing people to share their thoughts on our new additions and get adjusted to the new metagame. After each session, the host will post a brief summary of some of the opinions presented in this thread for anyone who missed it!
UU Brain Teasers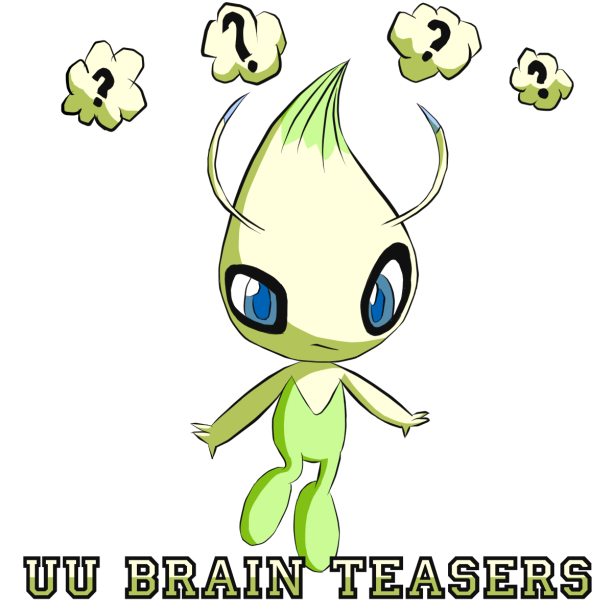 credit to lyd for the artwork!
​
Is your head filled with lots of useless information about Pokemon mechanics for scenarios that are unlikely to ever realistically occur? Do you enjoy problem solving and tricky puzzles? Then this is the perfect event for you! Introducing the SWSH edition of UU Brain Teasers! In this project, a host will entertain the UU room with UU related puzzles and brain teasers, such as,
On turn 1 of a UU game, a 252 Spa Modest Weeezing-Galar OHKOs a max speed max special attack Roserade with a STAB move. How did this happen? The move did not crit, and Roserade's stats were not affected.
Weezing was holding a petaya berry, roserade attacked with sludge bomb to put it in range of its berry, and then weezing used Belch.

+1 252+ SpA Weezing-Galar Belch vs. 0 HP / 4 SpD Roserade: 231-273 (88.5 - 104.5%) -- 31.3% chance to OHKO
Did you get the answer? Try our more in the PS UU room during Brain Teasers events if you enjoyed that question! The person who solves the most teasers within a session will win the session and have their name added to the hall of fame :)
Rules
Each Brain Teasers session will comprise of 5 questions, the solutions to which rely on creativity and manipulation of Pokemon mechanics. This will be hosted in the PS UU room.
Each question may have more than one possible answer, each person to come up with a valid answer will score a point. Only one point may be scored per question, and it will be up to the host's discretion to decide if an answer is too similar to a previously accepted one.
The person who scores the most points at the end of 5 questions will win the week. If there is a tie, a short lightning round will be done between the two players, consisting of a Best of 5 on easy questions such as,

True/False: A Choice Specs Flamethrower from a Timid maximum SpA Noivern is a guaranteed OHKO on a max spA max speed modest Ice Scales Frosmoth?

This is a friendly competition, please be patient as these sessions can be quite hectic and the host may have to check multiple answers before they can check yours.
~*%*~*%*~*%*~*%*~*%*~*%*~*%*~*%*~*%*~*%*~*%*~*%*~*%*~*%*~*%*~
If you have any questions about any of the events, or would like to suggest Seminar topics, feel free to message me on Discord (Saria#4720) or contact any roomstaff on the UU Discord!
Last edited: