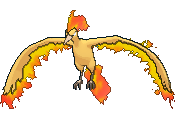 Pontiac.
[Pros]
<ul>
<li>Base 125 SpA is still beast</li>
<li>Fire/Flying STABs provide good offensive coverage</li>
<li>Typing also resists common priority like Bullet Punch and Mach Punch</li>
<li>Also resists Bug, Fairy, Grass and is immune to Ground fwiw</li>
<li>Has just enough in its stat distribution and movepool to separate itself from its competition</li>
</ul>
[Cons]
<ul>
<li>Faces new and tough competition for a team slot in Talonflame and Mega Charizard Y</li>
<li>Because of its competition, Moltres is shoehorned to very specific niches</li>
<li>Typing is also weak to other common attacking types in Water (Aqua Jet), Rock, and Electric</li>
<li>Loses 50% HP coming in if Stealth Rock is present. Rapid Spin/Defog support is required</li>
<li>Fast...but not fast enough</li>
</ul>
[Set Recommendations]
<p>name: Special Attacker<br />
move 1: Hurricane<br />
move 2: Fire Blast<br />
move 3: Hidden Power Grass<br />
move 4: U-turn/Roost<br />
ability: Pressure<br />
item: Choice Specs/Life Orb<br />
evs: 252 SpA / 4 SpD / 252 Spe<br />
nature: Modest (+SpA, -Atk)</p>
Strongest Hurricane in pre-Pokebank OU
None of Moltres' counters can 100% safely switch in when running Choice Specs, especially in rain (e.g.: Rotom-W with no SpD investment is 2HKO'd by Hurricane)
Good offensive Rapid Spin users include Starmie, Mega Blastoise and Excadrill
Works well on VoltTurn teams. Magic Bounce users such as Mega Absol pair decently with this set in VoltTurn as well.
Choice Specs Hidden Power Grass 2HKOs all Rotom-W except Specially Defensive sets, 2HKOs ScarfTar after SR damage and OHKOs Barbaracle
Life Orb and Roost give it some form of longevity, especially if you can't get your spinner or Magic Bounce user in
<p>name: Agility<br />
move 1: Agility<br />
move 2: Hurricane<br />
move 3: Fire Blast<br />
move 4: Roost<br />
ability: Pressure<br />
item: Life Orb<br />
evs: 4 Def / 252 SpA / 252 Spe<br />
nature: Timid (+Spe, -Atk)</p>
Outspeeds the entire metagame after one Agility, including max speed Jolly Sand Rush Excadrill in sand
Agility differentiates Moltres from Talonflame (forced to buff its Attack stat) and Charizard
Good sweeper on more dedicated sun and rain teams if players still want to use them as a thing
Switches into Scizor all day (and kinda Breloom, but watch for Rock Tomb)
Roost keeps the sweep alive and mitigates Stealth Rock damage somewhat
<p>name: SubRoost<br />
move 1: Substitute<br />
move 2: Toxic<br />
move 3: Flamethrower<br />
move 4: Roost<br />
ability: Pressure<br />
item: Leftovers<br />
evs: 248 HP / 120 SpD / 140 Spe<br />
nature: Timid (+Spe, -Atk)</p>
Moltres has the best stat distribution and ability to run SubRoost over Talonflame and Charizard
248 HP / 4 Def / 252 SpD Calm can be used. With that spread, if you Roost, then 0 SpA Rotom-W has almost zero chance to break your Substitute with Volt Switch. Defensive Rotom-W is forced to burn Hydro Pump to Pressure. It's situational, however.
Will-o-Wisp catches unsuspecting Tyranitar, who WILL switch in on you. Also catches Azumarill :). May catch unsuspecting Barbaracle.
Switches into Scizor even better than Agility Moltres (again watch for Rock Tomb with Breloom)
Timid with 140 Speed EVs beats max Speed Adamant Mold Breaker Excadrill
Zapdos can run this set too...but Zapdos can't really beat Excadrill atm ;[
[Checks and Counters]
Tyranitar
Azumarill
Tyrantrum (sand)
Excadrill (kind of)
Starmie
Greninja
Rotom-W
Heliolisk
Jolteon
Barbaracle
Discussion Points
Should SubRoost be a thing? If so, what is the optimal EV spread?
Trapper set with Fire Spin and Sky Drop?
SunnyBeamer set? Rain Dance setter?
I'm sure I missed other checks and counters.
Last edited: