Anime pfps discredit your value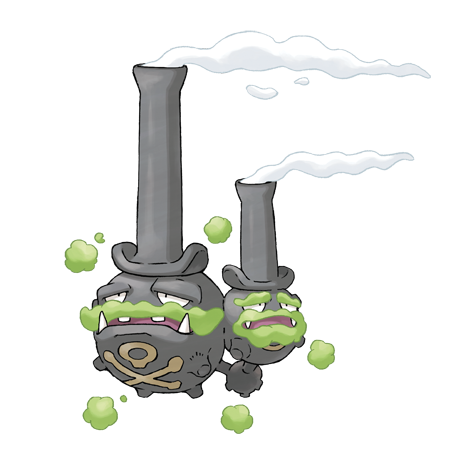 Base Stats
: 65 HP | 90 Atk | 120 Def | 85 SpA | 70 SpD | 60 Spe
Abilities
: Levitate | Neutralizing Gas | Misty Surge (H)
[Notable Moves]

Level Up Moves:
- [00] Double Hit
- [01] Double Hit
- [01] Strange Steam
- [01] Defog
- [01] Heat Wave
- [01] Smog
- [01] Smokescreen
- [01] Haze
- [01] Poison Gas
- [01] Tackle
- [01] Fairy Wind
- [01] Aromatic Mist
- [12] Clear Smog
- [16] Assurance
- [20] Sludge
- [24] Aromatherapy
- [28] Self-Destruct
- [32] Sludge Bomb
- [38] Toxic
- [44] Belch
- [50] Explosion
- [56] Memento
- [62] Destiny Bond
- [68] Misty Terrain
TMs:
- [TM08] Hyper Beam
- [TM09] Giga Impact
- [TM16] Screech
- [TM20] Self-Destruct
- [TM21] Rest
- [TM23] Thief
- [TM24] Snore
- [TM25] Protect
- [TM31] Attract
- [TM33] Rain Dance
- [TM34] Sunny Day
- [TM38] Will-O-Wisp
- [TM39] Facade
- [TM57] Payback
- [TM58] Assurance
- [TM71] Wonder Room
- [TM74] Venoshock
- [TM76] Round
- [TM89] Misty Terrain
- [TM97] Brutal Swing
TRs:
- [TR02] Flamethrower
- [TR08] Thunderbolt
- [TR09] Thunder
- [TR15] Fire Blast
- [TR20] Substitute
- [TR22] Sludge Bomb
- [TR26] Endure
- [TR27] Sleep Talk
- [TR33] Shadow Ball
- [TR35] Uproar
- [TR36] Heat Wave
- [TR37] Taunt
- [TR43] Overheat
- [TR52] Gyro Ball
- [TR54] Toxic Spikes
- [TR58] Dark Pulse
- [TR78] Sludge Wave
- [TR90] Play Rough
- [TR91] Venom Drench
- [TR92] Dazzling Gleam
Egg Moves:
- Psybeam
- Pain Split
- Grudge
- Spite
- Curse
- Stockpile
- Swallow
- Spit Up
- Haze
- Sludge Bomb
- Memento
- Destiny Bond
- Pain Split
- Will-O-Wisp
- Flamethrower
- Fire Blast
- Heat Wave
- Overheat
- Thunderbolt
- Thunder
- Taunt
- Toxic Spikes
- Sludge Wave
- Strange Steam
- Defog
- Toxic
- Aromatherapy
- Play Rough
[New Ability]

Neutralizing Gas
- Suppresses the effects of Abilities of all Pokémon currently in battle.
Similar to Unnerve, this will prevent an ability from activating right away. When Weezing-Galar switches out, abilities like Intimidate will trigger (see
this post
)
[New Moves]

Strange Steam


90 BP
95% Accuracy
10 PP
May confuse the target (20%)
[Pros]
- Galarian Weezing has a pretty solid typing with useful resistances and immunities - immunities include from being Poisoned, Dragon-type attacks, and Ground-type attacks (with Levitate).
- Neutralizing Gas can be a headache against Pokemon with Regenerator since it won't activate while Galar Weezing is on the field and the opposing Regenerator Pokemon switches out.
- Wide movepool with an okay Special Attack stat makes it not terribly passive
- Access to Defog, Aromatherapy, Haze, Toxic Spikes, Will-O-Wisp, and Toxic gives it a lot of interesting methods to be a utility Pokemon
[Cons]
- Without Levitate Galarian Weezing becomes prone to Spikes (and Ground-type attacks).
- While Misty Surge sounds great, it also shuts down Galarian Weezing's capabilities of crippling Pokemon bar that those that levitate.
- Mediocre Special bulk
- Gimped recovery in Pain Split
[Dynamaxing Potential]
- Defensive Pokemon usually aren't the prime candidates for Dynamaxing under most circumstances.
- Strange Beam can make the field into Misty Terrain, which can work against Toxic Spikes and Will-O-Wisp.
- Fire-type moves can create sun, which may be ideal under niche circumstances.
[Potential Movesets]
Weezing-Galar @ Black Sludge
Ability: Levitate / Neutralizing Gas
EVs: 252 HP / 252 Def / 4 Spe
Bold Nature
- Strange Beam
- Will-O-Wisp
- Pain Split
- Toxic Spikes / Defog / Aromatherapy
You could potentially slash away Pain Split if you feel confident, or slap Sludge Bomb / Flamethrower somewhere for coverage / chance of Poison. Toxic Spikes, Defog, and / or Aromatherapy are all solid choices for Galarian Weezing to use for utility. Feel free to add more utility moves if needed. Haze can prevent some Pokemon from getting too crazy with setup such as Dragon Dance Gyarados. Toxic is also a solid option since few Pokemon get the attack this time around.
Neutralizing Gas is an option that can shut down abilities like Gyarados's Moxie, Darmanitan-Galar's Gorilla Tactics and Zen Mode (though keep in mind without Levitate you're prone to Earthquake), and prevent Regenerator from activating - among other benefits. While it makes Weezing prone to Spikes, it also allows it to absorb Toxic Spikes.
Last edited: