| | | | | |
| --- | --- | --- | --- | --- |
| | | | | |
| | | | | |
Our little club traces their roots back to a
2016 playthrough of Gold
that took...a lot longer than the first playthrough on that cart, to say the least. But it came to an end eventually, and when it did, these characters
didn't want to go away
. And why should they, given everything they had been through?
At the time the run started, I had no games more recent than gen 3, but as I wrote there, I did find a loose 3DS in a fateful encounter about a month in. This allowed me to experiment with 6 (and, shortly after the run was over, 7), then I would eventually fill in the gaps by ordering B2, Platinum, Colosseum, and ultimately a Switch. And of course, it's not possible to migrate anything from cartridge Gold onto those later games. But the characters endure further than any data tokens that may represent them, fungible or otherwise. So they stuck around, in some form or another, for ordinary playthroughs in several of those later games (usually with a couple spare team slots to fill on a whim), and I got more familiar with what all they could, or wanted to, do as the choreographer of their mystifying dance. Finding a way to rise through the Sinnoh league without anyone ever cracking level 40? Sure, why not. They're practically in their element that way.
I was going to take them
everywhere
. Whatever they needed to show they could do, they would get that chance. Many of the benchmarks are explicitly tracked by the game's own system of ribbons...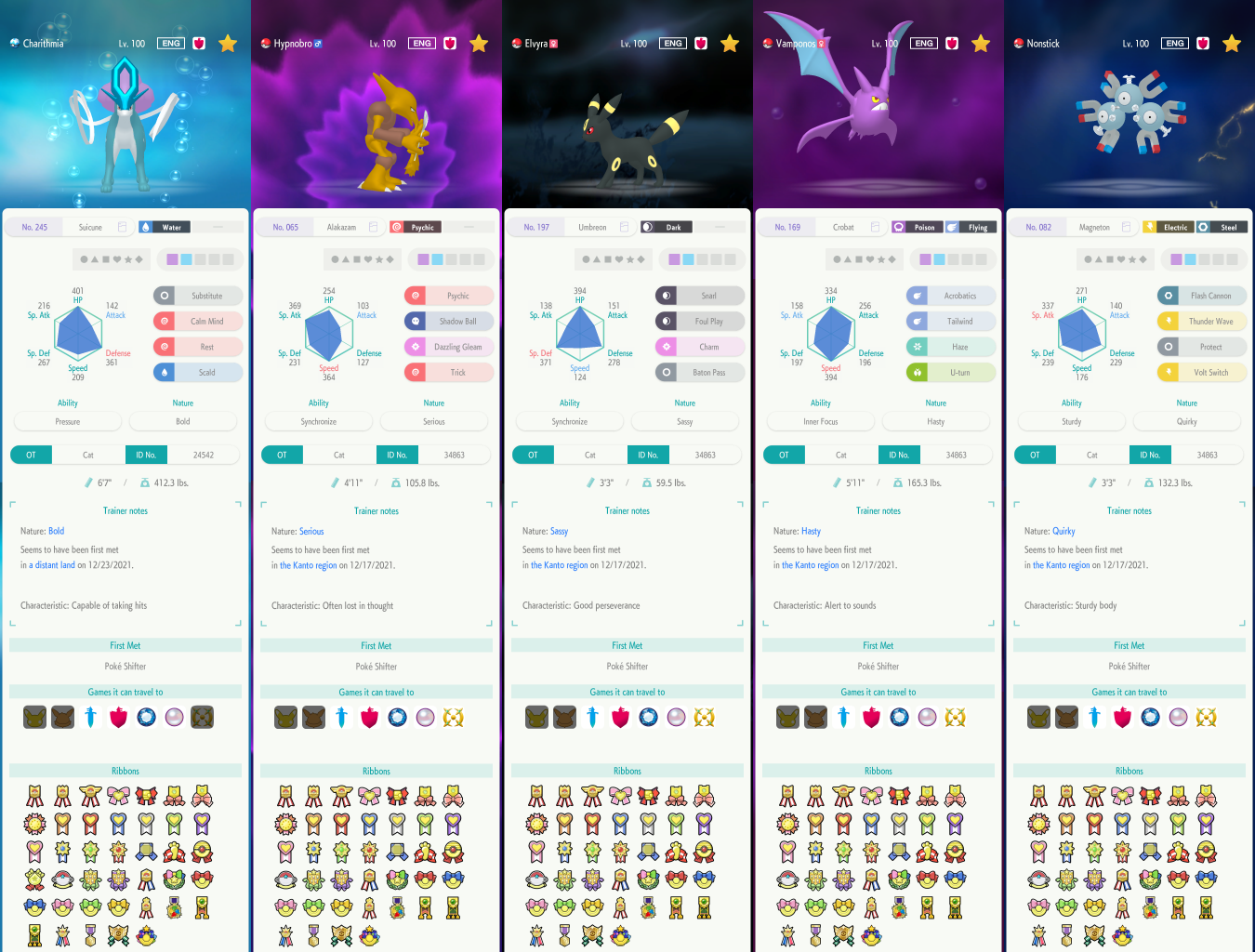 ...along with
several
more
that
aren't
, but that's no reason to skimp out on doing them anyway. That's what it means to promise to take them everywhere.
And if we ever run out of places to go...hopefully SV will chime in with an update patch that allows the whole club to get in by the time Home compatibility opens up to those games.