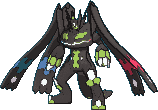 [OVERVIEW]
* Zygarde-C gains colossal bulk upon activation of Power Construct, turning it into the bulkiest physical wall in the tier. Due to its sheer bulk and good defensive typing of Dragon / Ground, which leaves Zygarde-C resistant to Stealth Rock, it can serve as a check to threats such as Primal Groudon, Necrozma-DM, Mega Salamence, Marshadow lacking Hidden Power Ice, Ho-Oh, and Mega Lucario.
* Zygarde-C also differentiates itself from most other physical walls in the metagame thanks to access to useful utility moves in Glare, Toxic, and Dragon Tail.
* Zygarde-C's strengths let it fit into balance teams and defensive teams with relative ease thanks to the number of threats it is able to check.
* Thanks to its signature move Thousand Arrows, Zygarde-C easily hits most of the tier for at least neutral damage, meaning it only needs a single attacking move to be an offensive threat with Dragon Dance.
* However, prior to its transformation, Zygarde is obliged to manage its health carefully, and failure to transform Zygarde safely will leave it overpowered by threats it would normally check, such as Swords Dance Primal Groudon, Necrozma-DM, and Mega Lucario.
* Zygarde-C's Dragon / Ground typing leaves it with a common weakness in to Ice-type coverage moves and a susceptibility to Fairy-type threats.
* Zygarde-C is forced to use Rest, since it lacks any other form of recovery outsides Leftovers. This forces Zygarde-C to either forgo one of its utility moves for Sleep Talk to function while asleep or be left passive for two turns.
* Despite Thousand Arrows's fantastic coverage, offensive variants of Zygarde-C will need multiple boosts or excessive prior damage to surmount common walls in the tier, such as support Arceus formes, and have to preserve its Z-Move for KOs if the mentioned conditions are not met.
[SET]
name: Physical Wall
move 1: Rest
move 2: Dragon Tail
move 3: Sleep Talk
move 4: Thousand Arrows / Glare / Toxic
item: Leftovers
ability: Power Construct
nature: Impish
evs: 252 HP / 252 Def / 4 SpD
[SET COMMENTS]
Moves
========
* Rest is the only form of recovery Zygarde-C has access to. The move makes Zygarde-C resilient to common Toxic users such as Primal Groudon, Celesteela, and Chansey and gives it more opportunities to activate Power Construct safely.
* Dragon Tail lets Zygarde-C phaze setup sweepers like Primal Groudon, Mega Salamence, and Swords Dance Arceus formes and helps alleviate Zygarde-C's passivity. More importantly, it also prevents Zygarde-C from being trapped and neutralized by Gothitelle, a trapper that is normally paired with most physical setup sweepers that Zygarde is able to handle.
* Sleep Talk allows Zygarde-C to function while it is asleep, preventing it from being completely passive.
* Thousand Arrows allows Zygarde-C to have an acceptable degree of offensive presence against the likes of Mega Gengar and Magearna, wear down Primal Groudon, and remove the Ground immunity from the likes of Celesteela and Giratina-O. This is Zygarde-C's most spammable move.
* Glare lets Zygarde-C shut down the most dangerous sweepers such as Rock Polish variants of Primal Groudon, Necrozma-DM, and Mega Salamence. It also harshly punishes Zygarde-C's offensive counters should they try switching in and attempting to force it out.
* Toxic is an alternative status move that punishes Arceus formes switching in to take Thousand Arrows or Glare by putting them on a timer. Toxic can fit in Zygarde-C's moveset if its team is sufficiently prepared for the aforementioned setup sweepers.
* Glare or Toxic can be run over Dragon Tail or Sleep Talk, but this comes at the cost of Zygarde-C being vulnerable to Gothitelle's trapping or completely immobilized for two turns after it uses Rest.
* Coil is an interesting option that has good synergy with Rest and Glare. It has the downside of replacing one of Zygarde-C's utility moves, but it lets Zygarde-C prevail better against Primal Groudon and certain Swords Dance Arceus forms, which would otherwise use Zygarde-C as setup fodder while it is asleep.
Set Details
========
* The EV spread maximizes Zygarde-C's physical bulk for it to take on threats it is tasked to check. The EV spread also lets Zygarde-C survive two Precipice Blades from Adamant Primal Groudon and two Close Combats from Mega Lucario prior to its transformation and after Leftovers recovery.
* Leftovers provides Zygarde-C with a passive form of recovery and postpones the use of Rest.
* Power Construct lets Zygarde transform into Zygarde-C when its HP is less than 50% at the end of the turn, gaining massive bulk.
Usage Tips
========
* Despite Zygarde-C's good natural bulk even before transformation, one should switch Zygarde only into weak or resisted attacks that aren't going to overwhelm it.
* One must scout for lure sets, such as Hidden Power Ice Primal Groudon and Marshadow, before switching Zygarde into them, unless there are no sufficient switch-ins for them. Similarly, Ice Beam from Arceus formes and Draco Meteor from Rayquaza are able to either dangerously weaken or outright eliminate Zygarde before it gets an opportunity to transform.
* It is vitally important to keep track of the amount of damage Zygarde takes from an attack so it can be switched into appropriate attacks and transform safely.
* If Sleep Talk is opted for, Zygarde-C can be used as an emergency check to sleep inducers such as Lunala and Darkrai and potentially shut them down with Glare.
* Even after transformation, Zygarde-C should remain as healthy as possible in order to survive +2 Precipice Blades from Primal Groudon, +2 Searing Sunraze Smash from Necrozma-DM, or +2 Close Combat from Mega Lucario.
Team Options
========
* Primal Groudon appreciates Zygarde-C's ability to remove the Ground immunities from Ho-Oh, Celesteela, and Giratina-O so it can hit them with Precipice Blades. It also appreciates the speed control from Glare, which gives it room to breathe against faster threats and set up reliably. In return, Primal Groudon checks Fairy-types and Primal Kyogre and provides Stealth Rock support to make Zygarde-C's Dragon Tail more useful.
* Arceus-Fairy is another partner that is able to set up Stealth Rock, and it handles Yveltal and Marshadow carrying Hidden Power Ice. It also naturally draws in Defog Arceus formes and sets them on a timer with Toxic to give them much more difficulty switching into Zygarde-C.
* Necrozma-DM is another answer to Fairy-types that provides Stealth Rock support and hinders Arceus formes with Toxic.
* On more offensive teams, Xerneas is a great answer to Dark-types like Yveltal that simultaneously provides cleric support. It appreciates Zygarde-C's ability to wear down the opposing team with Dragon Tail with entry hazards up and potentially lure Mega Gengar and remove it with Thousand Arrows from Sleep Talk.
* Mega Gengar vastly appreciates Zygarde-C's ability to spread status and draw in Arceus-Fairy. Glare lets Mega Gengar feast on trapped foe with Hex while letting it potentially buy a free turn to use Substitute. Mega Gengar is also able to remove Arceus-Fairy and Xerneas, the latter which otherwise can cure its teammates of paralysis induced by Zygarde-C.
* An alternative answer to Fairy-types is Magearna, which is able to handle Yveltal, switch into Toxic, and use Heal Bell to cure Zygarde-C without being overly relant on Sleep Talk.
* Ferrothorn sets up Spikes to make Dragon Tail even more effective and uses Leech Seed on threats like Primal Groudon, Ho-Oh, and Blaziken that it naturally draws in to let Zygarde-C handle them more easily and potentially allow it to transform safely. It also switches into Arceus formes lacking Ice Beam. In return, Zygarde-C is able to take on Fire-types and Fighting-types.
* Toxapex is able to check Primal Kyogre lacking Thunder, check Marshadow with Hidden Power Ice, and switch into Toxic. It also can induce burns with Scald to make physical attackers do next to no damage to Zygarde-C and provides Toxic Spikes support, which can be exploited with Zygarde-C's Dragon Tail. It also takes on any viable Arceus forme barring Arceus-Ground.
[SET]
name: Dragon Dance
move 1: Dragon Dance
move 2: Thousand Arrows
move 3: Substitute
move 4: Dragon Tail / Glare
item: Groundium Z / Leftovers
ability: Power Construct
nature: Adamant
evs: 252 Atk / 4 Def / 252 Spe
ivs: 30 HP
[SET COMMENTS]
Moves
========
* Dragon Dance increases Zygarde-C's Attack and Speed to immediately make it an offensive threat. Thanks to its colossal bulk, Zygarde-C will find an opportunity to set up more than once against the majority of the metagame.
* Thousand Arrows, whether Zygade-C is boosted or not, is a very spammable move that barely any viable Pokemon in the metagame resists. The move progressively becomes harder to handle with boosts from Dragon Dance. With Groundium Z, the move turns into Tectonic Rage, which lets Zygarde-C bypass its potential checks with additional power.
* Substitute prevents harmful status moves such as Toxic and Leech Seed from hindering Zygarde-C's ability to set up reliably. Thanks to its great bulk, most passive Pokemon cannot break Substitute without letting Zygarde-C boost multiple times or switching out into a counter. Notably, it takes two Dragon Tails from Giratina to break Zygarde-C's Substitute.
* Dragon Tail may seem like a bizarre option on a Dragon Dance set, but it notably phazes Lugia and Skarmory before they phaze Zygarde-C behind Substitute with Whirlwind. Dragon Tail can also let Zygarde provide support to its team by checking threats such as Rock Polish Primal Groudon and Swords Dance Arceus formes in an event where it cannot find an opportunity to set up.
* Glare is still a justifiable move. Especially with Substitute, it allows Zygarde-C to safely paralyze checks that switch in, and the move also may occasionally buy free turns to set up Dragon Dance.
* Extreme Speed can be used to let Zygarde-C pick on weakened threats such as Geomancy Xerneas and Deoxys-A, but the low power makes revenge killing difficult in general.
Set Details
========
* Maximum Attack investment along with an Adamant nature maximizes Zygarde-C's damage output to benefit as much as possible from Dragon Dance boosts. It also lets Zygarde-C immediately take out standard Geomancy Xerneas with +1 Tectonic Rage.
* 252 Speed EVs allow Zygarde-C to outspeed everything up to Rash Deoxys-A after a Dragon Dance in its complete forme. This spread is also effective against Marshadow, which may otherwise outspeed Zygarde-C and steal boosts with Spectral Thief.
* 30 HP IVs allow Zygarde to activate Power Construct after it uses Substitute twice.
* An alternative EV spread of 252 Atk / 100 Def / 156 Spe with an Adamant nature lets Zygarde-C outspeed Choice Scarf Xerneas and Yveltal after two Dragon Dances in Complete forme.
* Groundium Z lets Zygarde use a powerful Tectonic Rage to hit bulky checks like Arceus formes and Xerneas. The Z-Move benefits from Thousand Arrows's removal of Ground immunities.
* Leftovers is another option to provide Zygarde-C with passive recovery and let it set Dragon Dance more reliably against defensive teams, but this forces Zygarde-C to rely on excessive prior damage and entry hazards to bypass its checks.
Usage Tips
========
* This set lacks defensive investment and shouldn't be switched in recklessly, but it is able to act as an offensive check to Primal Groudon and other threats.
* Due to Zygarde-C's low initial power without boosts, it is best to set up on passive threats that rely on status moves to do meaningful damage, such as Celesteela, Ferrothorn, Toxapex, Chansey, and Blissey. It is always ideal to use Substitute to block status moves or on a forced switch.
* Frequent use of Substitute allow Zygarde to transform safely while avoiding heavy damage from the likes of offensive Primal Groudon and Arceus formes.
* When behind Substitute, Dragon Tail should be used against potential users of phazing moves such as Lugia, Skarmory, and Primal Groudon to phaze them first.
* While Zygarde-C is a huge threat to offensive teams due to its bulk, which allows it to accumulate boosts with ease, it has trouble breaking defensive roadblocks on its own and should be preserved until conditions for its sweep are met. Entry hazards must be set in order to put Zygarde-C's checks into KO range of a boosted Z-Move, or it simply has to wait until they have been eliminated.
* Especially with a bulkier spread, Zygarde-C fails to outspeed important threats, such as Deoxys-A and Marshadow, with a Dragon Dance boost. This leaves one with an obligation to decide carefully about when to fire Thousand Arrows and when to set up. Although the aforementioned threats realistically can't switch into Thousand Arrows reliably, switching on predicted setup will simply make Zygarde-C's attempt to get boosts go to waste, as it is forced out.
* Zygarde is faster prior to transformation, outspeeding additional threats like Timid Mega Mewtwo Y after a Dragon Dance. Therefore, it is sometimes better to postpone Power Construct's activation to take advantage of regular Zygarde's better Speed tier.
* Zygarde-C will need to preserve its Z-Move to KO its defensive checks, such as support Arceus formes, that would otherwise require multiple boosts or excessive prior damage to be KOed.
Team Options
========
* Zygarde-C will need multiple layers of entry hazards set in order to KO its checks with its boosted Z-Move, and therefore, Stealth Rock users and Spikes setters are mandatory. Primal Groudon and Necrozma-DM are able to set Stealth Rock and check Fairy-types, while Ferrothorn switches into special attacks from Arceus formes, sets Spikes, and uses Leech Seed to let Zygarde-C set up more easily.
* Toxic Spikes from Cloyster allows Zygarde to pressure Arceus formes more and stall with damage from poison and Substitute to put them into KO range of its boosted Z-Move. Zygarde-C normally discourages Steel- and Poison-types from switching in and therefore forces its checks to switch into Toxic Spikes.
* Sweepers such as Geomancy Xerneas and Rock Polish Primal Groudon appreciate Zygarde-C's ability to pressure their defensive checks with its powerful Thousand Arrows. The former appreciates Zygarde threatening Primal Groudon, Magearna, Chansey, and Blissey and can easily clean up weakened teams late-game, while the latter appreciates the removal of Ground immunities from foes and is able to freely use Precipice Blades or set up while it forces out a foe.
* If a Z-Crystal is not opted for, Gothitelle is able to trap and dispose of Arceus formes, which Zygarde-C will have a hard time surmounting. Gothitelle also neutralizes most passive foes for Zygarde-C to set up Dragon Dance reliably.
* Mega Gengar is an alternative trapper that is able to remove Arceus-Fairy and Arceus-Water for Zygarde and appreciates Zygarde spreading paralysis va Glare.
* Pivots such as Mega Scizor and Magearna can act as reliable checks to Fairy-types while bringing in Zygarde-C safely with U-turn and Volt Switch.
[STRATEGY COMMENTS]
Other Options
=============
* Haze on a physically defensive set is an alternative way to shut down setup sweepers and to lure in Xerneas and make it waste its Power Herb with Geomancy, but this is usually inferior to Dragon Tail due to it leaving Zygarde-C vulnerable to Gothitelle.
* Thousand Waves can be employed on a Dragon Dance set to trap passive foes to gain setup opportunities. Depending on the passivity of a foe, Zygarde-C may set up fully and proceed to outright sweep the opposing team.
* Outrage with Dragonium Z allows Zygarde-C to quickly eliminate Mega Salamence and both formes of Giratina and do heavier damage to support Arceus formes.
* Coil on a Dragon Dance set is a viable option to set up better against passive foes. 28 Defense EVs along with a boost from Coil let Zygarde-C make a Substitute that cannot be broken by a Precipice Blades from defensive Primal Groudon, Sunsteel Strike from defensive Necrozma-DM, Brave Bird from defensive Ho-Oh, and Earthquake from Excadrill. However, this means that Zygarde-C is forgoing Glare, and its effectiveness as an offensive check to threats like Rock Polish Primal Groudon and Swords Dance Arceus formes will diminish.
* A set of Dragon Dance / Thousand Arrows / Substitute / Protect with Leftovers along with Toxic Spikes support can greatly bother Zygarde-C's checks. Repeated use Substitute and Protect can end up putting the likes of Arceus formes into KO range of a boosted Thousand Arrows and lets Zygarde scout moves better. However, this comes at the cost of being susceptible to phazers and forgoing Glare.
* Mago Berry may fit on Dragon Dance set to provide Zygarde-C immediate recovery and let it sets up more reliably against offensive teams, but forgoing Leftovers or a Z-Crystal isn't always ideal.
Checks and Counters
===================
**Fairy-types**: Fairy-types such as Xerneas and Arceus-Fairy massively threaten Zygarde-C with their super effective STAB attacks. Although none of them like switching into Glare or Toxic, they are still good offensive checks. The former is especially dangerous, since it cannot be phazed by Dragon Tail and is able to set up Geomany as Zygarde-C is forced out. However, if Zygarde-C is boosted, the former falls to Tectonic Rage, and the latter faces the same situation after some prior damage.
**Ice-type Attacks**: Ice Beam is one of the most popular coverage moves in the metagame and is commonly employed by support Arceus formes, Primal Kyogre, Deoxys-A, Mewtwo, and others, and they massively threaten Zygarde-C by exploiting its extreme weakness to Ice-type moves. Hidden Power Ice from Primal Groudon and Marshadow easily 2HKOes Zygarde-C and takes out Zygarde prior to transformation after some prior damage has been dealt.
**Special Attackers**: Due to the fact that Zygarde-C resists very few special attacks and cannot afford to invest into Special Defense, threats such as Yveltal, Lunala, and Deoxys-A can threaten Zygarde-C with their powerful STAB attacks. However, they are left crippled if they carelessly switch into Glare. Dragon-type moves from Rayquaza, Dialga, and Palkia are even more threatening to Zygarde-C.
**Taunt**: Due to Zygarde-C's reliance on Rest to recover, Taunt users like Mega Gengar, Yveltal, and Mewtwo can mess up Zygarde-C's HP management prior to its transformation and hinder its overall longevity. Yveltal in particular is troublesome, since it recovers damage taken from Thousand Arrows with Oblivion Wing. However, Mega Gengar might be KOed by a timely executed Thousand Arrows from Sleep Talk if it switches in recklessly, and Mewtwo takes sizable damage from Thousand Arrows and loses its effectiveness if switched into Glare.
**Offensive Pressure Prior to Power Construct**: Zygarde needs Power Construct to activate to gain enough bulk to take boosted hits, and opponents are able to take advantage of this fact to KO Zygarde with brute force before it transforms. This entices most physical attackers, such as Primal Groudon, Necrozma-DM, and Mega Lucario, to set up prior to using any attacks on Zygarde. Swords Dance-boosted attacks from these threats have a chance to OHKO Zygarde if it has taken sufficient prior damage. Necrozma-DM in particular is troublesome in this regard, since Zygarde needs to have transformed to its Complete forme and be at near-full HP to survive a boosted Searing Sunraze Smash. Zygarde also suffers from offensive pressure from a multitude of special wallbreakers, and the majority of them have a way to threaten it. Other than using Glare on switch-ins, Zygarde will be unable to do much in its base forme and will have a much harder time checking physical attackers paired with special wallbreakers.
Last edited: