Hey everyone, I'm Ardy, and Im currently procrastinating my college assignments by playing ROM Hacks. I've seen a lot of people posting their Let's Plays here, and I wanted to try that out too. So without further ado, here is my Lets Play of Pokemon Blazed Glazed!
The Game:
Pokemon Blazed Glazed
is a reworking of a pretty famous GBA hack,
Pokemon Glazed
. Pokemon Blazed Glazed updates the difficulty and adds a lot of pokemon and moves from later generations. I have played Pokemon Blazed Glazed before, but only as far as the 1st gym. I have apparently (since I found the file on my laptop) played Pokemon Glazed upto the second gym, but I only vaguely remember it. I greatly enjoyed what I played, though, and thats why I've chosen this game for Let's Play.
This playthrough is not a Nuzlocke, because its my first time playing through these games in a long time and I dont want a headache. I'm going to be posting updates as often as I can, (ie; when I have assignments due that I dont want to do) and Im gonna do so in the form of screenshots and text, not video. As stated, this is my first Let's Play, so let me know if I'm doing anything wrong or inefficiently and all that. Criticize away!
And now, finally, the game.
Title Screen! Nothing much else to say here.
This is the regions professor, Professor Willow. I really like his sprite, btw.
My name, chosen in the style that I've always chosen, because TERRY just seems friendlier than Terry, for some reason. Theres some strictness about Terry that isnt present with the childish, carefree essence of TERRY. Atleast, thats how I feel.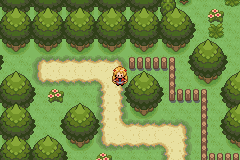 After rushing through the rest of the intro the game drops us right into this forest. A very visually appealing forest. I just like how the trees look here, much better than the ugly things in RSE. Theres nothing to the left of us, so the only option is to go down this path.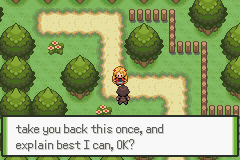 This weird man runs up to us halfway through and begins to cryptically scold us.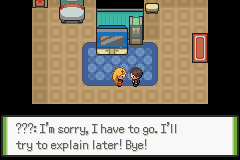 The weird man teleports us back to what must be our room, then teleports away. Kinda rude, but at least he apologizes. Anyways, time to explore the room.
Not that there is much to explore. You cant really interact with anything except the clock, which informs you the batteries have run out. Even this laptop is unresponsive to my efforts to get a Potion out of it. Curses. With nothing left to do in the room, I decide to leave the house.
A Pokemon game where both of our parents are alive and living together? Sounds like blasphemy to me, but okay. The towns name is Glenwood, by the way. Mom and Dad inform us that they're going to the nearby Chocho town to get groceries, reminds us we are wanted at Professor Willow's lab, and then we are free to explore the town. There isnt much to explore in the town, however, so I decide to see how far we can go. Towards the left is a path that leads to some wild grass that a sign informs us is Professor Willow's sanctuary.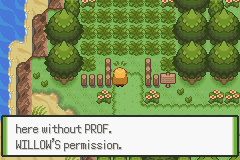 Unfortunately, we cant enter it just yet. So lets go towards the right of the town this time.
Hey, theres an item ball hidden behind that tree! (this is a bad screenshot, im aware, but by the time I realised you could barely see it in this one, i had already picked it up)
Unfortunately, when we get too close, this random Pikachu in the forest gets angry at us and pushes us away. So now that we've exhausted the possibilities, lets finally go to Willow's lab.
Professor Birch???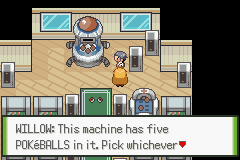 According to the game, its Professor Willow, but Im onto you, Birch.
We get a choice of 5 starters, which is cool. There is only one right choice, though.
The nickname is the nickname I gave to my first ever Chimchar back when I played Pokemon Diamond. Good times. Nature and IVs arent anything special, but Im too lazy to reset for good stats.
Since Willow doesnt have any Pokedexes on him at the moment (left them in Hoenn??), he tells us to go to Chocho Town, and get one from his friend, The Inventor. And so off we go.
When we set off, though, we find that the Pikachu from earlier is harassing our parents. When we interrupt it, it gets mad.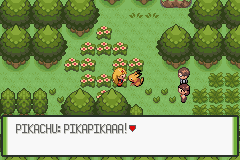 Its practically impossible to lose this fight, since the Pikachu only knows Growl. As such, we take it down pretty easily, after which the Pikachu runs off.
After scaring the Pikachu off, our parents give us some gifts to make life easier. The EXP.Share in particular is greatly appreciated this early in the game.
Our parents tell us they're proud of us (Take notes, irl dads and moms and parents) then tell us to go take on the Pokemon League. They point us in the direction of Oceanview City, but unfortunately, since we dont have a map yet, we dont really know where that is. Anyways, some grinding is done here to bump up Chimchar a bit.
That seems like enough. Oh, and while we're at it, we should pick up that item from before.
I guess that makes up for not having one in the laptop at home. We heal up Chimchar, then head towards Chocho Town.
Before we get far, we're interrupted by this guy.
I suppose this was to be expected.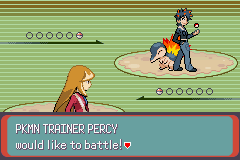 Fucking lit sprite holy hell.
Two Scratches can easily take down this Cyndaquil, so its a pretty easy fight. Percy will always have Cyndaquil no matter what our starter is.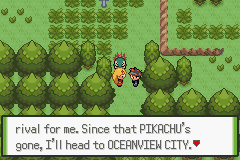 Smell ya later, Percy.
We grind a bit more, and Chimchar learns Taunt. Again, we can leave it at this. And now, finally, lets go to Chocho town.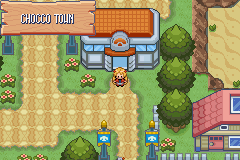 Awesome. We heal up our Chimchar inside the Centre, but theres something more important to be found here.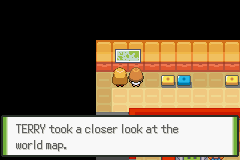 The first map we can see in the game. (or atleast the first one I found. its entirely possible i missed an earlier one.)
Pretty intriguing design. And yes, we
are
gonna be able to travel to that other region later on! Anyways, we have to go north for Oceanview, as the map shows, but before that, lets go to the Inventor and get the Pokedex.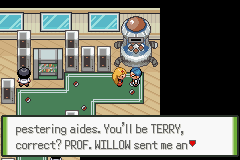 Thats nice
Thats nicer.
We're going north anyways, so why not.
And here is where we'll leave this off for now. Hopefully I shouldnt be too long between updates, but Im going to keep this one short so I can get feedback and improve the next one, which will probably be longer!
Please, if you have any criticisms or advice, please let me know!
Also Im not sure about how to attach pictures without the files showing up below, so if someone can guide me it would be greatly appreciated.
Thank you!
Last edited: