Dracovish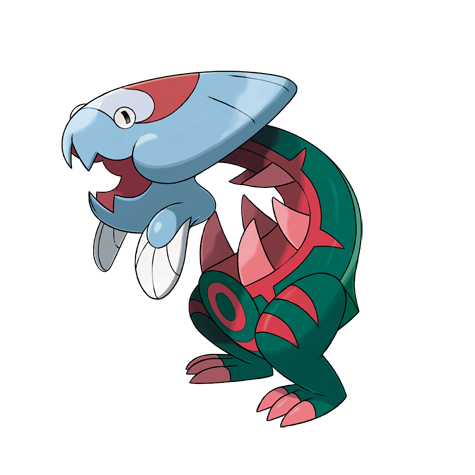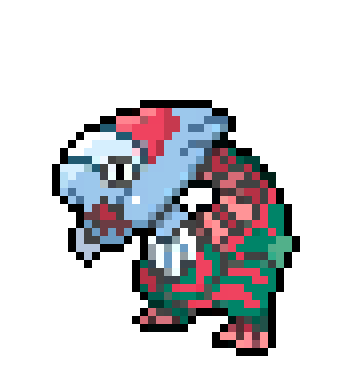 Typing:


Base Stats
: 90 HP | 90 Atk | 100 Def | 70 SpA | 80 SpD | 75 Spe
Abilities
: Water Absorb | Strong Jaw | Sand Rush (H)
Level Up Moves:
- [01] Tackle
- [01] Water Gun
- [07] Protect
- [14] Brutal Swing
- [21] Ancient Power
- [28] Bite
- [35] Dragon Breath
- [42] Stomp
- [49] Super Fang
- [56] Crunch
- [63] Fishious Rend
- [70] Dragon Pulse
- [77] Dragon Rush
TMs:
- [TM01] Mega Kick
- [TM08] Hyper Beam
- [TM09] Giga Impact
- [TM21] Rest
- [TM22] Rock Slide
- [TM24] Snore
- [TM25] Protect
- [TM33] Rain Dance
- [TM36] Whirlpool
- [TM39] Facade
- [TM45] Dive
- [TM48] Rock Tomb
- [TM54] Rock Blast
- [TM55] Brine
- [TM67] Ice Fang
- [TM76] Round
- [TM81] Bulldoze
- [TM97] Brutal Swing
- [TM98] Stomping Tantrum
TRs:
- [TR01] Body Slam
- [TR03] Hydro Pump
- [TR04] Surf
- [TR07] Low Kick
- [TR10] Earthquake
- [TR16] Waterfall
- [TR18] Leech Life
- [TR20] Substitute
- [TR24] Outrage
- [TR26] Endure
- [TR27] Sleep Talk
- [TR32] Crunch
- [TR62] Dragon Pulse
- [TR67] Earth Power
- [TR69] Zen Headbutt
- [TR74] Iron Head
- [TR75] Stone Edge
- [TR84] Scald
- [TR97] Psychic Fangs
- [TR98] Liquidation
Notable Moves
-
Fishious Rend
- Outrage
- Earthquake
- Low Kick
- Stone Edge
- Iron Head
- Leech Life
- Crunch
- Psychic Fangs
- Ice Fang
New Move
Fishious Rend: Water, Physical, 85 BP, 100 accuracy. Considered a
bite move.
If the user attacks
before
the target
or
the opponent
switches out
, the power of this move is doubled.
Pros
- Dracovish has access to, by far, strongest water-type attack in the entire game.
- Dracovish also boasts great coverage options that can break down conventional water/dragon resists.
- Its water/dragon typing is very useful defensively to find more opportunities to wallbreak.
- Base 75 speed allows Dracovish to outspeed most defensive threats, making it a threat to defensive teams.
- All of its abilities provide great utility, defensively or offensively.
Cons
- Its middling speed stat of 75 combined with a lack of priority will make Dracovish struggle to accomplish much in offensive matchups.
- Despite having good defensive typing and 90/100/80 bulk, Dracovish is prone to getting worn down due to a lack of good recovery options.
- Outside of Fishious Rend, Dracovish does not hit that hard courtesy of a base 90 attack stat.
Potential Movesets and Viability
"
Powerful legs and jaws made it the apex predator of its time. Its own overhunting of its prey was what drove it to extinction."
First, let's just take the time to appreciate how metal Dracovish's dex entry is. It drove itself into extinction just by being too powerful of a predator, let that sink in. Fun lore aside, Dracovish carves an extremely polarizing yet powerful niche in OU with its unique attack in Fishious Rend. When backed up by a Choice Band, Strong Jaw boost, and rain boosts, the strongest of conventional water resists like Ferrothorn and Toxapex can find themselves getting 2hko'd or even ohko'd by the sheer power of this attack. Combine this with coverage for some water immunities like Mantine or Jellicent, and Dracovish gains the potential to annihilate stall and balance alike as a dedicated wallbreaker on competitive teams.
While Dracovish faces extreme competition with other OU wallbreakers, Fishious Rend is such an insanely powerful tool that it even outdoes the damage output of breakers like Araquanid and Crawdaunt by a large margin. Additionally, its good typing in water/dragon as well as usable 90/100/80 bulk makes Dracovish easier to bring onto the battlefield safely. The newly discovered raw power of Fishious Rend backed up by its decent base 75 speed also opens up the viability of Choice Scarf sets to overcome the Choice Band's poor offensive matchups. Overall, Dracovish has high potential to shine in OU as an insanely strong wallbreaker, and may force metagame trends such as an increased usage of water immunities such as Seismitoad on teams.
In terms of Dynamax potential, Dracovish is a poor abuser of the mechanic. Fishious Rend loses its power-doubling ability and Strong Jaw boost, and it is too slow to clean up with repeated G-Max attacks even if gaining stat boosts. It should only be Dynamaxed if there is no other option but to abuse the extra bulk and revenge kill an extremely dangerous setup sweeper.
Banded Wallbreaker
Dracovish @ Choice Band
Ability: Strong Jaw
EVs: 252 Atk / 4 SpD / 252 Spe
Adamant Nature
- Fishious Rend
- Crunch
- Psychic Fangs
- Low Kick
A potentially viable set for Dracovish. This set aims to make the most use of its powerful STAB especially when used alongside rain support. If Strong Jaw is being used, Crunch should be selected to have an option vs Jellicent and Psychic Fangs should be brought to hit Toxapex harder. Finally, Low Kick is Dracovish's best option for immediate damage against Ferrothorn. Keep in mind that Fishious Rend is so brutally powerful that it can 2hko or even ohko most resists outright.
Anti-Offense Cleaner
Dracovish @ Choice Scarf
Ability: Strong Jaw
EVs: 252 Atk / 4 SpD / 252 Spe
Jolly Nature
- Fishious Rend
- Crunch
- Psychic Fangs
- Low Kick
This set aims to remedy Banded Dracovish's poor offensive matchup by outspeeding the metagame except for Dragapult. This set may be more viable on rain teams, but it might be mostly outclassed by other fast offensive water types like Barraskewda. A fast Fishious Rend is always worthwhile to consider, however, and such a set may shine in Hyper Offensive matchups.
Other Notes
Dracovish's hidden ability, Sand Rush, is currently unreleased. If/when obtainable, this may be a great boon to Sand Rush cores as Dracovish offers good type synergy with typical Sandstorm teammates. However, the raw damage output of Strong Jaw-boosted Fishious Rend is so high that sand teams may reconsider the speed boost at all.
Last edited: