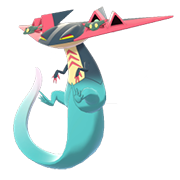 Dragapult


Base Stats
: 88 HP | 120 Atk | 75 Def | 100 SpA | 75 SpD | 142 Spe
Abilities
: Clear Body | Infiltrator | Cursed Body (H)
Level Up Moves:
- [00] Dragon Darts
- [01] Dragon Darts
- [01] Dragon Breath
- [01] Sucker Punch
- [01] Astonish
- [01] Infestation
- [01] Quick Attack
- [01] Bite
- [06] Lock-On
- [12] Assurance
- [18] Hex
- [24] Agility
- [30] Double Hit
- [36] U-turn
- [42] Dragon Dance
- [48] Phantom Force
- [54] Take Down
- [63] Dragon Rush
- [70] Double-Edge
- [78] Last Resort

TMs:
- [TM06] Fly
- [TM08] Hyper Beam
- [TM09] Giga Impact
- [TM11] Solar Beam
- [TM14] Thunder Wave
- [TM17] Light Screen
- [TM18] Reflect
- [TM21] Rest
- [TM23] Thief
- [TM24] Snore
- [TM25] Protect
- [TM30] Steel Wing
- [TM31] Attract
- [TM37] Beat Up
- [TM38] Will-O-Wisp
- [TM39] Facade
- [TM40] Swift
- [TM41] Helping Hand
- [TM45] Dive
- [TM55] Brine
- [TM56] U-turn
- [TM58] Assurance
- [TM76] Round
- [TM77] Hex
- [TM78] Acrobatics
- [TM86] Phantom Force
- [TM99] Breaking Swipe

TRs:
- [TM01] Body Slam
- [TM02] Flamethrower
- [TM03] Hydro Pump
- [TM04] Surf
- [TM08] Thunderbolt
- [TM09] Thunder
- [TM12] Agility
- [TM15] Fire Blast
- [TM19] Tri Attack
- [TM20] Substitute
- [TM24] Outrage
- [TM26] Endure
- [TM27] Sleep Talk
- [TM29] Baton Pass
- [TM33] Shadow Ball
- [TM47] Dragon Claw
- [TM51] Dragon Dance
- [TM62] Dragon Pulse
- [TM83] Ally Switch
- [TM84] Scald
- [TM97] Psychic Fangs

Egg Moves:
- Curse
- Grudge
- Confuse Ray
- Double Team
- Disable
- Dragon Tail
- Sucker Punch

By tutor:
- Draco Meteor
Notable Moves
:
- Dragon Dance
- Dragon Darts
- Outrage
- Draco Meteor
- Dragon Pulse
- Shadow Ball
- Hex
- Phantom Force
- U-turn
- Fire Blast
- Flamethrower
- Thunderbolt
- Thunder
- Hydro Pump
- Will-O-Wisp
- Disable
- Thunder Wave
- Tri Attack
- Psychic Fangs
- Reflect
- Light Screen
New Moves
:
Dragon Darts


50(100 effective) BP
100% Accuracy
16 PP
The user attacks twice using Dreepy. If there are two targets, this move hits each target once.
Each attack has 50 BP, so a total of 100.
No added effects.
Pros
:
- An expansive movepool, particularly on the special side, but usable enough on the physical side; with some utility and setup on top.
- Great offensive typing with good STABs to back it up.
- One of the naturally fastest Pokemon available in the Galar Dex.
- The best physical Dragon move in the game, and it's signature!
Cons
:
- Its offensive stats, while by no means bad, are still unimpressive and leave something to be desired.
- Its physical movepool is pretty shallow outside of STAB moves.
- The above means that it might have to rely on its weaker SpA stat of 100 in order to make proper use of its movepool.
- No reliable recovery, which means it can't set up freely if running such a set.
Dynamaxing Potential
:
- With access to Dragon Dance and its ability to force switches, Dragapult makes an overall decent candidate for Dynamaxing after a boost.
- Particularly, since its main physical ghost STAB on setup sets will be Phantom Force, Dynamaxing makes it faster at breaking/sweeping and harder to outplay.
- Despite this, there's probably going to be better candidates for the Dynamax in most battles; don't write it off completely though.
Potential Movesets
:
Dragapult @ Choice Specs
Ability: Infiltrator / Cursed Body
EVs: 252 SpA / 4 SpD / 252 Spe
Modest Nature
- Draco Meteor
- Shadow Ball
- Fire Blast / Flamethrower
- U-turn / Thunderbolt
(/ Hydro Pump / Will-O-Wisp)
I believe this will be the best set for it in SwSh OU; with Dragapult's blazing Speed stat, it is able to afford a Modest nature, making the set a lot more potent than otherwise. The first 2 slots are definite locks, for obvious reasons. Draco Meteor is Dragapult's best special Dragon STAB by a decent margin, and can be used to do some serious damage to a lot of teams. This gen had a reduction in good Fairy types and Dragapult has coverage options for Steel types, making its Dragon STAB easier to click than most. Shadow Ball is Dragapult's bread and butter, being spammable, accurate, and decently strong. Fire coverage on the third slot is nigh mandatory for the bulkier Steel types that resist Draco Meteor or for OHKOing purposes, such as vs Ferrothorn or Excadrill. The last slot is, in my opinion, a toss-up between U-turn and Tbolt. U-turn is a nice catch all for stuff that you'd rather scout than click a move against, or maybe slightly wear a check down to the range of your other moves. Thunderbolt on the other hand could be useful for blowing through defensive checks that you otherwise don't do exactly
great
against, ie Toxapex and SpDef Mandibuzz. Any other option is significantly inferior and very niche; I included Hydro Pump and Wisp as examples of what you
could
use and technically they have a niche, but, meh. Infiltrator is probably the better ability, so you can snipe opponents through Substitutes and up your efficiency against Veil/Screens, although Cursed Body is actually an OK ability, so it will mainly come down to preference.
Dragapult @ Draco Plate / Spooky Plate /
maybe Life Orb?
Ability: Cursed Body / Infiltrator
EVs: 252 Atk / 4 SpD / 252 Spe
Adamant Nature
- Dragon Dance
- Dragon Darts
- Phantom Force
- Disable / Substitute / Will-O-Wisp
(/Psychic Fangs)
Dragapult is the first Dragon to have an actually really good Dragon STAB, which makes physical sets appealing. Unfortunately, as shown here, the lack of coverage and equally good Ghost STAB drags them down. Dance, Darts and Phantom Force are self explanatory; set-up, STAB, (sadly only) STAB. Phantom Force is...suboptimal, but also your only option. The last slot is kind of hard to pin down and will probably depend on preference. Disable could be good vs something that walls you due to healing moves, or maybe you wanna fuck over a Choice user; Sub makes you a better sweeper and ups setup opportunities; Wisp can make for some cool plays to open said opportunities up, or neutralize a threat. Lastly, Psychic Fangs should probably just never be used, but it can OHKO Toxapex with Life Orb after Rocks, so I guess it could happen? Highly don't recommend, though. As far as items go, Draco Plate makes Dragon Darts actually quite threatening, doing 70 min(!!) to Toxapex at +1(that's quite a bit). Spooky Plate is the same, more damage on Phantom Force. Orb could have some potential to make it a better cleaner but idk, I don't like the idea of recoil at all, especially on a mon like this. Cursed Body is probably the way to go here, can cheese some extra DDs or attacks out, though Infiltrator is still usable, I suppose.
Overall, I'm a big fan of this mon. I've had most fun and effectiveness with the Specs set and I consider it very much superior to the DD set, however the meta is still young, so who knows. It has the options to support itself, it'll be nice to see it evolve along with the tier.