I'M THUNDER IN A CAN









Moderator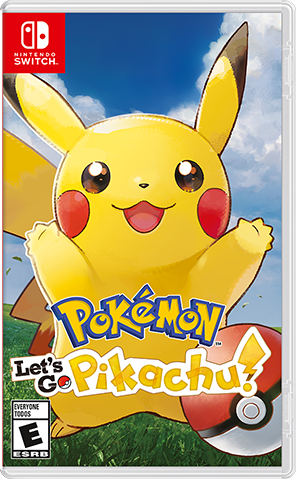 Pokemon Let's Go: Anything Goes!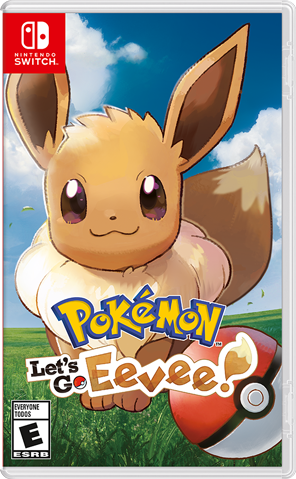 Approved (and suggested!) by
The Immortal
Now that Pokemon Let's Go is out, we know how the mechanics and stat system work, and boy are they a doozy!
The main mechanics and rules of Let's Go
​
1. Candy gives all Pokemon a straight 200+ boost to each stat.
2. Additionally, maximum friendship gives a 10% boost to all stats except for HP before taking the candy boosts into account.
3. Pokemon have dramitcally constrained movepools compared to what they usually have. Check websites out like Serebii for now to see what I mean! Since PS won't tell you whats illegal right away, you may want to refer to Kaphotics's pastebin, which includes everything but Pikachu and Eevee's signiture tutor moves and lol Celebrate Chansey: https://pastebin.com/csJJyxDU
4. For Charizard and Mewtwo, they can choose which Pokemon they mega evolve into DURING the battle. As Pokemon Showdown was not built to handle this, we won't be able to play with this mechanic on Pokemon Showdown for a while.
5. You can play without candy boosts via the restricted ruleset at level 50, but that format is covered over here! https://www.smogon.com/forums/threads/lgpe-overused.3644015/
6. Items and Abilities don't exist in this format! Mega Evolving can still be done, with the same 1 mega evolving per team limit as usual. On Pokemon Showdown, I'd just put Mega Stones on every Pokemon that can Mega Evolve for now!
7. Not a mechanic, but there are NO CLAUSES HERE! Better get prepared for OHKO moves!
8. An important note for those of you who want to play this on the Switch: Unfortunately, there's a 20 minute time limit for all battles on cart, which makes it difficult to actually finish candy battles. If Gamefreak doesn't patch this, it may be best playing this on Showdow instead.
9. Veevee Volly and Pika Papow are banned. It has nothing to do with them being broken or anything, it just seems that getting them as regular moves is impossible, and the shake to use stuff doesn't show up in link battles.

Mini threat list (singles)
​
Here, I'll cover the main threats of singles in a condense, easy to digest way. Later on, I'll get more indepth in the post below! An important thing to keep in mind in general is that due to candy boosts, Pokemon are MUCH bulkier than usual! A famous and absurd example: Rhydon needs Stealth Rock to even have a 50% shot of OHKOing Partner Pikachu with Earthquake!!! So few Pokemon can actually 2HKO stuff without multiple boost, keep that in mind!
The New Pokemon (Partners and Melmetal)
While this isn't a specfic role, we have to address this now. You can only use one partner Pokemon, that is: the new Eevee and Pikachu formes. This is because you can't trade them, which sorta sucks! It also is a major thing to consider if you're actually going to play ingame (though the timer on cart is a huge problem for this format in particular)
Eevee:
Eevee is an incredibly important Pokemon for this format! That's because of one of its exclusive moves, Sparkly Swirl. This allows it to remove all status from your team, and this is a format where Healing Bell and Aromatherepy don't exist! To make the deal sweeter, Eevee also gets Sappy Seed, which when combined with Substitute, makes it a fairly effective Subseeder that doesnt have to worry much about Taunt (not to mention, it lets Eevee mess with Rhydon). Eevee has many other great support options for the last slot as well, with Sizzly Slide burning foes, Buzzy Buzz paralyzing foes, Baddy Bad setting up Reflect, Glitzy Glow setting up Light Screen, and Freezy Frost acting like an offensive Haze!
Eevee does have one major flaw though: even for this format, it isn't particularly bulky, so Eevee often must take a huge amount of damage to actually stop sweeps from the likes of Dodrio, and its a big target because of its cleric role. Nature wise, you'll want Jolly or Timid just to ensure that you speed tie with other Eevee.
Pikachu:
Sadly, Pikachu isn't nearly as good as Eevee. It has a niche of being an unusal Calm Mind user that isnt super weak to Alolan Muk, and it's got a nice 120 base Speed too. Otherwise, stick to Eevee, its cleric role is just way too useful to pass up in a format where Rest exists, but no Sleep Talk!
Melmetal:
Thankfully Melmetal can be used on any team (though its really hard to get ingame due to Pokemon Go lol). Melmetal is a bit of a strange Pokemon, mostly relying on Thunder Wave and its signiture move, Double Iron Bash, to flinch stall its competiton into submission. Note that you'll want Stealth Rock up before you do this, since Double Iron Bash has a pretty low PP of 8, meaning that you'll want to try to clean up weakened teams with this rather than spam it near the begining. Melmetal also gets Rock Slide if you want to try to flinch hax even more!
However, note that Melmetal is also a pretty good user of Toxic. Speaking of that, Melmetal itself is immune to Toxic, so it can be difficult to wear down! You'll still want Rest though, since Melmetal is extremely vulnerable to Will-O-Wisp, and it'd be a shame to waste that impressive bulk!
Steath Rock Setters
Stealth Rock is the only hazard in this format. With nothing to get rid of it here, its extremely powerful, and one of the few things from keeping the pace of Let's Go from grinding to a halt! You'll almost always need one for your team.
Major Examples
Aerodactyl
: Nothing is more reliable at getting Stealth Rock up than Aerodactyl, with almost nothing being able to Taunt Aerodactyl before those rocks get up. Aerodactyl can even Mega Evolve in formats where Mewtwo is allowed to gurantee set up. Aerodactyl is also an effective user of Taunt itself, meaning it usually can do more beyond just seting up Stealth Rock. While this is a bit strange considering its Speed, Aerodactyl is also among the few Pokemon to learn Roar, which is very helpful against Substitute Venomoth!
Mew:
Stealth Rock is a big thing Mew has over Mewtwo. Not only is the most specially bulky Stealth Rock user that's actually good, but its got a great support movepool withs stuff like Dragon Tail, Will-O-Wisp, and U-turn to seperate itself from other Stealth Rock users.
Rhydon:
Rhydon is an extremely physically bulky setter of Stealth Rock, and it's STAB Earthquake is awesome for hitting Melmetal and Alolan Muk hard as well. It even is a good user of Dragon Tail to phaze stuff out that isn't using Substitute. While this may seem strange, you may want to run a Jolly nature on Rhydon, just to win the speed tie with others. Rhydon is also one of the best users of Horn Drill in the game, so be warry of switching in Pokemon recklessly into it! Just note that Rhydon has a pretty poor Special Defense stat, and it has serious problems with Eevee due to Sappy Seed.
Nidoking:
Being weak to Mewtwo is a big problem in a lot of cases, but Nidoking's access to Horn Drill and immunity to Toxic make it a reasonable option none the less.
Niche Examples
Alolan Marowak:
Not getting a physical Ghost STAB in Let's Go really sucks, but it stands out as a really good Venomoth check if something has absorbed sleep, and it also hits Melmetal hard with Flare Blitz.
Pinsir:
Pinsir as a Pokemon isn't too great (though scoring a STAB SE move on Mewtwo and Mew is cool), but like Nidoking and Rhydon, it has a OHKO move, so it can still be a dangerous Stealth Rock user regardless.
Alolan Sandslash:
Alolan Sandslash is usually better off using a Swords Dance set, but its notable for being a Stealth Rock setter that can threaten Venusaur and Aerodactyl.
Chansey:
Chansey may seem really tempting, but the huge HP stats of this format making Seismic Toss useless and being extremely vulnerable to status make Chansey a much more niche choice than you'd expect.
Taunt Stallbreakers
With a format that's so stall heavy, you'll usually need some form of Taunt to blcok Rest shenigans!
Mewtwo:
Nothing breaks the motonoty of stall better than Mewtwo. It's among the fastest Taunters of the game if it Mega Evolves into Y (with only Mega Alakazam, Electrode, and Mega Aerodactyl being faster). It also packs a punch (well relatively speaking anyways). Without a powerful Facade user like Mega Mewtwo X or OHKO users, Taunt + Will-O-Wisp Mewtwo is usually damn near impossible to outstall!
Mew:
Mew can pull a pretty similar stunt to Mewtwo with Will-O-Wisp + Taunt. However, it isn't nearly as good at it, so you should probably only use it if you need some of Mew's support moves like Stealth Rock or Dragon Tail more.
Aerodactyl:
Aerodactyl is a fine user of Taunt. It may not match Mew's bulk, but its much faster, and can set up Stealth Rock, or just Toxic opposing Mew! It also gets Roar, which comes in handy against Venomoth. People familiar with Let's Go OU may scratch their heads at using Mega Aerodactyl with Roost, but remember: with candy boosts, even something like Aerodactyl can take a while to KO!
Alolan Muk:
Alolan Muk is one of the best tanks in the format thanks to its awesome typing letting it check Calm Mind Mewtwo. It's one of the slower users of Taunt, which means it wont often prevent uses of Rest, but its still useful against slower Pokemon, and switch-ins like Mew (yes this happens, because of the extreme bulk lol).
Mega Alakazam:
Mega Alakazam isn't nearly as crazy as Mewtwo, but it is actually faster, meaning it can be a legtimate user of Taunt in its own right. Usually, since Mega Alakzam doesn't have Will-O-Wisp, Taunt sets will just use Calm Mind, and will pray to Arceus that Alolan Muk is down before attempting a sweep.
Gyarados / Mega Gyarados:
Gyarados has a sorta middling speed, but its good at screwing up slow Pokemon like Alolan Muk and Melmetal It can even Mega Evolve to put Calm Mind Mewtwo and Mega Alakazam in its place too! Most of all though, it's an effective phazer with Dragon Tail, which sets it apart from most other users of Taunt.
Gengar / Mega Gengar:
On its own, Gengar isn't really that impressive of a Taunt user compared to the above Pokemon. However, it has the niche of being immune to the OHKO moves people actually use (only Dugtrio and Alolan Dugtrio get Fissure lol), so it's usable for that reason alone.
Sweepers
Yes, sweepers DO exist in this format! It may take a while to get a sweep going, but they can be a fine win condition in the later parts of the game.
Mewtwo / Mega Mewtwo Y:
OF COURSE we have to talk about this first! Nothing is better at using Calm Mind than Mewtwo. Even with the extreme bulk of this format, Mewtwo only needs a couple of Calm Minds to start wrecking havoc. However, with Alolan Muk being so common, this may not be quite as easy as you'd expect. Mega Mewtwo Y does have the option of running Earthquake to hit Alolan Muk hard, but this leaves it pretty vulnerable to oppsing Mewtwo with Shadow Ball. You could even use Taunt and just wait for Aloan Muk to keel over.
Mega Mewtwo X:
This is a pretty good reason to run more than one Mewtwo: With Bulk Up, Mega Mewtwo X blasts the crap out of common Mewtwo checks like Alolan Muk! While not running a STAB may seem odd, Facade is a very good secondary move to pair with Earthquake, since this lets Mega Mewtwo X potentially sweep even in the face of a burn from opposing Mewtwo or Eevee. With the awesome bulk and taking advantage of getting statused, Mega Mewtwo X is extremely difficult to stop without a phazer or clever use of your own Mewtwo. Because of Facade sets, you might want to attempt to Toxic Mega Mewtwo X instead to at least put a timer on it.
Venomoth:
Welcome to the premier sweeper of Pokemon Let's Go! Thanks to Quiver Dance and candies, Venomoth is extremely difficult to KO on the special side. Venomoth has access to two support moves that can make it very scary even with poor coverage: Sleep Powder and Substitute. Substitute is the more reliable option, since it allows Venomoth to block Dragon Tail. However, Sleep Powder can ruin checks like Melmetal and Arcanine particularly well if Eevee is gone. Mega Drain can also be used to get a nice KO on Rhydon after a boost, since that's usually a big problem for Venomoth. Regardless, Venomoth will usually want Roost to set up further Quiver Dances.
Dodrio:
Dodrio is among the few lucky Pokemon to get access to Swords Dance, making it the physical sweeper of choice for most teams. It gets the rare move Jump Kick, which allows it to sweep through weakened Rhydon and Melmetal, a rare quality for such a fast sweeper. Drill Peck is the usual, obvious choice for hitting Venusaur and Mega Mewtwo X, but if you're willing to risk being walled by Gengar, you can also use Facade. Facade's big draw is that if your foe's best stop against Dodrio is Mew, you can set up 2 Swords Dances as they switch in, then blast everything hard with a burn boosted Facade! Despite Dodrio's low bulk, Roost is usually still a good idea to carry if only because Stealth Rock damage can seriously wear it down.
Mega Alakazam:
With Mewtwos prowling around, Mega Alakazam doesn't seem like much, but it does actually outspeed all the Mewtwo. This makes it very feasible to set up a Calm Mind sweep late game with Mega Alakazam, provided that you use Shadow Ball.
Mew:
You'd think Mew would make no sense as a sweeper with Mewtwo around, but Mew has a very nasty trick up its sleeve: Bulk Up + Dragon Tail. With these two moves, Mew will make a mockery of Mega Mewtwo X by just phazing it out, meaning it might sweep instead! It takes much more Bulk Ups to sweep than Mega Mewtwo X, but clowning Mega Mewtwo X is totally worth it for a lot fo teams.
Hitmonlee:
Hitmonlee's claim to fame is that its a Fighting-type that outspeeds Eevee. So if you set up a Bulk Up, Hitmonlee can ravange teams that have key members sleeping under Rest, since Eevee won't have the chance to restore them due to getting OHKOed by a boosted High Jump Kick or Superpower! However, it does have pretty terrible physical bulk, so make sure to save this for late game despite the Bulk Up.
OHKO Abusers
Since there's no clauses in this world, OHKO moves are serious bussiness. They're a risky, but effective way of getting around the massive bulk this format offers.
Rhydon:
Rhydon is the easiest choice for a Horn Drill user, since it already has an important secondary job of setting up Stealth Rock. It doesn't do too hot against Zapdos compared to the other Horn Drill Stealth Rocker, but it's an excellent physical tank, which is helpful against Mega Mewtwo X if you want to risk a OHKO move hitting while it sets up.
Nidoking:
Nidoking isnt as bulky, but it's still a pretty impressive user of Horn Drill for the Toxic immunity alone.
Pinsir:
A lesser option than Rhydon and Nidoking because of the Stealth Rock weakness, but Pinsir does deal with Mewtwo better than the other two, which is pretty cool
Rapidash:
Frankly, Rapidash's stats sorta suck, but it'd be foolish to underestimate it just because with Horn Drill, it can still massively threaten almost anything in the format. Rapidash also gets Will-O-Wisp if you don't feel like playing the OHKO lottery, and it can do ok against Venomoth because of the Bug resist and breaking Substitute with Flare Blitz.
Other Stuff
Venusaur:
Venusaur is an excellent user of Leech Seed, and easily the best Grass-type in the game thanks to Mega Drain (which is now a Giga Drain clone). It's got good bulk, the option to Mega Evolve for even more bulk, and it outspeeds Eevee, which means it can get its Substitute up first. As a bonus, Mega Venusaur can also make a surprise sweeper with Growth (though it'll still use Leech Seed as well), and Sludge Bomb gives it good coverage against the likes of Zapdos and Dodrio.
Zapdos:
Zapdos is possibly the best check to Dodrio in the game thanks to its typing, and a good check to Melmetal as well. Its good bulk and access to Roost make it a pretty good user of Toxic, and also means that Rhydon and Sandslash can have trouble with it, despite being weak to Earthquake while Roosting. Just make sure to keep Eevee alive, since Zapdos itself is extremely vulnerable to Toxic without Rest! Note that while Zapdos can do ok against Mega Mewtwo X on paper, it'll get demolished by Facade variants, so its best to switch out the moment Zapdos posions it.
Mega Charizard X / Moltres / Mega Charizard Y:
You'd think the 4x weakness to Stealth Rock would kill it hard, but access to Will-O-Wisp and Roost means these Fire / Flying types can actually still work out pretty well as back up Will-O-Wispers if you don't want to rely on just Mew / Mewtwo for that. Mega Charizard X is notable for being only 2x weak to Stealth Rock, and having a good physical attack stat that makes it a great check to Venomoth with Fire Punch. However, Mega Charizard Y and Moltres (if you've already used the mega evo slot up) are notable for not having an Earthquake weakness, and tend to do better against Melmetal since they're Special Attackers.
Arcanine:
Arcanine's main selling point is the access to Roar, making it a great Venomoth check, and a good back up Will-O-Wisper as well.
Doubles Mini threatlist
​
This was another request of
The Immortal
: He'd like this thread to also cover Doubles. No one has really played that yet, but I would certainly like for some of us to start playing it, because who knows what a really bulky doubles format is like! I'll update this as soon as we have enough playtesting to get a feel for how this metagame works!
That's it for now. I'll spruce the thread up over the week to make it look prettier (got a lot of college work to catch up on), and include threats I probably forgot to mention. Feel free to discuss any of the Pokemon Let's Go AG formats here!
Last edited: