Electric | Zeraora
Unranked ---> A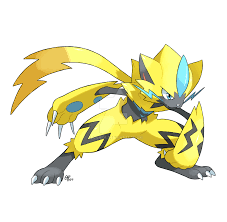 So, Zeraora's been a movie star recently and seeing as nobody has made a post yet, I figured I might as well.
Firstly, why so high?
Well, it's helpful to look at one of Electric's notable weak matchups: Normal.
Zeraora has access to a strong and consistent fighting move in the form of Close Combat. This allows Electric to actually apply pressure against normal teams, 2hkoing defensive Chansey after rocks even w/o band. Along with Plasma Fists checking a Staraptor switch, Zeraora is a formidable threat vs Normal.
Moving on to the mon as a whole, take a look at this feisty boy's stats.
143 base speed puts a +speed Zeraora at 423. To put that in perspective, that's equivalent to a 79 base max speed choice scarf. It easily outspeeds most threats in the meta. On top of this staggering speed, it has a decent attack stat at 112. With a SpAtk stat of 102, it's able to pull off a good mixed set with HP Ice to help check one of Electric's worst matchups: Dragon.
As far as it goes in comparison to the rest of Electric's options, it takes a role not occupied by much. The closest to Zeraora would have to be Thundurus, but with a lack of consistent fighting stab, lack of physical diversity, and a lower speed tier, Zeraora manages to outclass it in its role.
The only other competitor would have to be Electivire, and.. well...
Overall, Zeraora manages to fill a
crucial
role in electric, that helps make the type's matchups better. If so, then why not
S
?
Well, Zeraora's attack stat might be good for what it needs to do, but as a whole, 112 isn't a lot. It remains rather weak, and while this can be alleviated with Choice Band, that works to remove some of Zeraora's utility. It also manages to have a fairly lackluster movepool, lacking important tools for many of Elec's dire matchups, having to rely on a meager HP Ice vs Dragon. Honestly, if Zeraora was part fighting, or had access to Ice Punch, I would argue for S, but without it, the mon is simply lackluster in the meta as a whole.
That is why
Zeraora
should be
A
. This movie star was cast perfectly for its role, but there are better actors in the world.