Semi-serious post about
DA ROCK himself (no, NOT Dwayne Johnson)!
See this Pokemon? He's named
GEODUDE
, and you will remember his name.
It should be in S tier!
This thing trivializes so much of the game it's not even funny.
Going off memory, he cleanly deals with the first three gyms fine. Rock Throw missing and Roost can be annoying, but it's minimal as Pidgeotto does like nothing to you (watch out from Sand-Attack from Pidgey tho, might need to use a starter for that).
This is huge for the 'dude (or gal), as only Cyndaquil can boast comparable credentials with the early leaders (Onix is SCREECH CITY).
Next is Bugsy, where Scyther crumples from a swift glare from Geodude (if he doesn't U-Turn out). Geodude is also a fantastic counter to Whitney if you don't mind getting a female (not hard at all, 50/50 gender ratio). You can either wear her down gradually or just Selfdestruct to nuke the cow all over the Goldenrod Gym walls in udder destructiuon (might not OHKO but it will definitely hurt due to Gen 4 booms halving Defense).
Morty and Chuck are a little shaky, though you should definitely have Golem around this time, whose superior stats stomp pretty much all mooks easily. You can maybe take some of Morty out with Rollout, and you MIGHT be able to take Chuck's Primeape if you can 360 no scope past Double Team trolliness. You completely laugh at Jasmine as you eat her CLANG Pokemon for breakfast. At level 33 (or level 29 if you hold off Geodude from evolving 4 levels, which could be feasible considering just how weak Team Rocket HQ is) you get Earthquake. Now you have dat sexy 110 base Attack Earthquake which is amazing!
Pryce is annoying for Golem, but Earthquake should definitely sting, and luckily his mons do NOT have Water moves. Golem should at least dent Seel and Dewgong very well at the worst (insert GONG! cries from The First Movie here). Granted, you might not have Earthquake now if you go ahead and evolve at 25 (and because this list advises doing Pryce first) but Rollout could still maybe make some decent progress if you could pick off Seel at low health (watch out for Icy Wind - not a COOL PARTEH as Arnold Schwarzenegger would say).
Clair is annoying for Golem, but you can still roflstomp Dragonair with Earthquake (watch out for the one with Aqua Tail, unfortunately both are female so you can't quite tell easily). Also, Gyarados doesn't have a Water move, so if you soak the Intimidate elsewhere Golem could maybe do some work on it. The Kimono Girls lean average, but you can easily take Jolteon and Flareon (you know, the one who sucks in most games)
Now for the Elite 4, and here's where it gets
fun.
Rock Polish is pretty useful on some of the fights. You can probably pick off an Xatu or two on Will, and Koga is just fodder for Golem as long as you cross your fingers, place your hands on your Lucky Charms cereal that is magically delicious and get through his evasion chicanery of cheapness:
Above: cancer (also watch out for Ariados Giga Drain rofl)
Next is Bruno, which might SEEM bad until you check his team.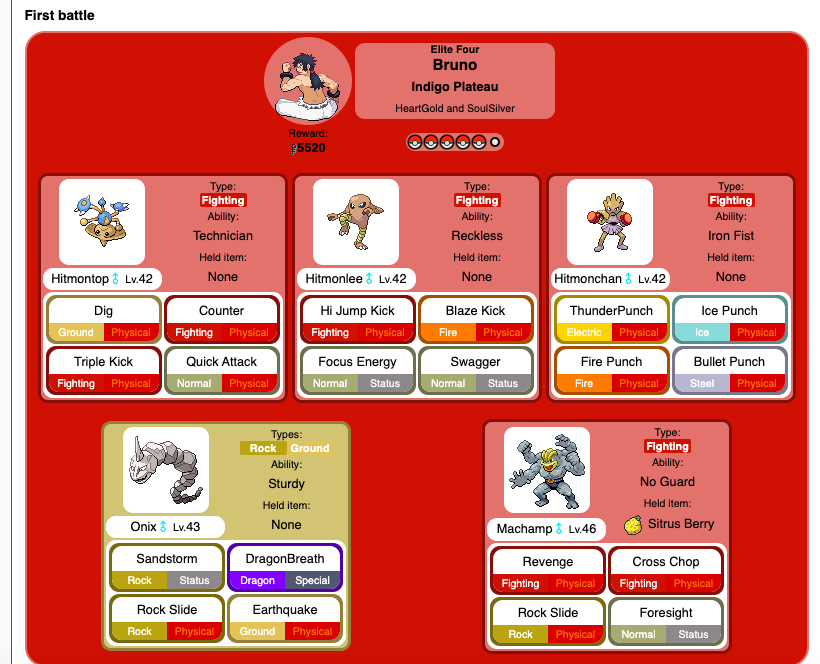 All you gotta do is wait for Hitmontop to derp with Dig, then EQ his face off (you can use Rock Polish to accomplish this turn 1, assuming he outpaces you, then CRUMBLE his face off turn 2). Golem definitely outmuscles Onix, and Chan likely won't have the firepower to break through Golem's Defense most likely (though Ice Punch can sting, it shouldn't OHKO you so you can get a decent hit off). You SHOULD fear Lee and Machamp though.
Next is Karen whose Umbreon is a travesty of game design, and Gengar has Focus Blast and Vileplume has Petal Dance so it's kinda shaky. On the other hand, you easily take Murkrow and as long as Houndoom goes for Nasty Plot or doesn't roll the 20% flinch chance of awful you should OHKO it (notable, as Houndoom is a pretty big threat, and seems to go for Nasty Plot turn 1).
Finally,
DRACULA I mean Lance!
Gyarados sucks, but if you can get in on Aerodactyl or Charizard, you can Rock Polish up, Rollout (or Rock Blast) and then hopefully use him as a footstool or a table to play Scrabble on and tie him up and beat him up and throw him out the Pokemon League (with some luck).
above: Incompetent nincompoops that Golem eats alive with a side of rice balls

TLDR:
Geodude is amazing mon that should deserve S tier. While it's dominance gradually falls off after Whitney, it should never be completely useless in almost any regard and should be considered for every serious playthrough of HGSS. Without a trade, Graveler is definitely A, but Golem definitely has a shot at S.