get a dog little longy, get a dog


QC Approvals: [Jukain] [alexwolf] []
GP Approvals: [] []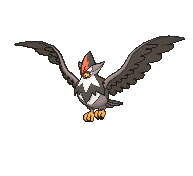 Normal
/
Flying
Pokedex #398
[
Smogon BW2 OU
|
Serebii
|
Bulbapedia
|
OU Thread
|
Research Thread
]
​
Overview
########
Great wallbreaker with spammable STABs
U-turn and decent Speed make it a good member on VoltTurn teams, and a great Pokemon to partner with Talonflame
SR weakness, bad bulk, and common weaknesses means it has difficulty switching in and is forced out by anything faster
Mediocre Speed by offensive standards
Common Pokemon stop it, such as Skarmory and Aegislash
########
name: Choice Band
move 1: Brave Bird
move 2: Close Combat
move 3: Double Edge
move 4: U-Turn / Quick Attack
ability: Reckless
item: Choice Band
evs: 4 Def / 252 Atk / 252 Spe
nature: Jolly / Adamant
Moves
========
Brave bird is the Flying-type move of choice for Staraptor. It becomes a whopping 324 BP attack after applying Reckless + STAB + CB. It hits everything that doesn't 4x resist it hard. Specifically nailing OHKOs on top-tier threats, such as Genesect, Conkeldurr, and Mega-Venusaur
Close Combat hits Steel- and Rock-Types that resist Brave Bird, OHKOing Tyranitar, and Heatran.
Double-Edge is for Dual STAB and can just as hard as Brave Bird, though it gives no helpful coverage except for hitting Rotom-W and Rotom-H .
Quick attack for the much needed priority on a CB set. It should be used to pick off weakened foe's
U-turn is used to scout. Since Staraptor is decently fast, it can keep momentum by U-turning out on hard counters and bring out an appropriate Pokemon that can check the opposition.
Set Details
========
The Attack and Speed EVs are used to help Staraptor hit fast and hard.
The 4 Defense EVs allows Staraptor to switch into SR a total of 5 instead of 4.
An Adamant nature secures some OHKOs that Jolly cannot get. It can potentially OHKO Rotom-W after SR, 2HKO Heatran after SR, and for sure 2HKO Aegislash after SR.
Jolly can outpace +Spe Genesect, Lucario, and Kyurem-B, while speed tying with Manaphy and Charizard.
A choice band gives Staraptor the ability to break through walls, resists, and most defensive Pokemon.
Usage Tips
========
Use Staraptor's ability to break walls early game before entry hazards.
Brave Bird is the best move to pick due to the its raw power (OHKOs or 2HKOs most of the Tier after SR, like Heatran) with Close Combat patching up holes in the coverage.
U-Turn shouuld be used against teams with Skarmory and 252 HP Aegislash.
Staraptor should be brought in through double switching by luring something weak to BB, like Conkeldurr or Mega-Venusaur because it can't take an attack.
Team Options
========
Staraptor appreciates Rapid Spin / Defog Support (from Lati@S, Starmie, Excadrill, and Mandibuzz) so it doesn't have to take 25% damage whenever it comes in. THey can also go head-to-head with some of Raptors checks. Hazards and recoil add up fast and Raptor can KO itself easily.
Talonflame is THE BEST patner for Staraptor. Talonflame and Staraptor pair nicely, covering each other's weaknesses. Because Staraptor can quickly dispose of Rotom-W an Heatran, common checks to Talonflame, Talonflame can afford to run a swords dance set. Other checks, such as Tyranitar, Hippowdon, Landurus-T, and Slowbro can also be easily OHKO'd / 2HKO'd by Raptor, providing Talonflame and opportunity to switch in after Raptor goes down and pick them off. Though both are physically oriented Flying-Types, both hit a myriad of foes with only a slight overlap.
U-Turn / Volt Switch users,such as Rotom-W, Greninja, and Landurus-T, can help Staraptor enter the battle unscathed. The latter can also set up SR and deal with Skarmory and Aegislash.
Excadrill has great defensive synergy with Raptor, being immune to electric and resistant to Rock. It can also hit the types that resist Brave Bird super effectively. Not to mention Rapid Spin
Choice Scarf
########
name: Choice Scarf
move 1: Brave Bird
move 2: Double-Edge
move 3: Close Combat
move 4: U-turn
ability: Reckless
item: Choice Scarf
evs: 252 Atk / 4 Def / 252 Spe
nature: Jolly / Adamant
Moves
========
Scarf Staraptor has the fastest Brave Bird outside of the seldom seen Crobat and Talonflame nailing a perfect OHKO after SR on the ubiquitous Genesect before it can even hit. It also great for revenge killing as it has great neutral coverage.
Double Edge is used for another STAB attack and coverage against electric types, mostly for hittig Rotom-W and OHKOing Thundurus.
Close Combat is not boosted by reckless, but hits Steel- and Rock- Types, such as Heatran for 2HKO.
U-turn is for safely switching out of Staraptor's Checks and Counters and sending in a teammate while keeping up the momentum.
Set Details
========
The EVs are to ensure the maximum amount of damage the birdy can deal out.
Adamant is used for some extra power.
Jolly can be used to out speed and get a shot at OHKOing a +1 neutral nature Mega Charizard X.
Choice Scarf is used to boost Staraptor out of its crowded speed tier.
Usage Tips
========
Staraptor can usually attack first, so it can take out most of the tier before they can strike back.
With Scarf, Staraptor can almost always U-Turn out of its counters; make use of that capability to allow favorable switch-in get in and force switches.
Team Options
========
Starmie, or any other offensively inclined Rapid spinner can clear the field and make a dent in the opposition.
Entry hazards punish foes that are forced to switch out because of U-Turn. Excadrill can provide offensive utility in the form of SR, RS, and a strong base Attack.
Talonflame and Staraptor have incredible offensive synergy, being able to form a U-turn core that can hit extremely hard before going down.
Other Options
########
Staraptor can provide Defog support, but since it is incomparable with Reckless, and it is mostly inferior to other defoggers, such as Mandibuzz which can provide more Utility.
With Intimidate and good coverage, Staraptor can pull off a SubRoost set.
Sharp Beak can be used to boost Brave Bird, but it doesn't give Raptor the speed or hitting power the the choice items give.
Life Orb can be used along with Roost, but BB has great coverage alone, so being locked into it isn't a very big hassle.
Checks & Counters
########
Chip Damage: Stealth Rock, Rocky Helmet, Sandstorm, and recoil add up fairly quickly letting Raptor KO itself.
Bronzong and Skarmory sport high defenses and can only be 3HKO'd by Raptor.
Any faster pokemon, such as Garchomp, can use Stone Edge and dispose of Staraptor even before it attack.
Aegislash resists all of Staraptor's moves, but can be KO'd with two Brave Birds, unless King's shield is activated in which case lefties may activate.
Priority users: almost every decent priority user in OU can put a huge dent in Raptor.
Rhyperior.
​
Last edited: