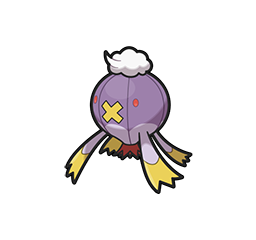 Mid tier > High tier
Drifblim is a pokemon that pleasantly surprised me the more I used it in the tier. To start off having the ghost typing in this tier is fantastic, being able to spinblock as well as pivot into the fighting type choice scarfers is excellent. Furthermore it can cripple physical attackers further with Will-O-Wisp and heal itself up with Strength Sap. Since Drifblim survives just about every physical attackers hit, it can retaliate with Strength Sap or Will-O-Wisp and from there it'll be a nightmare to take down. It hits really hard even without any special attack investment with a empowered Hex and the last moveslot can be used for either Haze or Defog, whichever fits your team best. Lastly, with teammates such as Sandaconda or Umbreon you can spread paralysis as well. In the current metagame Glare is a really common move so that furthermore makes it easy for Drifblim to fire off 130bp Hex's
It also beats hazardsetters such as Copperajah, Sandaconda and Qwilfish. Add onto that the ghost typing to block spinners and access to defog to make this a good hazard control pokemon in itself.
With tera typing ground you can also get rid of your electric weakness making it an immunity, getting a rock resistance whilst only retaining the ice weakness which isn't a very common offensive type in the metagame right now.
Here are some calcs with relevant matchups in the tier.
Defensive
Dudunsparce Boomburst vs. Drifblim: 0-0 (0 - 0%) -- possibly the worst move ever
252 Atk Pure Power Medicham Zen Headbutt vs. 0 HP / 252+ Def Drifblim: 184-217 (41.7 - 49.2%) -- guaranteed 3HKO
252 Atk Pure Power Medicham Bullet Punch vs. 0 HP / 252+ Def Drifblim: 62-73 (14 - 16.5%) -- possible 7HKO
252 Atk Pure Power Medicham Ice Punch vs. 0 HP / 252+ Def Drifblim: 230-272 (52.1 - 61.6%) -- guaranteed 2HKO
0 Atk Sandaconda Rock Slide vs. 0 HP / 252+ Def Drifblim: 132-156 (29.9 - 35.3%) -- 20.4% chance to 3HKO
252 Atk Bruxish Wave Crash vs. 0 HP / 252+ Def Drifblim: 195-229 (44.2 - 51.9%) -- 12.5% chance to 2HKO
252 Atk Strong Jaw Bruxish Psychic Fangs vs. 0 HP / 252+ Def Drifblim: 205-243 (46.4 - 55.1%) -- 66% chance to 2HKO
252+ SpA Goodra Draco Meteor vs. 0 HP / 172 SpD Drifblim: 262-309 (59.4 - 70%) -- guaranteed 2HKO
252 Atk Passimian Knock Off (97.5 BP) vs. 0 HP / 252+ Def Drifblim: 230-272 (52.1 - 61.6%) -- guaranteed 2HKO
252 Atk Passimian Knock Off vs. 0 HP / 252+ Def Drifblim: 156-184 (35.3 - 41.7%) -- guaranteed 3HKO
252 Atk Passimian Rock Slide vs. 0 HP / 252+ Def Drifblim: 180-212 (40.8 - 48%) -- guaranteed 3HKO
252 Atk Life Orb Toxicroak Sucker Punch vs. 0 HP / 252+ Def Drifblim: 200-237 (45.3 - 53.7%) -- 37.1% chance to 2HKO
16 Atk Copperajah Stone Edge vs. 0 HP / 252+ Def Drifblim: 210-248 (47.6 - 56.2%) -- 82.4% chance to 2HKO
16 Atk Copperajah Heavy Slam (120 BP) vs. 0 HP / 252+ Def Drifblim: 189-223 (42.8 - 50.5%) -- 2% chance to 2HKO
Offensive
0 SpA Drifblim Hex (130 BP) vs. 252 HP / 4 SpD Sandaconda: 171-202 (49.1 - 58%) -- guaranteed 2HKO after burn damage
0 SpA Drifblim Hex (65 BP) vs. 0 HP / 4 SpD Medicham: 164-194 (62.8 - 74.3%) -- guaranteed 2HKO
0 SpA Drifblim Hex (130 BP) vs. 0 HP / 4 SpD Medicham: 324-384 (124.1 - 147.1%) -- guaranteed OHKO
0 SpA Drifblim Hex (130 BP) vs. 0 HP / 4 SpD Scyther: 153-181 (54.4 - 64.4%) -- guaranteed 2HKO
0 SpA Drifblim Hex (130 BP) vs. 0 HP / 0 SpD Bruxish: 344-408 (124.1 - 147.2%) -- guaranteed OHKO