Approved by Isaiah and UT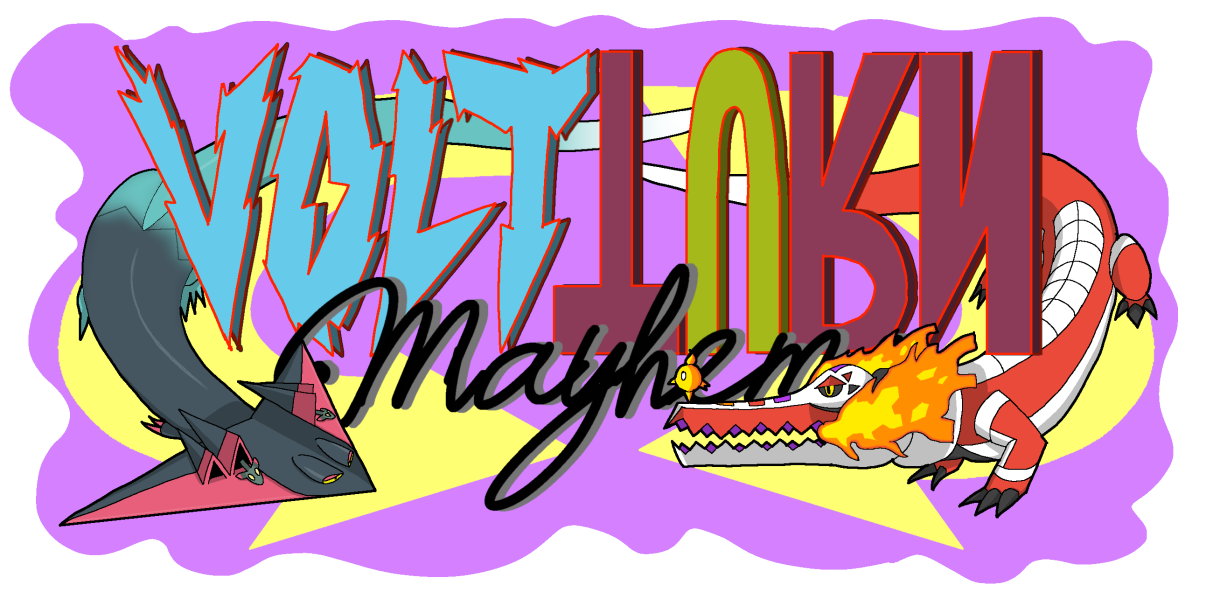 amazing art by royalfluxh!
Voltturn Mayhem
​
Introduction
In this metagame, every move that
directly affects your opponent behaves like a pivoting move
, like Volt Switch, Parting Shot, or U-Turn. For reference, only moves that specifically target your foe force a switch. Those that target the user (Recover, Dragon Dance, etc), the user's side (Heal Bell, Wish, Reflect, etc), the field (Sunny Day, Trick Room, etc), hazards (Spikes, Stealth Rock, etc), or everyone (Haze, Perish Song, etc) will keep the user in play.
Rules:
Mechanic:
Every move that directly affects your opponent forces you to switch.
Clauses:
Standard OMs, Sleep Moves Clause, Min Source Gen=9
Bans:
Chien-Pao
Chi-Yu
Dragonite
Flutter-Mane
Houndstone
Iron-Bundle
Koraidon
Miraidon
Palafin
Fake Out
Revival Blessing
Strategy:
Set-up offense will be nearly useless. What good is it to set a Swords Dance up if you lose it upon attack?
Fast and fragile attackers will be able to strike hard, strike fast, and flee before they can get struck in return. Same goes for priority users.
Bulky regenerators will be able to sponge hits to attack or status and then switch for free to heal.
Choice items will be REALLY good.
Same for hazards.
Roar, Whirlwind, etc. shuffles the opposing team and then lets the user switch after, letting them capitalize on the opponent's uncontrolled switch.
Field effects, such as weather, will be more potent since one can switch to an abuser without manual switching.
Moves that require recharging (Hyper Beam, Giga Impact, etc) will be really good, and possibly broken.
Same goes for moves that lower a stat upon use (Draco Meteor, Make it Rain, etc)
Increased Viability:

Dragapult already has a sky-high speed tier and good offenses, and what's more, it can now spam Specs-boosted Draco Meteors with absolutely no drawbacks and switch out for free.
Skeledirge has now become an even bigger threat against teams, thanks to its access to a 150 BP STAB in Blast Burn, Recovery, and good stats.

Toxapex can now freely set up Toxic Spikes or spam Toxic, sponge hits and switch for free to heal, thanks to its ability Regenerator.
Decreased Viability:
Set-up offense is useless in this metagame.

Same reason as Polteageist. Besides that, Volcarona is weak to Stealth Rock.
Booster Energy is just worse Choice Band/Specs/Scarf, paradox Pokemon can no longer expect to sweep as their stats get reset upon switching out.
Q&A:
Q: Why is Revival Blessing banned?
A: Due to the nature of how Revival Blessing is currently programmed, it "eats your switch" because it uses a switch to let you select the pokemon to revive. This, is uncompetitive for the metagame.

Q: How do status moves work?
A: Status moves that successfully target your opponent such as Toxic will trigger the switching mechanic. Status moves that target either the field or your Pokemon such as Haze, Stealth Rock, or Swords Dance will not trigger the mechanic.

Q: How do multihit moves work?
A: You will be forced to switch after all the hits have been striked.
Q
:
How does Future Sight work?
A
: Due to the way it's coded right now, using Future Sight does not trigger the switching mechanic and keeps the user in play.
Resources:
Council:

Aggrometaile

drampa's grandpa

KaenSoul

AlexSaysBruh123
Changelog:
| DATE​ | CHANGE​ |
| --- | --- |
| 13/12/2022​ | Metagame created with initial banlist.​ |
| 24/12/2022​ | |
| 03/01/2023​ | |
| 14/01/2023​ | |
| 29/01/2023​ | |
Last edited: