Leap of Faith




Moderator
Walking
Wake
Base Stats:
99 HP / 83 Atk / 91 Def / 125 SpA / 83 SpD / 109 Spe
Ability:
Protosynthesis
Notable Movepool:
Agility
Chilling Water
Draco Meteor
Dragon Pulse
Flamethrower
Hurricane
Hydro Pump
Hydro Steam
Surf
Tera Blast
Aqua Jet
Crunch
Dragon Dance
Liquidation
Low Kick
Outrage
Pros:
​
A dangerous offensive threat thanks to a solid Special Attack stat alongside high base powered STAB moves in Hydro Pump and Draco Meteor.​

Typing. Defensively, Walking Wake is only weak to 2 types. When accentuated with its passable natural bulk, it can soft check Pokemon like Greninja, Gholdengo, and Iron Moth, and can give it plenty of opportunities to wallbreak or set up. Offensively, the typing provides a near-unresisted STAB combination, hitting at least the whole metagame neutrally (bar Azumarill). Especially notable because defensive Pokemon tends to Tera between Fairy and Water, like Garganacl, Skeledirge, and Amoonguss, so you can still threaten them with your other STAB move regardless.​

Role versatility. It can opt for a wallbreaker with Choice Specs, revenge killer with Choice Scarf, or late-game cleaner with Agility sets.​

Can fit in virtually any offensive team styles. Whether it's bulky offense Voltturn, standard and sun offenses, or hyper offense. It can fit in on hazard stacking offenses as well since it threatens common hazard removers like Great Tusk, Iron Treads, and Corviknight, and enjoys Spikes chipping down the likes of Clodsire, Amoonguss, and Tera'd Garganacl.​

Signature move in Hydro Steam lets it find a place on sun teams as an offensive piece that can decimate bulky Fire-types like Skeledirge and Iron Moth as well as various Tera Fire Pokemon such as Kingambit, Hatterene, and Amoonguss, all of which can be problematic to its sun partners. I'm also looking at you, Heatran. Having Flamethrower for the sun boost is also a bonus.​
Lack of a boosting move. Nothing like Nasty Plot, Calm Mind, or Work Up, or even attacking moves like Fiery Dance or Charge Beam either. This means, outside of Tera, it'll mostly rely only on Choice Specs to maximize its damage output.​

Pretty shallow offensive movepool makes it pretty one-dimensional and predictable, especially if the set is revealed early on.​

Low Attack stat to make use of its physical movepool.​
Water / Dragon - This is probably the Tera to run most of the time, since its STAB moves are so strong and it doesn't really need any other moves, especially because most Pokemon that can take a Water move dislikes its Dragon move, and vice versa. Tera Dragon + Choice Specs Draco Meteor in particular lets it 2HKO Slowking.​

Fairy / Steel - More of a defensive Tera to flip the matchup against would-be revenge killers like Iron Valiant, Dragapult, and opposing Walking Wake. Tera Steel can also be valuable if Tera Fairy Water Absorb Clodsire rises in viability in response to Waking Wake's prominence, which lets Walking Wake hit it super effectively while being immune to its Toxic.​

Grass - A more reliable option with Tera Blast to 2HKO bulky Water-types like Slowking and Tera Water Garganacl, and it is especially useful if Assault Vest Azumarill and Gastrodon become a thing.​
Potential Sets:
Choice Specs
Walking Wake @ Choice Specs
Ability: Protosynthesis
Tera Type: Water / Dragon / Grass
EVs: 252 SpA / 4 SpD / 252 Spe
Timid Nature
IVs: 0 Atk
- Hydro Steam
- Draco Meteor
- Flamethrower
- Hydro Pump / Dragon Pulse / Tera Blast
Assumed to be its bread-and-butter most prominent set, by taking advantage of its insanely valuable STAB combination alongside the high base powered of its STAB moves to be a nuclear wallbreaker. Voltturn or hazard-stack teams can benefit from this nicely, but its probably the most valuable on sun teams. Flamethrower provides a more consistent option to hit Steel-types like Corviknight and Gholdengo as well as Amoonguss who wants to pivot around Walking Wake's attacks, and it is especially notable under sun to make it a pseudo-STAB. The last attack is really flexible; on non-sun builds, Hydro Pump gives it a stronger Water attack. On sun builds, Dragon Pulse gives it another reliable attack while Tera Grass + Tera Blast is also an option to lure in and nuke the bulky Water-types that attempts to check it, which opens up its sun partners to flourish. Feel free to slap on a Choice Scarf instead if a wallbreaker is not what you're looking for.
Agility
Walking Wake @ Booster Energy
Ability: Protosynthesis
Tera Type: Water / Grass / Fairy / Steel
EVs: 252 SpA / 4 SpD / 252 Spe
Modest Nature
IVs: 0 Atk
- Agility
- Hydro Pump / Hydro Steam
- Dragon Pulse
- Flamethrower / Tera Blast
More of a late-game cleaner approach on hyper offense teams. Walking Wake pretty much outspeeds almost the entire metagame after Agility, so going Modest seems better since it only misses out on Floatzel under rain, which can't really do anything to it in return. Flamethrower and Tera Blast Grass provides similar coverage like mentioned previously. A defensive Tera like Fairy and Steel is an option to set up Agility on the Iron Valiants and Dragapults. Do note that it's not as valuable though; unlike setup sweepers that utilizes defensive Tera like Tera Fairy Volcarona or Tera Water Great Tusk, Walking Wake only really needs one Agility to do its thing, which it can easily obtain on a forced switch. Pair this set with wallbreakers like Baxcalibur, Kingambit, and Iron Valiant, since it really needs the opposing team to be weakened enough, especially since it can't afford to run Draco Meteor.
Overview:
A Pokemon with insanely high wallbreaking potential that fits on various offenses, and it can be the one to push sun builds into even higher prominence. Don't forget to bring your specially bulky Regenerating Waters with you!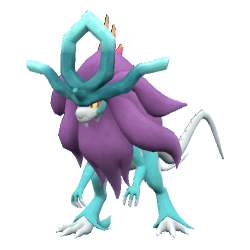 Last edited: