any?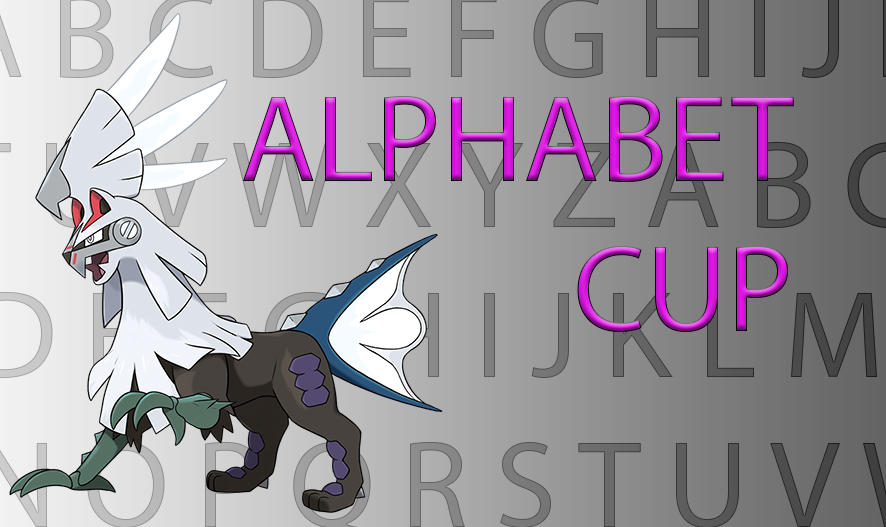 Alphabet Cup

The major change:
In addition to their normal moveset, all Pokémon get every move with which they share a starting letter.
Prevo Clause: Pokémon also gain access to letters available in their prior evolutions
​
Leaders
:
Eli
Byleth
​
Clauses:
Dynamax Clause, Endless Battle Clause, Evasion Clause, OHKO Clause, Sleep Clause, Species Clause
Bans
:
•
Blaziken
•
Calyrex-Shadow
•
Calyrex-Ice
•

Cinderace
•

Darmanitan-Galar
•

Dialga
•

Dracovish
•

Eternatus
•

Genesect
•

Giratina
•

Giratina-Origin
•

Groudon
•

Ho-Oh
•

Kyogre
•
Kyurem-Black
•

Kyurem-White
•

Landorus-Incarnate
•

Lugia
•

Lunala
•

Magearna
•

Mamoswine
•

Marshadow
•

Melmetal
•

Mewtwo
•
Naganadel
•

Necrozma-Dawn-Wings
•

Necrozma-Dusk-Mane
•

Palkia
•

Pheromosa
•

Rayquaza
•

Reshiram
•

Scolipede
•

Solgaleo
•
Spectrier
•

Urshifu-Single-Strike
•
Weavile
•

Xerneas
•

Yveltal
•

Zacian
•

Zacian-Crowned
•

Zamazenta
•
Zamazenta-Crowned
•

Zekrom
•

Zygarde
• Acupressure*
• Astral Barrage
• Baton Pass*
• Belly Drum
• Bolt Beak
• Double Iron Bash
• Electrify
• Geomancy
• Glacial Lance
• Lovely Kiss
• Shell Smash
• Shift Gear
• Sleep Powder
• Spore
• Surging Strikes
• Thousand Arrows
• Arena Trap
• Moody
• Power Construct
• Shadow Tag
One of the most significant benefits to this meta is that many Pokémon with less-than-stellar movepools get a ton of opportunity to shine. Here are some examples:
All Pokémon that start with S get access to all but one of the hazards (Toxic Spikes), Scald, Soft-Boiled/Shore Up/Slack Off, Spectral Thief, Strength Sap, Substitute, Sunsteel Strike, Swords Dance, and, frankly, an entire suite of incredible moves. S Pokémon are considered so good that past gens have added an "S Clause" to limit the number of S Pokémon to one.
Beyond S, the big winners are:
• R: Rapid Spin, Recover, etc.
• T: Taunt, Techno Blast, Teleport, Toxic Spikes, Trick, Trick Room, etc.
With honorable mentions to:
• D: Diamond Storm, Discharge, Dragon Dance, every other move starting with "Dragon", etc.
• M: Meteor Mash, Milk Drink, Multi-Attack, Moongeist Beam, etc.
• C: Calm Mind, Clanging Scales, Clangorous Soul, Cotton Guard, etc.
Some Pokémon that get particularly nice boosts:
•

Silvally: This Pokémon I think becomes the star of balance teams. Everything that was mediocre about Silvally ceases to exist here.
•

Rotom (and forms): Good for all the usual reasons, but now with access to recovery moves and Rapid Spin.
•

Toxapex: Teleport. Taunt and everything is nice, but Teleport on Pex turns its features up to 11.
•

Corviknight: Cotton Guard + Body Press turns this wall into a full-on tank. It also gets Court Change and Rapid Spin.
Some Pokémon that don't really benefit:
•

Latios: Great Pokémon that doesn't really get many new moves.
•

Heatran: Would absolutely love Heal Order if it was in Gen 8, but it otherwise gets nothing.
•

Mew: Already a massive movepool and it doesn't really pick up any new tricks.
•

Volcarona: V-Create could be nice, but otherwise it gets nothing.
•

Alakazam: Same story – just doesn't really get anything it needs.
•
Kartana: Only gains two moves, both of which are irrelevant to it.
That does
not
mean these Pokémon are bad! We just want to mention that many Pokémon benefit differently!
• Clangorous Soul
• Dragapult / Dragon Energy
• No Retreat
• Salamence
• Sticky Web
• V-Create
For potential clauses:
• Like it was mentioned earlier, an S Clause, if not a "One-Mon-Per-Letter Clause" is definitely something that will have to be on-deck if it becomes an issue.
FAQs/Comments:
• Anything annotated with an asterisk is banned outright, meaning even Pokémon that natively have access cannot use them.
• Moves not fully functional on cartridge (Pursuit, for one) cannot be used.
• Nicknames do not alter your access to moves. The names as listed by default in the teambuilder determine your access.
Further Notes:
• A lot of really amazing moves don't get many opportunities to be used: Quiver Dance, Wish, Octolock, Extreme Speed, to name a few.
• A lot of letters get almost nothing. J, K, Q (other than Quiver Dance), U (other than U-Turn), X, Y, and Z are all left mostly for dead.
• You can challenge your friends/rivals with functionality now added to PS!
When using the
/challenge
command, you can now add
@@@ Alphabet Cup Move Legality
to the end to have it validate our rules! Currently, there is no option in teambuilder and the validator will not compare with our banlist, but it's a nice benefit! Thanks to
Kris
for coding this!
Example: open up the chat window for a person and type:
/challenge Custom Game @@@ Standard, Alphabet Cup Move Legality
This will challenge someone to a Custom Game with the standard set of clauses (Sleep Clause, etc.), but it will tell you if one of your sets is using a move with a letter it doesn't have access to. We hope to make things even more user-friendly soon!
August 20, 2021
Magearna, Mamoswine, Urshifu-Single-Strike, and Zamazenta-Crowned banned.
July 31st, 2021
OMotM once again! Thank you to all that voted!
New council members!
December 22nd, 2020
Haxorus Suspect Test Began
- ended Jan 1st with no ban.
December 17th, 2020
The
Recommended Moves Compendium
was added!
December 16th, 2020
Belly Drum is banned.
December 13th, 2020
Alphabet Cup was featured for the first time on
pokeaimMD
!
We welcome any other ABC content if you'd like to be featured here!
December 1st, 2020
Scolipede is banned.
Blaziken is banned.
November 29th, 2020
Alphabet Cup won OMotM!
Thank you to everyone that voted!
We both look forward to battling you all soon!
November 27th, 2020
Melmetal is banned.
Double Iron Bash is now restricted.
Zygarde is banned.
Thousand Arrows is now restricted.
Electrify is banned.
November 16th, 2020
Astral Barrage is banned.
November 8th, 2020
Melmetal is unbanned.
Double Iron Bash is banned.
November 3rd, 2020
Cinderace is banned.
Sleep Powder is banned.
Kartana is unbanned.
November 2nd, 2020
Validator Rules for Alphabet Cup added! Please see the "Further Notes" section for more info.
We hope everyone likes this format and we look forward to seeing the creative sets that will arise!
-----------------
Approved by
SectoniaServant,
drampa's grandpa,
and
The Immortal
Last edited: