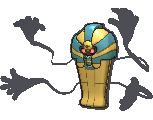 Cofagrigus - #563 - The Coffin Pokemon
Base Stats: 58/50/145/95/105/30
Abilities: Mummy: If you are touched by an opponent, you make their ability Mummy.

Introduction:
When looking at Cofagrigus' stats, one thing that instantly stands out is a huge Defense along with a very big Special Defense, along with a great Special Attack. Cofagrigus also has a great ability, that strips opponent's of their precious abilites! However, Cofagrigus has struggled to stand out because of lack of constant recovery, making it outclassed by Jellicent, or being offensive, in which it is outclassed by Gengar. It also has one of the lowest Speeds in the game, meaning it isn't moving first unless under Trick Room! It does have a huge movepool, along with a fantastic Mono-Typing to save it. Cofagrigus is also one of the best Talonflame counters around, but we'll get to that in a little bit!

Notable Moves: (*=Stab, **=New Move)
- Haze
- Nasty Plot
- Disable
- Toxic Spikes**
- Will-O-Wisp
- Shadow Ball*
- Destiny Bond
- Energy Ball
- Calm Mind
- Trick Room
- Trick
- Knock Off
- Magic Coat

Potential Movesets:
Offensive Trick Room


Cofagrigus @ Leftovers
Ability: Mummy
EVs: 252 SAtk / 248 HP / 8 Def
Quiet Nature
IVs: 30 Def / 30 SAtk / 30 SDef / 2 Spd
- Shadow Ball
- Hidden Power [Fighting]
- Nasty Plot
- Trick Room

Trick Room turns Cofagrigus into a speedy machine, outspeeding the entire metagame! Nasty Plot is what makes this set so dangerous, hitting an astounding stat of 634, higher than that of Deoxys-A's! Shadow Ball + Hidden Power [Fighting] get flawless coverage, hitting everything either Super Effective or neutrally! Here are a few calcs:
252+ Atk Aegislash-Shield Shadow Sneak vs. 252 HP / 8 Def Cofagrigus: 60-72 (18.7 - 22.5%) -- possible 6HKO after Leftovers recovery
252+ Atk Bisharp Sucker Punch vs. 252 HP / 8 Def Cofagrigus: 204-240 (63.7 - 75%) -- guaranteed 2HKO after Leftovers recovery
252 Atk Talonflame Flare Blitz vs. 252 HP / 8 Def Cofagrigus: 103-123 (32.1 - 38.4%) -- 1.7% chance to 3HKO after Leftovers recovery
252+ Atk Tough Claws Mega Charizard X Flare Blitz vs. 252 HP / 8 Def Cofagrigus: 202-238 (63.1 - 74.3%) -- guaranteed 2HKO after Leftovers recovery
252+ Atk Mold Breaker Mega Gyarados Waterfall vs. 252 HP / 8 Def Cofagrigus: 118-139 (36.8 - 43.4%) -- 98.5% chance to 3HKO after Leftovers recovery
252+ Atk Parental Bond Mega Kangaskhan Sucker Punch vs. 252 HP / 8 Def Cofagrigus: 204-240 (63.7 - 75%) -- guaranteed 2HKO after Leftovers recovery
252 Atk Aerilate Mega Pinsir Return vs. 252 HP / 8 Def Cofagrigus: 178-211 (55.6 - 65.9%) -- guaranteed 2HKO after Leftovers recovery
252+ Atk Technician Mega Scizor Bullet Punch vs. 252 HP / 8 Def Cofagrigus: 87-103 (27.1 - 32.1%) -- 49.6% chance to 4HKO after Leftovers recovery
252 SpA Mega Houndoom Dark Pulse vs. 252 HP / 0 SpD Cofagrigus: 266-314 (83.1 - 98.1%) -- guaranteed 2HKO after Leftovers recovery
252+ Atk Mega Banette Shadow Claw vs. 252 HP / 8 Def Cofagrigus: 218-258 (68.1 - 80.6%) -- guaranteed 2HKO after Leftovers recovery

Toxic Spikes // Lead


Cofagrigus @ Leftovers
Ability: Mummy
EVs: 252 SDef / 252 HP / 4 SAtk
Calm Nature
- Toxic Spikes
- Will-O-Wisp
- Shadow Ball
- Magic Coat

This set makes Cofagrigus bulky as hell! It is best used as a lead, Toxic Spikes is a new toy and is great on Cofagrigus, as it can now spin block and set up hazards, which only Froslass can do besides it. Will-O-Wisp makes it so hard to take down, being a great wall on both sides of the spectrum. Shadow Ball is a consistent STAB move, really hitting hard even with little investment! Magic Coat bounces back Taunts and Hazards, which really catches the opponents off guard!


Final Thoughts:
I really hope this doesn't get closed ;v;. I love Cofagrigus, it has potential in OU and is just so much fun and is so bulky! I love it, I hope it gets more use in OU like it deserves!
Last edited: