Dreams can become reality


Won SPL Predictions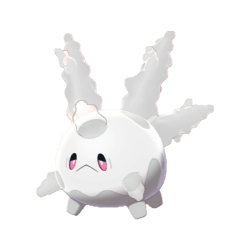 Corsola-Galar

Base Stats:
60 HP / 55 Atk / 100 Def / 65 SpA / 100 SpD / 30 Spe
Abilities:
Weak Armor | Cursed Body (HA)
Notable Moves:
- Stealth Rock
- Strength Sap
- Will-O-Wisp
- Night Shade
- Hex
- Haze
- Shadow Ball
- Light Screen
- Reflect
- Destiny Bond
- Disable
- Calm Mind
- Giga Drain
- Surf
- Ice Beam
- Earth Power
Pros:
Obscenely bulky with eviolite, being able to wall nearly all of the best physical metagame threats, most notably gyarados and hawlucha
Access to rocks alongside a ton of other utility, like strength sap for recovery and wisp to cripple certain threats, alongside with some nifty utility options like haze and dual screens.
Ghost typing allows it to function as a rocker that also spinblocks simultaneously, which is especially significant in a metagame with decreased defog distribution.
Cons:
Laughably weak attacking stats means that it's forced to resort to night shade to do damage, as it can't even do simple things like break gyarados's substitutes with shadow ball or hex without significant special attack investment.
Reliance on strength sap for recovery means that it can't consistently heal against special attackers with especially low attack stats.
Being grounded means that it's affected by both spikes and toxic spikes, so hazard removal is necessary to allow it to perform its role effectively.
Potential Moveset:
Corsola-Galar @ Eviolite
Ability: Cursed Body
EVs: 248 HP / 252 Def / 8 SpD
Bold Nature
IVs: 0 Atk
- Stealth Rock
- Will-O-Wisp
- Strength Sap
- Night Shade
I skipped the dynamaxing potential portion because this is a primarily utility based set, so it would just be using max guardx3 if it tried dynamaxing. Basically, I think that Corsola is best served being a utility pivot that sets up rocks and checks some strong offensive threats. Wisp is important for crippling the aforementioned threats, especially Hawlucha and Gyarados. Strength Sap is pretty reliable as a recovery, as it's basically giving you 100 HP against even the weakest targets and is basically a 100% heal against physically offensive threats along with the attack drop being pretty important for keeping mons in check. Like I mentioned above, Night Shade is chosen here because you can't break Gyarados subs with normal attacking moves and it's just generally not worth using this thing's abysmal attacking stats regardless. Besides that, this set is fairly straightforward, it's a really strong defensive pivot that can switch into a ton of mons and generally annoy your opponent.
Overall, I think Galarian Corsola is really good, you've just gotta make sure that it's paired with strong hazard removal and the opponent isn't able to easily abuse its passivity. I'm especially looking forward to to seeing some nasty stall and balanced builds that people have been able to come up with that have this thing.