волки в цирке не выступают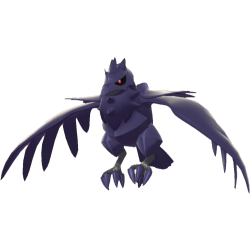 Base Stats
: 98 HP / 87 Atk / 105 Def / 53 SpA / 85 SpD / 67 Spe
Abilities
: Pressure | Unnerve | Mirror Armor (H)
Notable Moves
:
- Brave Bird
- Taunt
- Roost
- Defog
- U-turn
- Bulk Up
- Drill Peck
- Power Trip
- Body Press
- Substitute
Level Up Moves:
- [00] Steel Wing
- [01] Steel Wing
- [01] Iron Defense
- [01] Metal Sound
- [01] Peck
- [01] Leer
- [01] Power Trip
- [01] Hone Claws
- [12] Fury Attack
- [16] Pluck
- [22] Taunt
- [28] Scary Face
- [34] Drill Peck
- [42] Swagger
- [50] Brave Bird

Egg Moves:
- Sky Attack
- Sand Attack
- Tailwind
- Defog
- Rock Smash
- Spite
- Roost

TMs:
- [TM06] Fly
- [TM08] Hyper Beam
- [TM09] Giga Impact
- [TM16] Screech
- [TM17] Light Screen
- [TM18] Reflect
- [TM21] Rest
- [TM23] Thief
- [TM24] Snore
- [TM25] Protect
- [TM26] Scary Face
- [TM30] Steel Wing
- [TM31] Attract
- [TM39] Facade
- [TM40] Swift
- [TM42] Revenge
- [TM47] Fake Tears
- [TM56] U-turn
- [TM57] Payback
- [TM58] Assurance
- [TM76] Round
- [TM79] Retaliate
- [TM95] Air Slash

TRs:
- [TR01] Body Slam
- [TR12] Agility
- [TR13] Focus Energy
- [TR20] Substitute
- [TR21] Reversal
- [TR26] Endure
- [TR27] Sleep Talk
- [TR37] Taunt
- [TR46] Iron Defense
- [TR48] Bulk Up
- [TR66] Brave Bird
- [TR68] Nasty Plot
- [TR70] Flash Cannon
- [TR74] Iron Head
- [TR79] Heavy Slam
- [TR85] Work Up
- [TR89] Hurricane
- [TR99] Body Press
New Ability
:
Mirror Armor - Bounces back only the stat-lowering effects that the Pokémon receives.
Pros
:
- Well-rounded bulk backed up by decent defensive typing which is useful against threats like Excadrill and Mimikyu.
- Access to neat utility options like Taunt, Defog, and U-turn.
- Some offensive potential thanks to STAB Brave Bird (and as a consequence, Max Airstream) and even Bulk Up. This move also can turn Corviknight into a potent win condition.
Cons
:
- Shallow coverage limits its offensive potential and enables stuff like Aegislash and Rotom-W to abuse it.
- 87 base Attack isn't that great, meaning that Corviknight needs a setup to deal some real damage.
Dynamax Potential
:
- Defensive Pokemon aren't prime Dynamaxers, but seeing that Corviknight has a coveted STAB Max Airstream, Dynamaxing utility sets of Corviknight might be a decent idea sometimes, when the opposing team is weakened enough and Flying resists are destroyed.
- Bulk Up Corviknight is a lot more potent Dynamaxer due to its increased firepower: Dynamaxed Corviknight after a couple of boosts late-game, when Flying resist are eliminated, can easily end the battle.
- Corviknight even has access to Gigantamax: its G-Max Wind Rage deals damage and simultaneously removes all field effects, including hazards, screens, and Terrains.
Potential Sets
:
Utility
Corviknight @ Leftovers
Ability: Pressure
EVs: 248 HP / 252 Def / 8 SpD
Impish Nature
- Brave Bird / Body Press
- Roost
- Taunt
- Defog / U-turn
This Corviknight is pretty straightforward: use it to cockblock threats like Excadrill, Mimikyu, and Braviary as well as to shut down passive stuff such as Ferrothorn with Taunt. Utility Corviknight has a decent matchup versus slower, bulkier teams, especially hazard stacking ones, thanks to the combination of Taunt, Roost, and Defog. Body Press punishes Bisharp and Excadrill a lot harder. You may opt for U-turn over Defog if you want your Corviknight to generate momentum for your team but nullifies Corviknight's amazing Defogger qualities. You definitely can play with the EV spread a bit, I just went with a fully physically defensive one because I'm lazy.
Bulk Up
Corviknight @ Leftovers
Ability: Pressure
EVs: 248 HP / 208 SpD / 52 Spe
Careful Nature
- Brave Bird
- Roost
- Taunt / Substitute
- Bulk Up
This Corviknight trades utility moves for sweeping potential thanks to Bulk Up and Max Airstream. Bulk Up also has a bit of defensive purpose, beating 1v1 physical attackers like Swords Dance Excadrill and Mimikyu. Taunt keeps some of Corviknight's utility, while Substitute prevents Corviknight from being statused. Drill Peck is a recoil-less option over Brave Bird but the latter's added power is better most of the time. I went with a specially defensive EV spread with some Speed here, since Bulk Up boosts Defense anyway. Power Trip is also an option over Taunt and Substitute if you want coverage; this completely sacrifices all the Corviknight's utility and worsens its good matchup against Pokemon like Toxapex and Ferrothorn, which can heavily annoy Corviknight with status moves. You can put some EVs into Attack and even opt for Adamant nature at the cost of bulk.