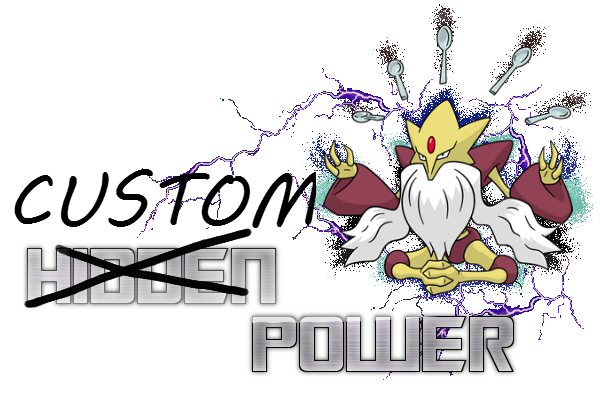 "Art" by me
CUSTOM POWER
​
Tired of not having the right coverage, or even worse, not having a reliable STAB move on your Pokemon? In
CUSTOM POWER
, your Pokemon can re-purpose their attacks into a new type just by changing their IVs, giving them the coverage or STAB they've always wanted!
Rules:



Mechanic
: The first move in your Pokemon's moveslot is changed to match your Pokemon's Hidden Power type value.
Clauses: OU clauses
Bans: OU banlist, Dragonite
Unbans: N/A
Strategy:
Basic Coverage Strategy:
Pokemon that struggle to break through certain checks and counters can now "re-purpose" an attack and gain coverage. For example, Keldeo struggles to break through bulky Grass, Water, and Dragon Pokemon. In Custom Power it can change a move such as Surf, which offers redundant STAB, into a new type to beat those checks/counters. Surf-Ice helps break the Grass and Dragon Pokemon or it can opt for Surf-Electric to hit the Water-types.
Basic STAB Strategy:
Pokemon that lack reliable STAB moves are now able to gain them by putting a strong attack in their first moveslot. Kyurem-B misses out on physical Ice STAB normally, but if it runs Return in the first moveslot with the Hidden Power value set for Ice, it gains a powerful Ice-type STAB move.
Other Strategies:
Momentum becomes more valuable for certain Pokemon now that they can retype U-turn or Volt Switch. Landorus-T usually carries U-turn to pivot out on the opponent's team, so if you change it to the Flying-type, it maintains its ability to gain momentum while also gaining a Flying STAB move all in one! Electric types use Volt Switch in the same way, but Ground-types are able to absorb the attack with ease. Now they can change Volt Switch to a type such as Ice or Water to punish those Ground-types.
Priority moves are normally limited to a handful of types, and the strongest, Extreme Speed, is a Normal-type move that hits nothing super effectively. Now you can change your priority to revenge certain threats, such as changing Fake Out on Mega Lopunny to the Fighting-type, which allows it to revenge Normal, Rock, Dark, and Steel-types. And with Extreme Speed, Pokemon like Lucario and Arcanine gain strong STAB priority, making them much more threatening.
Some other niche strategies include unblockable Rapid Spin (with Dark), Pursuit-trapping the target of your choice (with Water, allowing Floatzel to trap and remove Fire-types), paralyzing Ground-types (with Dark Thunder Wave), and stronger Foul Plays on support Pokemon (with Steel on Klefki).
Q&A:



Q:
Help! My move didn't change type! What's wrong?
A:
Only the
first move
changes type, so make sure to add the move that you which to change in the first moveslot in the teambuilder. Then make sure your IVs are changed appropriately. If there's still a problem, see the next Question below.
Q
:
How do you set the IVs on your Pokemon?
A
: While in the teambuilder on Pokemon Showdown, adjust the IVs using the table in
post #2
. Do not add the move Hidden Power in order to manipulate the IVs, as once you remove the attack, the teambuilder will revert the IVs back to normal.
(You can also teambuild under the Hidden Type format which doesn't revert IVs if you use the move Hidden Power.)
Q
:
Why can't I set my IVs to get Normal or Fairy moves?
A
: There are no Hidden Power-Normal or Hidden Power-Fairy, so unfortunately you cannot gain coverage with these types.
Q
:
Why didn't my Talonflame gain priority when I changed Return into the Flying-type?
A
: The code looks for the ability Gale Wings
before
it looks for moves that have changed type, such as with Hidden Power, which means by the time it realizes Return is now a Flying-type, it's already passed the Gale Wings check. However, if you change the type of a move that's originally Flying such as Brave Bird to Fighting, that move will still gain the Gale Wings priority. (
See this post for more.
)
Q
:
Will Normal moves that changed type still gain the Pixilate/Refrigerate/Aerilate boost?
A
: No, because the -ate abilities are checked by the code
after
it looks for moves that have changed type, such as with Hidden Power. If you change Hyper Voice to Fire on your Mega Gardevoir, Pixilate will think the move is now a Fire-type attack and won't apply. (
See this post for more.
)
Resources:
IV list
:
Here
.
Viability Ranking
: Coming soon!
Playability:
You can play Custom Power on the main
Pokemon Showdown
server for the month of June!
Council:
N/A
Ban History:
Dragonite - June 4, 2016
​
Last edited: