Sometimes I think maybe its too late

Aight I was going to do a bit long post earlier but was too lazy, so here's some of my thoughts after playing quite a few games.
100/65/95/180/180/45
Best mon in the tier as of now. Incredible glue mon that can switch into and threaten Naganadel as well as check so many other special attackers. Glowking also provides future sight support for monsters like Urshifu-SS. Even without investment, it's stab 120 base power move coming off of a 180 special attack. Currently, the most common and best set is the Assault Vest specially defensive tank, but I have seen Colbur Calm Mind Glowking (although not to any success).
Slowking-Galar @ Assault Vest
Ability: Regenerator
EVs: 252 HP / 4 SpA / 252 SpD
Calm Nature
IVs: 0 Atk
- Future Sight
- Sludge Bomb
- Psychic / Flamethrower / Scald
- Flamethrower / Scald / Ice Beam / Earthquake

Glowking can run less spd and more spa dependable to whatever you're comfortable with

If running Earthquake as 4th run sassy nature

Naganadel: 79/73/79/181/79/169
Urshifu: 140/170/140/73/70/122
The three biggest threats that teams have to prepare for. Naganadel can easily snowball teams with its nasty plot set, as it boosts speed upon ko-ing an opposing mon. Additionally, it can hit a lot of its usual checks with coverage moves, such as thunderbolt and dark pulse for mantine and heatproof bronzong. Urshifu still does incredible damage , even in such a metagame as power crept as Re-evolution. The prominence of Glowking also greatly helps Urshifu, as it likes pairing up with it's future sight support to break support it's raw breaking power. Urshifu's high attack stat, high-powered stabs, and ability to hit the pesky fairies with iron head make it another massive threat. Rain got a few buffs that make it a very powerful playstyle rn. Pelliper got a huge buff in its bulk, allowing it to serve as team's physical tank. Barraskewda is now disgustingly powerful, having a 183 attack stat alongside a rain boost, allowing it to 2hko most non-resists. Rain can also make use of other insanely powerful wallbreakers such as Crawdaunt and Urshifu-rapid, or powerful electrics like Jolteon and Heliolisk. These 3 are all big threats that each team should have a plan for.
130/110/125/149/120/191
Turns out that the insane stat monster is actually good in Re-evolution. This is the fastest relevant mon in the tier and actually hits quite hard. I personally like 4 attacks the most, but taunt and roost are valid options as well. Unfortunately it won't ever be able to break through glowking, which kinda sucks.




(Stall)
In a tier with such inflated stats, there will be much bulkier pokémon than usual, to a point where defensive tools could outshine offensive ones. Stall is in a much better place than in, say, OU, and here stall is a very powerful playstyle that can be very hard to beat.
125/215/240/100/150/1
The other statistical monster is also quite good in Re-evolution. Golisopod's high natural defenses allow it to switch in to some incredibly strong moves. Additionally, it has good utility with its powerful first impression, knock off, and spikes. It's a good counter to rain, as it can easily switch into barraskewda and threaten it out with a powerful first impression.
Also you should totally use this spread
Golisopod @ Heavy-Duty Boots
Ability: Emergency Exit
EVs: 252 HP / 88 Def / 168 SpD
Relaxed Nature
- First Impression
- Knock Off
- Spikes
- Scald

Spd to live 3 specs dragapult shadow balls, rest dumped in def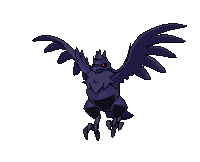 Corviknight: 128/107/155/63/115/57
Mandibuzz: 150/75/135/65/125/100
The tier's best defoggers that also play key defensive roles on their teams. Corviknight is slightly more splashable on teams but both are worthwhile picks. Both are also decent at checking urshifu-ss with fsight support in the short term, and corv can actually pp stall it quite well. Corv is slightly less passive with usable attack, stabs, and body press, while Mandibuzz provides a ghost resist and potential item removal.
92/200/148/60/148/82
A good spinner that can also offensive pressure opponents with its offensive coverage and movepool while still having utility, recovery, and u-turn. Tsareena also has an incredible attack stat of 200, which lets its attacks really sting. Ofc, breaking through certain mons like corviknight can be difficult, but tsareena can pressure most of the hazard setters.

Ferrothorn is back and does ferrothorn things, but it has higher stats now. Spamming leech seed is fun tho.

120/95/98/130/115/85
Everyone's favorite or least favorite pink blob is actually very good in Re-evolution. Unaware sets can take on a wide variety of annoying setup sweepers, and it's also one of the better urshifu-ss checks. Magic guard utility is also very good. Cm might also be an idea.
Onto the 4 mons that are being voted on! I'll just give some quick thoughts because this is really all just speculation

No, just don't. This thing can break through almost anything with coverage and sheer power. It's also bulky enough to take some hits.
Ridiculous bulk, great utility, 190 spa as to not be super passive. 3rd highest special bulk in the game while still being bulkier than corv on the physical side. Don't

It's actually not nearly as super impossible to break, and still very passive. Could also provide a backbone against the other big 3 threats. But I would personally vote against freeing pex, as it would make stall potentially unbeatable.

This is the one I'm most willing to test. It's not that powerful w/o lo or some other boosting item, and it can be revenged by certain physical attackers. Most mons get 2hko ed, but its manageable. However, it can use almost any special attacker as fodder, which can become problematic, even w/o reliable recovery
Sorry for not posting any calcs, this took a while I didn't want to make it any longer. I'll probably be back later with more ideas/developments/viability rankings.
Final note, most of this is what I have observed after playing quite a few games, and the statements I made may not be true or even semi-correct later on. You can also disagree