sludge bomb is better than sludge wave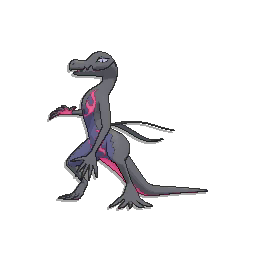 Name: Salazzle
Pokedex Number - 758
Type: Poison / Fire
Base Stats - 68 HP / 64 Atk / 60 Def / 111 SAtk / 60 SDef / 117 Spe
Abilities:
Ability 1 - Corrosion: The Pokémon can poison the target even if it's a Steel or Poison type.
Hidden Ability - Oblivious: The Pokémon is oblivious, and that keeps it from being infatuated or falling for taunts.
Level-Up:

Lv1 - Captivate
Lv1 - Disable
Lv1 - Encore
Lv1 - Torment
Lv1 - Swagger
Lv1 - Pound
Lv1 - Poison Gas
Lv1 - Ember
Lv1 - Sweet Scent
Lv5 - Ember
Lv8 - Sweet Scent
Lv13 - Dragon Rage
Lv16 - Smog
Lv21 - Double Slap
Lv24 - Flame Burst
Lv29 - Toxic
Lv32 - Nasty Plot
Lv39 - Venoshock
Lv44 - Flamethrower
Lv51 - Venom Drench
Lv56 - Dragon Pulse

TM & HM Compatibility:

TM02 - Dragon Claw
TM06 - Toxic
TM09 - Venoshock
TM10 - Hidden Power
TM12 - Taunt
TM17 - Protect
TM21 - Frustration
TM27 - Return
TM28 - Leech Life
TM32 - Double Team
TM34 - Sludge Wave
TM35 - Flamethrower
TM36 - Sludge Bomb
TM38 - Fire Blast
TM41 - Torment
TM42 - Facade
TM43 - Flame Charge
TM44 - Rest
TM45 - Attract
TM46 - Thief
TM48 - Round
TM50 - Overheat
TM56 - Fling
TM61 - Will-O-Wisp
TM62 - Acrobatics
TM65 - Shadow Claw
TM66 - Payback
TM82 - Dragon Tail
TM84 - Poison Jab
TM87 - Swagger
TM88 - Sleep Talk
TM90 - Substitute
TM100 - Confide

Egg Moves:

Belch
Knock Off
Fake Out
Knock Off
Sand Attack
Snatch
Analysis
Sallazle has an unique typing which not only gives it solid overall STAB coverage, but also useful resistances to common offensive types such as Fairy, Fire, Ice and Fighting. Thanks to its good Speed and decent Special Attack, it can be quite offensively threatening, especially given that it learns Nasty Plot. Furthermore, its ability enables it to poison any Pokemon, regardless of typing.
Unfortunately, its own typing, which already forces most Steel-types out, isn't adequately suited for its ability, not to mention that its abysmal bulk prevents it from making good use of its ability or defensive typing. It also completely lacks coverage outside of its main STABs, and thus needs to rely on Hidden Power to hit common OU pokemon such as Tyranitar, Heatran and Garchomp. Its weakness to Stealth Rocks is also a big detriment to it.
Potential movesets

Nasty Plot
Salazzle @ Life Orb
Ability: Corrosion
EVs: 252 SpA / 4 SpD / 252 Spe
Timid Nature
IVs: 0 Atk
- Fire Blast
- Sludge Bomb
- Hidden Power [Ice] / Hidden Power [Fighting] / Hidden Power [Ground]
- Nasty Plot
Dual STABs are self-explanatory, and Life Orb is required since Salazzle needs all the power it gets. It unfortunately doesn't get a lot of options, so it needs to rely on a Hidden Power to hit either one of Garchomp, Heatran or Tyranitar, whichever you prefer. Nasty Plot is difficult to set up on a Pokemon as frail as this, but it can still do it by forcing a switch against one of the many Pokemon it checks.
SubToxic
Salazzle @ Black Sludge / Life Orb
Ability: Corrosion
EVs: 252 SpA / 4 SpD / 252 Spe
Timid Nature
IVs: 0 Atk
- Fire Blast
- Sludge Bomb
- Substitute
- Toxic
While Salazzle can't really make use of Corrosion as much as it wants to, it's still quite good at crippling specific threats. Heatran, Mega Venusaur and especially Toxapex can almost always switch into Salazzle, but are severely crippled by Toxic. Subsitute pairs up very well with Toxic since, even though it will almost always be broken immediately, it helps rack up damage. It also eases prediction and helps against Bisharp, and as long as it's still OU, Mega Mawile. The choice of an item is bascially a pick-your-poison: either go with Black Sludge and forfeit a lot of necessary power, or run a Life Orb and lose the ability to stack Substitutes.
Conclusion
Salazzle admittedly doesn't seem like the greatest Pokemon in OU, but it does have a few useful attributes which may give it a place on a few teams. Whether or not it'll make any kind of splash in OU, or even be viable at all, has yet to be seen.
Last edited: