♫My Baby Lives in Shades Of Cool♫
Introduction
Well, Here we are again my friends. Here to bring you my Second RMT, which honestly is a bit of a reboot of my previous team. However, after mMaws sad passing in XY OU, I couldn't get any thing to take her place, and ended up slowly tilting into obscurity. . .
Fast foward
to ORAS, where the goddess that is mLopunny is released. I played around with the typical all out attacker set, but just couldn't get along with playing HO since Blanace/Bulky offense is my preferred playstyle, which took me to making Shades of Cool
(2.0)
. Let's get on with it.
(BTW each Poke comes with the song it's named after. :3)
Team Building Process

The Goddess, the monster, Mega Lopunny. This thing is an absolute monster. She has the most coveted ability to have unresisted STAB, and STAB that hits hard as hell while she's at it. She is an absolute offensive monster, that can even take some hits with a little help.



Manaphy has proven to be an amazing addition to the team. This team had no way of dealing stall outside of Mega Lopunny, who is hard walled by unaware Pokemon. However, Manaphy under rain, can 2HKO unaware Clefable as well as the less common Quagsire.



Landorus is there simply as a late game cleaner/First turn scout, which usually makes people think it's simply lead Landorus-T.




Next, we needed a Defogger, and Zapdos is quite easily one of the best Pokemon capable of doing so, while also walling bird Spam with ease.





A rock setter is also a must for any team, aiding in breaking sashes and Sturdy that can come back to really bite sweepers in the butt, A fairy killer is also much needed with the rise in Clefable as of late.







Celebi provided a much needed way of stopping Dedicated rain teams hard. With its typing, it also provides a good way of easily coming in on Keldeo who otherwise does severe damage to this team. It also supplies a very helpful attribute in having Heal Bell to remove any pesky status.






Well, there we have it the team as it is now. . .
Let's dig into them. . .
In-Depth


Habits (Landorus-Therian) (M) @ Choice Scarf
Ability: Intimidate
EVs: 88 HP / 252 Atk / 168 Spe
Adamant Nature
-
Stone Edge
-
Earthquake
- Knock Off
-
U-turn
Good old scarfed Landorus-T. He'll never steer you wrong. The EVs are specialized to Outspeed mSceptile and mBeedrill and OHKO Mega Manectric as well as live a +1 Sucker Punch from Bisharp 87.2% of the time (can't have your cake and eat it too I suppose), four threats that would otherwise take this thing down first turn, provided your opponent leads correctly. The best part about it however, is that it allows me to get the jump on the opponent using ScarfLando-T. EdgeQuake is there for obvious reasons. Knock off is simply there for aiding its team mates with dealing with opposing walls or attackers. U-Turn is there to not only scout, but to passively drop the attack stat of Physical attackers that would other wise be a problem for Landorus' teammates.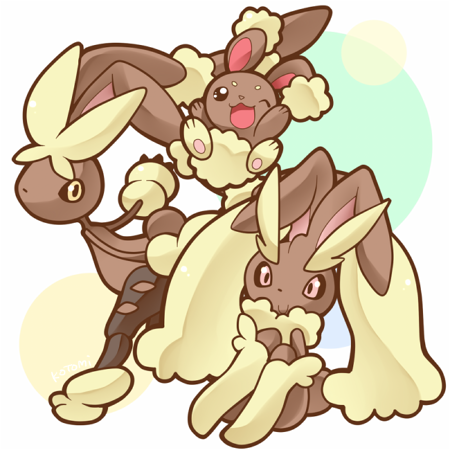 Lolita (Lopunny) (F) @ Lopunnite
Ability: Limber
Happiness: 0
EVs: 4 HP / 252 Atk / 252 Spe
Adamant Nature
-

Substitute


-

Frustration


-

Drain Punch

/

High Jump Kick


-

Power Up Punch


My Goddess, My power house, My favorite OU Mega. . . mLop is by far one of the best megas to come out of ORAS. Because of scrappy, she has 99.99% unresisted STAB (stupid shedinja), and two hard hitting STABs. I tried the typical all out attacking set, but just couldn't stick with the hit and run style in which she plays. I instead tried a more safe approach, and thus the SubPuP mLop was born. With sub it allows me to avoid any status that things may want to go for knowing they would otherwise live. It also allows me to get past the stupid HJK "mind game" that tends to happen. You know the one, the "is he going to protect here?" game. Drain Punch allows her to heal up any damage that sub has done or done by other Pokemon. Frustration is for the few things that take fighting STAB and Power Up Punch is to give her the ability to pretty much OHKO the majority of the meta with unresisted STAB. The most important thing to watch out for is the switch over to mega. As long as you can switch in mLop on something slower and more likely to go for a status move, the better off she is, and has the opportunity to destroy whatever decides to come in next.


Breathe This Air (Manaphy) @ Leftovers
Ability: Hydration
EVs: 96 HP / 252 SpA / 160 Spe
Timid Nature
IVs: 0 Atk
-

Tail Glow


-

Rain Dance


-

Scald


-

Psychic

Manaphy truly is the prince of the sea. This thing is down right amazing against stall. Rain Dance allows Manaphy to cure itself from any status given by any stall mon thanks to Hydration. Tail Glow is so amazingly powerful, in simply 2 turns Manaphy is already at +6. A +6 Scald in the rain, is nothing to scoff at, not many things can freely take this attack and live to tell the tale. Psychic allows it to take down many of the Pokemon that resist its water STAB. However, Ferrothorn can take both of these attacks, even at +6. However, I have a couple answers for Ferrothorn. Mega Lopunny and TGRD Manaphy create an amazing wall and stall breaker core together.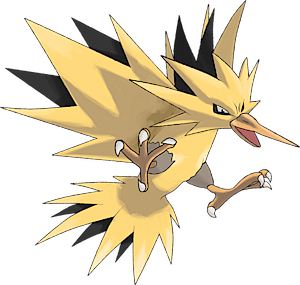 Diamond (Zapdos) @ Leftovers
Ability: Pressure
Shiny: Yes
EVs: 248 HP / 168 Def / 68 SpA / 24 Spe
Bold Nature
IVs: 0 Atk / 30 Def
-

Thunderbolt


-

Roost


-

Defog


-

Hidden Power [Ice]



This thing is here for two reasons, getting rid of those stupid rocks everyone loves throwing out, and dealing with the ever popular Bird Spam. Although it doesn't quite like coming in on rocks, none of the defoggers (bar Scizor) do, it has enough bulk to stay around for a while and remove hazards that may prove to be a problem over time. On a side note this thing is also the best answer I have to TFlame and mPinsir that don't carry Stone Edge. Able to survive a +2 Flare Blitz with about 25% and OHKO with Thunderbolt if the opportunity arises. Zapdos is single-handedly the best bird spam counter out there, with its ability to likely OHKO any bird thinking it can just click Brave Bird in its face.






Arcades (Heatran) (M) @ Air Balloon
Ability: Flash Fire
Shiny: Yes
EVs: 56 HP / 252 SpA / 200 Spe
Modest Nature
-

Stealth Rock


-

Lava Plume


-

Earth Power


-

Flash Cannon


Heatran, oh Heatran. Your usefulness in this tier is beyond amazing. As long as his balloon isn't popped, which I make sure to keep intact if I require it to be, Excadrill is just plain stopped, spin if you'd like, I'll just OHKO in return with a Lava Plume. The rocks are simply there for breaking sashes, and good old charizard, which this thing just so happens to deal with, as long as it doesn't have Focus Blast, which, who am I kidding, all of them do for this thing specifically (hope for that miss). It's also my best answer to that pink puff ball clefairy as well as Sylveon who would other wise have fun with my team. This is the mon that sees the least amount of action typically, and it's because It's here for specific things stopping the fairies and Excadrill, and setting up rocks if I need them, OR if I want to get the opponent to waste a turn using defog. It also can some what deal that stupid bird that terrorizes the tier who with enough brave birds and Lava Plumes won't be around for long.



Rather Be (Celebi) @ Leftovers
Ability: Natural Cure
EVs: 248 HP / 172 Def / 80 SpD / 8 Spe
Calm Nature
IVs: 0 Atk
-

Recover


-

Nasty Plot


-

Baton Pass


-

Giga Drain



Celebi, the classic. We needed an answer to Keldeo, as well as Mega Swampert and Mega Slowbro, who otherwise only went down due to damage over time. With this Celebi, there's nothing Mega Swampert could possibly do. Max Attack Ice Punch does at most 49% to Celebi, avoiding the 2HKO entirely, with Giga Drain the maority of that HP is restored and also gives Celebi a 25% chance of OHKO'ing Mega Pert in return. Not too bad of a trade off. Keldeo also can't do a single thing. Icy Wind does all of 44% where as Giga Drain easily 2HKOs and isn't threatened at all. Mega Slowbro also can't touch Celebi unless it's the rarer 3 attack Mega Bro with Ice Beam/Fire Blast. Nasty Plot works to pass Stat boosts to its fellow special attacking teammates, enabling them to hit as hard as they can. Baton Pass allows Celebi to dry or nasty pass, giving its switch in a free switch and most times allowing it to heavily threaten whatever may be in. Celebi is an awesome Pokemon in this meta.

Mega Latias
This thing is a lot like Mega Mence, after it sets up enough with CM, it runs through my team. It simply clicks Stored Power through my team after enough turns of set up.

Mega Slowbro
Do I really need to repeat this again? This thing is arguably the second, maybe third, most broken Pokemon in the ORAS OU metagame. It's so ridiculously easy to set up with. I only have a few ways of hitting it prior to setting up. However, once it has, it's just time for me to click the forfeit button.
Conclusion
This team is honestly a recreation of my old mMawile team, which got banned shortly after my last RMT, so, I took it down, and learned to live without it. It's meant to be played as more of a balanced/bulky offensive team. It's worked extremely well for me lately pushing me to the top of the ladder prior to the Crash and after. It's a safer approach to what is an exceptionally offensive metagame currently. As stated, it's worked really well, but it definitely needs improvements for specific threats.






Habits (Landorus-Therian) @ Choice Scarf
Ability: Intimidate
Shiny: Yes
EVs: 88 HP / 252 Atk / 168 Spe
Jolly Nature
- Earthquake
- Stone Edge
- U-turn
- Knock Off

Lolita (Lopunny) (F) @ Lopunnite
Ability: Limber
Happiness: 0
EVs: 4 HP / 252 Atk / 252 Spe
Adamant Nature
- Substitute
- Frustration
- Drain Punch
- Power-Up Punch

Breathe This Air (Manaphy) @ Leftovers
Ability: Hydration
EVs: 96 HP / 252 SpA / 160 Spe
Timid Nature
IVs: 0 Atk
- Tail Glow
- Rain Dance
- Scald
- Psychic

Diamond (Zapdos) @ Leftovers
Ability: Pressure
EVs: 248 HP / 168 Def / 68 SpA / 24 Spe
Bold Nature
IVs: 0 Atk / 30 Def
- Thunderbolt
- Defog
- Roost
- Hidden Power [Ice]

Arcades (Heatran) @ Air Balloon
Ability: Flash Fire
EVs: 56 HP / 200 SpA / 252 Spe
Modest Nature
IVs: 0 Atk
- Stealth Rock
- Lava Plume
- Flash Cannon
- Earth Power

Rather Be (Celebi) @ Leftovers
Ability: Natural Cure
EVs: 248 HP / 172 Def / 80 SpD / 8 Spe
Calm Nature
IVs: 0 Atk
- Recover
- Nasty Plot
- Baton Pass
- Giga Drain
​
Last edited: