Posting an ongoing streak of
1000
wins in Ultra Moon.
This run is especially significant to me because, not only is it the farthest I've ever gotten with a doubles team in any facility, the first
250
battles were done entirely in my trademark "TR randoms" format. My methods have changed drastically since using this format in triple battles last gen; since there's also a large group of newcomers to our community that haven't really been exposed to it, I might as well detail those changes.
This website
http://www.randomnumbergenerator.com
has a really useful, customizable table which I use to determine my team. Every number corresponds to a specific poke in a specific box. Previously, I rolled only six numbers and, barring an unresolvable item conflict, what I rolled was what I battled with; because the tree has changed so much from the Maison, I didn't want to limit myself to a strict four entries, which had the potential to create crippling disadvantages. That still occurs, but by giving myself far more leeway in choosing, I can at least attempt to make things easier. It also lets me discard repeats more easily. Many pokes have multiple movesets, and I gave myself the option of using an alternate moveset even if it didn't correspond to the specific number.
My pool of available pokemon is as follows:
TR Setters: 14 (roll 2)
Mega Evolutions: 12 (roll 1)*
TR Abusers: 60 (roll 6)
Secondary TR Abusers: 45 (roll 2)**
* Some of these megas are highly experimental, like Kangaskhan, Blastoise and Metagross. During this streak, they were automatically ignored if selected. We can't all be monsters like Eppie.
** These are split fairly evenly between two boxes and the rolls were treated as the same number for both, if there was an available slot, instead of rolling numbers between 1 and 45. For example, rolling a 10 would select Braviary (first) and Rotom-Wash (second.) Rolling a 24 would select Celesteela from the first box and nothing from the second. Essentially I could roll up to four of these.
Unlike my triples runs, I used the megas comparatively rarely. I also made very small moveset changes depending on the rest of the team, primarily via TMs, though often this boiled down to teaching Protect to something leading. Some pokemon like Donphan received significant changes. My nervousness began to skyrocket past the 200 mark, even when I had pretty high confidence in the team, and I spent so long deciding who to use for the 240-250 run that I decided enough was enough, and I'd use my serious team for the remainder of the streak.
For all the talk about the "necessity" of Fake Out for these TR teams, I was very pleasantly surprised by the ease at which I'd managed without it. Not only that, for all its offensive prowess I believe my original frontrunner Hariyama was holding the team back. Strong as hell, but limited coverage, prone to provoking disastrous turn-wasting switches to things that resisted the Fake Out which previously hit them, and hard countered by a number of much slower pokemon he couldn't hope to outspeed, survive or KO under TR, especially with one or more stat drops under his belt. His fighting typing also encouraged the AI to direct many powerful attacks toward Oranguru, which never helped.
Araquanid, on the other hand, made an incredible lead. While impressively bulky on the special side, it still drew most attacks from the opposition, especially the nasty rock and electric attacks that could and would be used against Oranguru. With a Life Orb, Araquanid had a very long list of useful and guaranteed OHKOs, and its speed allowed it to undercut the pokes that posed serious threats to Harry. The frequent Scientist and Breeder teams were no longer a coin flip, but generally easily beaten by my leads. By surviving far longer, Araquanid was usually able to ensure that Mawile or Drampa could finish battles safe from their biggest threats, if they were even required. Initially seeming like an unconventional choice of lead, chosen more because I saw potential for Mawile's Intimidate to hurt as much as it helped, I'm happy to have learned I'd made the right choice.
Before diving deeper into my serious portion of the streak, I have a lot to say about the randoms. They made up 75 out of my total replays, be it a fun or difficult battle, so if you happen to be intrigued by one of the teams and want to see them in action, let me know. Some of these teams were incredibly wacky!
Battles 1-10:




First and last time I would use Mimikyu as a setter. While getting TR up was not much of a problem, misses and status aside, it was virtually deadweight outside of it, in stark contrast to all of my other setters. Lack of power was another factor, as its favorite pastime was failing to KO targets if it could even hit them. Fortunately the remaining three pokes were able to do the work themselves. I haven't permanently banished Mimikyu to the Bank, and have not yet fully settled on a new job for it, but setting TR and supporting its teammates is the wrong choice.
Battles 11-20:




Worldie may be interested to know this Stacky was not used as a setter, but some offensive support; Rockium Z with Gravity, Wide Guard, Stone Edge and Gyro Ball. It did its job particularly well, easily scoring KOs here and there and being fairly difficult to KO. Lack of enemy EQ usage made it all the easier to set Gravity. The boon from the 20 points added to Beartic's base attack cannot be understated; this MASSIVE spike opened up so many KO opportunities and put this big boy on par with his buddy Mamoswine. I was really happy with it, having previously kicked it out of the pool last gen (to some mild disappointment from Smuckem.) VS Grimsley is the only battle Stakataka did little, but Torterra stepped up to the plate in its stead. While I like to use vanilla Slowbro as a setter (standard M-Slowbro set doesn't use TR) the crit immunity and added offense did help.
Battles 21-30:




As I would come to find out, highly amusingly, Healer cures Ursaring's poisoning before the Toxic Orb immediately refreshes it, preventing poison damage but maintaining the Guts boost. Escavalier is one of the only pokes M-Audino dislikes facing, and this team fought two of them; the latter, Escavalier3, was the cause of a generally close battle which was won because of the AI stupidity in selecting a target for KO; Palossand has no way to badly damage Toucannon and, with TR off, I was required to Destiny Bond it as it chose to Beak Blast twice. All Toucannon needed to do was attack my weakened Azumarill, and I'd have lost. Palossand used an Expert Belt which normally would have gone to Azumarill, so Azumarill tried the Protective Pads instead. Because it relies on contact moves and Flame Body is a significant threat, I figured it was a sound choice (Healer is great, but shouldn't be depended on.)
Battles 31-40: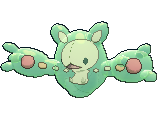 This team originally rolled Stakataka as its second setter, and I was initially stoked to try it, but two battles in I strongly reconsidered and switched it out for the second setter rolled, Bronzong. While I haven't lumped Stakataka in with Mimikyu yet, that being "DO NOT USE" for TR, triples might be the better avenue for it, or at least someplace Ally Switch can be constantly at the ready. Holding an Air Balloon compensated for its ground weakness but did nothing for special fire attacks, and the team as it was had a significant risk when facing those types. Not only that, in contrast to Rockium Z Stone Edge, Rock Slide made for pretty poor offensive support, and its speed meant it would be going first and typically failing to KO anything. Reuniclus was vital in destroying any fire types that might have appeared, and while Heatran was rolled, I opted not to use it because I'd just be replacing one common weakness for another.
While I didn't give Stakataka its fair chance, I DID save a replay of it passing Beast Boost onto Vileplume, who steamrolled the enemy because of it.
Battles 41-50:




I had the opportunity to run Sand Stream AV Gigalith and Mega Steelix for this portion, but chickened out because they wouldn't have played well with the rest of the team. Pulverizing Pancake is the sort of nuke that works in doubles because of the limited number of opponents; while Snorlax has fallen a long way, it was still good at punching the sorts of holes my backline could capitalize upon. Crabominable was the true MVP, winning a number of the battles that went to shit, though the enemies being severely weak to its STABs was the main culprit. This was the first round of battles I got a taste of just how dangerous Thunder Wave can be, though I wasn't finding myself in severe crisis until the Team Araquanid portion.
Battles 51-60: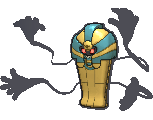 An alternate Gigalith's moveset changed drastically for this streak, particularly in gaining Throat Chop. Ally Switch was pivotal in allowing Gigalith to do as much damage as possible before exploding; even without Helping Hand, the results were devastating. Cofagrigus was running a Mental Herb, but one battle saw such an inconvenience from paralysis that I wished I'd gone with a Lum Berry. I wouldn't make that mistake twice.
Battles 61-70: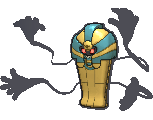 Holy shit! If there were ever an example of how badly Ally Switch fucks with the AI, THIS IS IT. Originally very concerned for the RNG results, absolutely stacked with rock types, I began to look at it from a different angle and decided that perhaps I could use it to my advantage. And that's exactly what happened. Triples Aurorus used Dark Pulse for cross-field filler, but used Protect this time around for that crucial first turn. After that, it was an icy rampage. Hyper Voice, Earth Power and Freeze-Dry were all it needed to destroy most teams by itself. The AI happily supplied me with lots of fighting type leads to be duped (this portion of the streak is not a good demonstration rebutting idiots who claim the faclities counter team.)
Battles 71-80: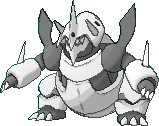 While I'm a big fan of memey Hone Claws sets on M-Aggron, there was none of that here; I used an extremely bulky Curse set, which worked well. Gravity also put in a lot of work, but unfortunately -1 Aggron undercuts Bronzong, so there was still potential for a miss. Dhelmise is not popular, nor would its moveset be seen as viable by the lot of you, but it hit incredibly hard and performed admirably well.
Battles 81-90: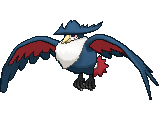 I hate what has become of Sucker Punch but Honchkrow is still a solid user of it. Power Herb Sky Attack as a means of getting Moxie rolling ASAP even versus bulky enemies has been completely outclassed by Z-Brave Bird, and doesn't leave a moveslot devoted to deadweight afterward. Honchkrow doesn't make anyone's lists when discussing viable TR abusers but I've always liked it for its power and the sorts of holes it can patch (or create) in using it. It was my savior in a bad battle versus a Breeder, in which Audino was repeatedly flinched with Rock Slide; outspeeding all of the Breeders' available pokes, Honchkrow had a significant advantage without TR and would deliver a decisive OHKO to M-Camerupt that would have wrecked me otherwise. This streak featured a Moltres2 setting off my Flash Fire when any other move would have been preferable. While not likely intentional (for the AI) Gastrodon redirected and absorbed a Hydro Vortex, which felt freaking great.
Battles 91-100:




An unusual roll in that none of my possible TR abusers were from the first box, making them all from Gen V and higher. Also unusual was Wally's team, which included no megas. This Musharna used After You instead of Gravity, because it allowed Tyrantrum to keep its standard Choice Band instead of using an Iron Ball. Tyrantrum would also replace Superpower with Earthquake, but use the move only once. This streak contains a very one-sided Aegislash sweep completely devoid of AI hax, though they certainly tried. I ran Wide Guard but never found myself using it, and decided that in the future I'd try Sacred Sword (offensively, its only moves were Shadow Ball and Flash Cannon.)
Battles 101-110: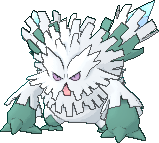 Togekiss remained completely unused until Wally because Abomasnow was being a cheap piece of shit and freezing everything that threatened to KO it or require some backup. Among those game-changing freezes were Armaldo, Primarina and Scrafty. The battle with Primarina involved a very surprising choice on behalf of the AI, neglecting to detonate Lickilicky next to its frozen ally; while it would have forced the AI into a loss, that's never stopped them before (at least not last gen; I can't immediately recall it happening in the tree.) Gravity was used on Musharna this time. I'm glad I opted for Bisharp instead of Lurantis, because it made a very effective LO attacker and was used to slaughter some things that Abomasnow wouldn't have beaten without its haxxy BS. WOULD it have inflicted freezes on them, also? Perhaps. But I'd have felt terrible about it. I despise Glaceon so much that the more my pokes behave like it, the harder it gets to look myself in the mirror.
Battles 111-120:



Feraligatr was used in only three battles because the free switches into Escavalier were too good to pass. I fought Xenophon and Xio twice apiece, and most other battles had lead pairs which were very friendly to it. There was also a battle that got off to a terrible start with Walrein4, but Guzzlord (special set) would save the day. When it actually did battle, Feraligatr easily swept with Swords Dance and an abusable Sheer Force moveset. While generally unacceptably weak right off the bat, I was glad I gave Guzzlord a chance (initially as switches for my primary muscle, plus Instruct abuse) because it turned out to be pretty useful.
Battles 121-130:




Unbelievably satisfying OHKOs to Slaking, Regigigas, Regirock, and especially Suicune. How's that Bold 252/252 working for you now, jerk? Helping Hand was of great value to both Bulu and Golurk, who now has High Horsepower to mitigate the effects of Grassy Terrain. Clawitzer is just as good a cleaner as ever. Previously, Cresselia used Lunar Dance in Triples, albeit so rarely it was time to try something else. Ally Switch was, whaddya know, an excellent replacement. Rather than run dual grass coverage for some healing, Bulu ran Protect because it led, as well as Wood Hammer, Stone Edge and Fling. I consider No Guard to be heavily overrated on Golurk when it gets far more damage out of Iron Fist and an Expert Belt.
Battles 131-140:




M-Steelix struggled a bit due to the influx of heavies and bulky waters, but Sylveon gave a lot of support by simply having a rarely resisted, unusually strong spread move, and especially Buzzwole, by being so bulky it could switch into Earthquakes for pitiful damage and provide great additional damage. Still, this was not an easy team to use. Amusingly Gothitelle reached +6 SpA twice, because of a weak Musharna4 that gave two SpD drops from Shadow Ball, and again from a Punk Guy with his Intimidate team. The former made for a very satisfying KO lategame; the latter unfortunately did not give her any really good targets (the final +2 was given by Scrafty of all things.)
Battles 141-150:




While I think very highly of Hydreigon as a cleaner in TR, especially in Triples where its STABs can hit from anywhere, this team still depended heavily on Marowak doing most of the work, which it beautifully did. Komala is not a good fit for TR due to its frailty even when running the bulkier spreads which TR teams allow. Having said that, it does hit quite hard. Helping Hand secured a number of OHKOs against rather bulky enemies. I wouldn't recommend anyone trying Komala, but outside of Smuckem I don't think that's going to be a thing, ever :P
Battles 151-160:




I passed on trying Stakataka as a setter again; I just don't see myself being comfortable with it without Ally Switch. Otherwise this team was very braindead and strong, though I wasn't getting as many Fiery Dance boosts as I would have liked. It wasn't needing them to secure KOs, but it would have been a lot more fun to steamroll because of them. Alolan Golem is extremely nasty even without Explosion.
Battles 161-170: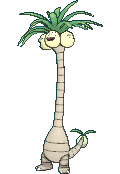 Mudsdale is overwhelmingly bulky when attacked weakly by fast opponents, and was not often KOd. Fake Out? Yes, please. Nightshade has been a really good move for securing KOs and helping to topple walls. Fixed 50 damage tends to be a lot in this format, when your other pokes easily hit enemies to within that kill range. Both standard Alolan Egg and Empoleon use an Expert Belt, but with such a common hold item amongst my roster, they have easy alternatives.
Battles 171-180:




I was highly fortunate in that the only fire type encountered during this run was a lead M-Camerupt who was carefully disposed of without setting TR. There were also a lack of lead fighting types that might require Intimidate support. We've briefly discussed Druddigon in the discord, and it did what it does best here, which is deliver really strong hits. I consider it to be a lot more useful than most other physical dragons as far as TR is concerned.
Battles 181-190:




Rotom-Wash was originally born as an Ally Switch user, the idea being it could easily tank Hydro Pumps and Ice Beams and what have you. When it rolled alongside Camerupt, I thought this would be the perfect time to see it put into practice. ...and the move never ended up being used, even once, in no small part due to Regirock severely plowing through most teams by itself. When there was a time and place for Rotom to come in, I was left with what was regrettably a weakened version of what it could have been, because this washing machine was EV'd entirely for bulk. Since I wasn't depending on it, I didn't rebreed for Quiet until afterward, and it is now a bulky and slightly potent attacker.
Battles 191-200:




Four attacks Lonely Stakataka here in all its devastating brick-hurling notoriety, and Torrent Primarina, as the HAs hadn't been released yet. Not that it mattered, as LO Hydro Pump is still very strong. Ally Switch continued to be broken with or without Stakataka in play. Lurantis made a respectable lead, with fewer chances of needing to run and hide compared to Stacky. ..or so I thought; unfortunately, it would still need to switch fairly often. Delivered a OHKO to Wishiwashi without a crit, which I was not expecting. Also got so doped up on
steroids
Superpower boosts that it made short work of Cresselia4, which felt great. Lickilicky notably does not like to detonate around Dusclops, as it'll just spam Brutal Swing for laughable damage. It's not the first time I've seen this behavior.
Also, FUCK SWAGGER. Guzma gave me my closest battle yet of this whole randoms streak, or at least the most anxious that I can recall. However, the aforementioned Swagger remark was more because of an Umbreon on an Eevee team, which caused a lot of disruption.
Battles 201-210:




Wouldn't you know it, not a Metagross in sight, the biggest roadblock to Carbink safely setting TR (Magnezone is also nasty, but not as much.) Carbink is not strong, but strong enough to help, considering its STABs cover a lot of useful weaknesses. Golisopod is a monster in spite of its terrible ability and, so I've come to find, so is LO Reckless Bouffalant. Originally, I rocked Scope Lens + Focus Energy in triples, for that 100% crit rate. Not leading with it meant there was even less incentive to try that shit here, so I went with a more direct approach. Like Snorlax, Bouffalant appears much weaker than the prominent physical threats nowadays but is deceptively powerful.
Battles 211-220:




I've said it a few times in the discord, but Lickilicky has some eye-opening muscle for such an unimpressive 85 attack. It compensates with a generally high-BP moveset able to 2HKO things weak to them (without Helping Hand) and both Z-Explosion and Explosion itself are obscenely strong, the former able to OHKO most things with average bulk and the latter easily OHKOing anything without a resist, with HH used beforehand. It's surprising more because the things that were detonating up to this point were sitting on Weakness Policy boosts on top of Helping Hand, with over a third of the raw attack power compared to Lickilicky. Yet the results were the same for both: total annihilation. There was not a lot of work for Vikavolt or Rhyperior, but they cleaned up very reliably.
Battles 221-230:




While Muk wasn't using Explosion for room clearing, Acid Downpour came in clutch many times. There was also a battle where it was getting constant Rock Slide flinches, which ultimately saved me. Donphan also had a lot of respectable power, using Knock Off and Seed Bomb in place of Ice Shard and Head Smash. While Sturdy allows it to use Weakness Policy, because it wasn't a lead, I opted to use an Expert Belt instead. After You came in extremely handy, as the same runts like Aromatisse and Shiinotic which easily outsped and slaughtered it, could now be safely slain in TR by acting first. In fact, there was a battle in which both of them appeared and fell just like that.
Donphan had to beat Cynthia almost entirely by itself due to some severe trolling (not that it was alone; Musharna had no offensive presence but was buffing it.) I complained about Hariyama triggering costly switches with its Fake Out targets, but this run involved a flinched Gigalith switching into Tyranitar... with a Close Combat targeting that slot. Top Ten Greatest-caliber play right there, everybody!
Battles 231-240:




The speed tie between Oranguru and Bewear proved to be annoying without Hammer Arm being used first. Cynthia was extremely annoying again, because of Spiritomb's Swagger. Florges is another eyebrow raiser, but it not only made a fantastic support with Helping Hand, it actually nearly solo'd an early team in the run, not to mention through Light Screen, at that. Having said that, the Veteran Electric-themed team was chock full of shitty SpD like Raichu, as well as Mega Ampharos who walls Moonblast about as well as it walls Earthquake. This Florges had Grassy Terrain, and originally I envisioned it pumping up Torkoal's Z-Solarbeam if it came to that, which it didn't. But it's the thought that counts. Only Oranguru had any real chance of losing its hold item, but Iron Ball Symbiosis was a possibility which never triggered.
Battles 241-250:




The finale. I spent so long deciding who to use because my desire to keep things fresh and avoid familiar faces was conflicted with my struggling to build the rest of the team around Iron Ball Tapu Lele, relatively new to my roster, and Ferrothorn; they were competing with the pokes I ultimately used and I decided I'd rather be boring than creative and throw away what had become a really lengthy randoms streak (nowhere near my personal best, but we'll see about triples.)
That said, I had an easier time than anticipated. Wide Lens was crucial on Chesnaught without Gravity, and he was in charge of killing first and foremost anything that could threaten the backline, even at its own expense. Jellicent3 is a pest on Scientist teams, even if you're immediately able to deal with it, but my fully defensive Jellicent was even worse. Cursed Body kicked in all the time, which was great.
Spidey & Friends!

Oranguru
@ Lum Berry, Inner Focus
Relaxed (212 HP, 164 Def, 132 SpD)
-Trick Room
-Instruct
-Psychic
-Protect
Credit to
Josh C.
for the spread, which came with a bunch of notable survivals. Even then, I did not hesitate to send in Mawile for an Intimidate if I believed the enemies might double up on it. Just about everyone that's used a TR team this gen has used Oranguru, and there's not an awful lot I have to add to it, except that I was very surprised by the number of times the AI left it sitting at low single or double digit HP and declined to KO once TR deactivated, and allowed it to just set it right back up. Suicune was notorious for this.

Araquanid
@ Life Orb, Water Bubble
Brave (252 HP, 252 Atk, 4 SpD)
-Protect
-Liquidation
-Leech Life
-Ice Beam
I'll get to the Ice Beam in a moment, but first I want to discuss why I didn't use Wide Guard, the standard for a very good reason.. ..in theory. In practice, it's terrible. If I ran Wide Guard and used it when I anticipated Rock Slide or Explosion, I'd block it, and then promptly be murdered by Stone Edge or take needless damage from something else. Part of what made Araquanid so successful was keeping its HP as high as possible, taking damage only when I considered it acceptable, be it my LO recoil or leaving something benign/less serious than the target I KO'd. I specifically mentioned Stone Edge because that would have been the main culprit. Facing many, many, many Hikers/Workers/Policemen with their Rock/Ground themed teams, often running set34 in cases, or all four in the case of Hikers and their Terrakions/Tyranitars, it is nigh impossible to tell which is which until they move. So not only would I scout with Protect, there was usually virtually no chance that it would immediately become safe to just use Wide Guard from then on. Versus anticipated Explosions, it was always better to just Protect both my leads and then go from there, switching in Mawile if the remaining ally would likely continue to go after Araquanid. Yes, there were times where it would have been helpful to use Wide Guard late in the battle, to block an incoming Blizzard that might have hit Drampa, but those instances were practically nonexistent, unlike the instances I would prefer to have Ice Beam:

Punks with their Intimidate spam, and Mega Mence in general, were usually the main source of grief for Araquanid. While Arcanine is still guaranteed to fall to -2 Liquidation, that can't be said for anyone else. In some cases, it was usually better to just send in Mawile were it safe, and go from there; often, however, the best results could be achieved if Araquanid could somehow stay in and remove Salamence by itself. Two Ice Beams, or an Ice Beam + Psychic (not totally guaranteed) served that purpose well. Mega Mence was a fairly common enemy throughout these battles.

Chesnaught was another big one, particularly Chesnaught4, who takes unimpressive damage from its physical STABs but is guaranteed to die to Ice Beam + Psychic. Starter teams are generally nonthreatening to Araquanid in most cases, so it was very helpful to be able to do this. Whimsicott3 likes to use Cotton Guard, and with or without Prankster, it was easier to use Ice Beams to break its subs without fail and give Oranguru or Mawile the opportunity to do more damage. There were other instances, but the main two were Salamence and Chesnaught, with Whimsicott3 being frequent enough that I appreciated the option.

I didn't begin using Ice Beam until I was at least past the 500 mark, but until then I had Mirror Coat, which was also used practically never. I did win a disastrous battle with it, in which Mawile was frozen by a Rotom-Frost and couldn't do anything; Araquanid tanked a Thunder, delivered the OHKO with Mirror Coat, then died to LO recoil. I was given the win even though neither side had any surviving pokemon. Because I was put in that situation because of hax, I didn't see much to be gained from keeping Mirror Coat, especially since that instance came about with Araquanid at nearly full HP, and the conditions wouldn't be the same "next time."

The standard seemed to be Waterium Z on Araquanid, and it's easy to understand why; Water Bubble powers Hydro Vortex up to absolutely retarded levels. But apart from that one turn, you're left with a vanilla Liquidation that's capable of so much more:

252+ Atk Life Orb Water Bubble Araquanid Liquidation vs. 0 HP / 0 Def Lucario-Mega: 156-187 (107.5 - 128.9%) -- guaranteed OHKO

252+ Atk Life Orb Water Bubble Araquanid Liquidation vs. 252 HP / 0 Def Gardevoir-Mega: 198-234 (113.1 - 133.7%) -- guaranteed OHKO

252+ Atk Life Orb Water Bubble Araquanid Liquidation vs. 252 HP / 0 Def Tornadus: 187-221 (100.5 - 118.8%) -- guaranteed OHKO

-1 252+ Atk Life Orb Water Bubble Araquanid Liquidation vs. 252 HP / 0 Def Mawile-Mega: 78-94 (49.6 - 59.8%) -- 96.5% chance to 2HKO

252+ Atk Life Orb Water Bubble Araquanid Liquidation vs. 252 HP / 0 Def Garchomp-Mega: 127-151 (59 - 70.2%) -- guaranteed 2HKO
Relevant because this is one of the few naughty puppies that survives Hydro Vortex. It also guns for Araquanid with a vengeance.

252+ Atk Life Orb Water Bubble Araquanid Liquidation vs. 252 HP / 0 Def Registeel: 101-120 (54 - 64.1%) -- guaranteed 2HKO
If Registeel enters and TR is already up, KILL THIS FUCKING THING CLEANLY WHILE YOU HAVE THE CHANCE.

252+ Atk Life Orb Water Bubble Araquanid Liquidation vs. 252 HP / 0 Def Hippowdon: 250-296 (116.2 - 137.6%) -- guaranteed OHKO
Anyone used to playing with TR has learned to kind of hate these guys. They're no longer a problem!

252+ Atk Life Orb Water Bubble Araquanid Liquidation vs. 0 HP / 0 Def Charizard-Mega-Y in Sun: 172-203 (112.4 - 132.6%) -- guaranteed OHKO
Most fire types share a similar fate, as well as sunless Passho Ninetales, but it's great to have that sort of insurance.

252+ Atk Life Orb Water Bubble Araquanid Liquidation vs. 252 HP / 0 Def Primarina: 88-107 (47 - 57.2%) -- 87.9% chance to 2HKO
Not guaranteed, but worth the risk. I haven't yet failed to 2HKO, and they're relatively common enemies between rain, Xio, Kukui, etc.

252+ Atk Life Orb Araquanid Leech Life vs. 0 HP / 0 Def Politoed: 83-99 (50.3 - 60%) -- guaranteed 2HKO
There are a number of water absorbers, but this is one of the more common ones. This is helpful when they don't supply rain for your massacre.

252+ Atk Life Orb Araquanid Leech Life vs. 0 HP / 0 Def Latios: 159-190 (102.5 - 122.5%) -- guaranteed OHKO
Leech Life is a guaranteed OHKO on most psychics and grasses with builds similar to Latios, but Latios is among the more necessary ones.

If the enemy is so stupid to supply rain, Araquanid is unstoppable, even 2HKOing Suicune and Rotom-Wash, OHKOing Mega Swampert, and so on. The AI will occasionally try to burn Araquanid with Will-O-Wisp, with or without Protect, but the immunity from Flame Body is a godsend. Against teams which can carry Heatran, I'm always on the lookout so they can be eliminated before needing to send in a replacement. Because Heatran2 carries Protect, I'm also constantly aware of that (as well as any other users that like to use it out of nowhere.)

Araquanid's 4 SpD bulk is not to be underestimated. It's very difficult to KO on the special side, easily replenishes its HP against most of those foes, if it isn't able to KO them outright. This allows me to save most bulky waters not called Rotom-Wash for last, because Araquanid badly walls them and heals much more than they're able to do with their water/ice coverage. Their STABless Shadow Balls also inflict very little damage. Having said that, because Suicune builds can carry Calm Mind or some form of healing, I do like to batter them with Liquidation if the opportunity arises, because the good odds of defense drops makes them much easier to take down, especially once Mawile is able to join.

Being weak to Rock Slide was an excellent boon, because the AI loved being given a reason to spam it and it would do mostly negligible damage to Oranguru.

Drampa
@ Dragonium Z, Berserk
Quiet (196 HP, 60 Def, 252 SpA)
-Flamethrower
-Energy Ball
-Hyper Voice
-Draco Meteor
Paw Paw dragon served an even more important role on this team than it did with Hariyama. Lead Gastrodons are extremely dangerous on Rock/Ground teams for their ability to completely shut down Araquanid's main offense, so it was totally worth losing Protect for this extra attack. Drampa was my go-to for delivering OHKOs to Mega Slowbro, Cofagrigus, and a number of other walls that I didn't want my other sweepers tackling head-on. I could breathe with relief when facing the more notorious Brightpower/Lax Incense holders, also, because Devastating Drake made an excellent response to them as well.

Drampa has a lot of similarities to Porygon-Z in both bulk and offense, and while I'd love for it to be much tankier, it did allow Berserk to trigger more often. I tried to be especially careful when sending Drampa in because it's the spongiest unit on the team; without DD or Berserk, it doesn't have quite the wallbreaking power of the other two, either, so I had to be sure that when it entered, the enemies would leave (in a body bag.)

Mawile
@ Mawilite, Intimidate
Brave (252 HP, 252 Atk, 4 SpD)
-Crunch
-Iron Head
-Play Rough
-Rock Slide
No Sucker Punch. Sucker Punch BAD. Without Crunch, Cresselias and Bronzongs without Araquanid would be a nightmare, as well as any number of things weak to Dark that probably won't use most of their turns to attack. The scenarios where Mawile needs priority to finish something outside TR are virtually nonexistent, because in most cases it'd be better off using Iron Head. Rock Slide was also a valuable move in destroying some fire types when Araquanid couldn't be around or safely brought in. Play Rough rarely missed when I needed to use it, but Rock Slide did pose a couple of dire consequences from missing. I'm still glad I had the move instead of Protect.

Mawile was vital in neutering lead Scizor3s with their LO Uturns, as well as some Z-moves that I didn't want hitting Oranguru at full force, like Bewear4's Z-Giga Impact. Mawile was also frequently sent in after scouting lead Dragonites, as well as potential exploders. Sadly, vanilla Mawile's defense leaves a lot to be desired, but it usually didn't result in me losing it before it could deliver some necessary KOs. Huge Power is such a significant boost that a single enemy Intimidate or even a burn was usually not enough to stop it from inflicting serious damage.
Nuisances & Threats:
Empoleon: Takes more damage from resisted Liquidation than any of Drampa's moves (except DD which I would not normally waste on it) and while it isn't much of a threat offensively, I never felt comfortable letting it sit there for very long.
Gigalith: Namely, Set3. If it's Sturdy, it means Araquanid has to die for Liquidating it, or I can bring in Mawile and just watch it explode. They make very dangerous leads because of the restrictions they put on me.
Gastrodon: While they don't draw blood like Gigalith, Storm Drain is still very bad for me regardless, and these are fairly common enemies on themed teams.
Dragonite: Oranguru survives Set3's Outrage, but barely. Mandatory double Protect, and switching to Mawile regardless, because if not Outrage it's definitely going to Stone Edge. Fortunately, Multiscale only gives it a 50% chance to survive Play Rough. Be it 3 or 4, Araquanid doesn't have very good options against it, as Ice Beam isn't a guaranteed 2HKO if Multiscale, and will only activate Snowball, pissing it off more.
Golisopod: Mostly because Set3 not only has a Quick Claw, it's also unpredictable, and won't First Impression on sight. I typically didn't encounter these outside of Guzma.
Drampa: Set3 is not a guaranteed 2HKO for Liquidation unless the first one cut its defense. It also outspeeds Oranguru, which means that if I didn't KO, it's going to attack. It easily secures OHKOs on my own Drampa and Mawile, so it's very bad news. That said, the teammate it's with determines a lot of that, as I usually won the gamble with its Quick Claw, and tried not to even let it come to that. However, just using Liquidation willy-nilly is very dangerous as it will eventually try to Roost, which allows Berserk to trigger more than once. Arguably the most dangerous enemy to this team even without hax.
Registeel: If it's Set2, I'm golden, as it's weak and can't boost its defense. Any other set, I'm in for some struggling if it decides to begin boosting its defense. Liquidation is a solid 2HKO ONLY if its stats have not been jacked up. Curse is preferable to the Amnesia/Iron Defense set, because at least Drampa can attack it at full power. Fortunately, while I fought many of these in their least ideal scenarios (as leads) the Curse sets usually didn't try to rest until TR was shut off and I had the speed advantage, and could hit them twice for ~25% HP.
Honchkrow, Drapion, Sharpedo, Hydreigon, etc: Honchkrow is the big one, because Set3 easily OHKOs with Black Hole Eclipse and Set4 easily OHKOs with Drill Peck. Requires scouting and switching accordingly, which isn't always the safest, especially if it's Set3 and hasn't used BHE. As for the others, and most powerful Dark types, they present significant danger if they double team Oranguru, as Intimidate or protecting while trying to KO one of them is not necessarily foolproof. There have been battles where things play way out of my favor, but have been salvaged nicely. Outside of Grimsley, Punk Girls can often create this type of scenario.
Aggron: Honorable mention because when Oranguru did find itself taunted, it was usually from this thing. It's very unsafe to just attack them outright with Araquanid, because I usually encountered this thing on Scientist teams, who also carry Mega Aggron, easily surviving two Liquidations without defense drops and threatening to KO with Stone Edge. These fuckers also spam Thunder Wave, the bane of my existence (you're still my #1 nemesis, Glaceon. I'm not over you.)
Thunder Wave: Primarily from Latias4, Uxie1, Mesprit2, and various Rotoms. It eventually reached the point where I would rather Instruct-KO known T-Wavers and let Araquanid die in the process, because wasting TR turns from full paralysis was almost always worse than having free turns to attack, albeit minus a unit. Most of my rage-inducing battles were because of this move. I also learned not to Instruct Liquidation against Zapdos without Pressure, because it presented two opportunities for Static to trigger. Even Zapdos2, the bulky one, takes so much damage from one that a Psychic would KO if it connected.
Amoonguss & Shiinotic: Not overly nasty on breeder teams, especially when they're in the back, because the AI liked to save them for last. It's when they lead, or when they appear alongside much nastier things (like Glaceon4 in hail with Aurora Veil up) that their bulkiness and access to Spore becomes extremely dangerous. But the breeders made them much easier to deal with, given Oranguru's speed advantage; Psychic takes a fat chunk out of Amoonguss, gets to wake up from the first Spore right away, and a Liquidation will usually ensure that anything else will KO. Instruct going first outside of TR also allows for some carefully targeted executions. Liquidation is a guaranteed 2HKO on Shiinotic4 and while Set3 is the "bad" one, in a worst case scenario I don't mind holding out until Mawile can come in safely and just murder it with Iron Head. These two were pretty common enemies with mostly similar means of handling.
Baby Doll-Eyes: Primarina3, Sylveon4, and Vaporeon4 be damned. It's not so much the attack drop but the priority, and occasionally they even used it on something other than Oranguru or Drampa. This move is so annoying that I've been thinking of potential uses for it, myself.
Stockpile: Hahahahahaha! As if! The most prominent Stockpile users were easy pickings for Mawile and Araquanid, who could simply seed them for defense drops from Crunch and Liquidation, respectively, which quickly destroyed them. Versus Lanturn, Araquanid is able to heal more with Leech Life than it can damage (also compensating for LO recoil) and Toxapex's Baneful Bunker does nothing to Mawile.
Replays:
HK6G-WWWW-WWWJ-NXXR
Battle 999, VS Sightseer Christian, Glaceon4/Drampa3/Volcarona/Heatran3
Easily the most difficult battle I've ever had with this team that didn't involve Oranguru being slain before TR could go up. Drampa3 needed to be taken down, but I had no safe switches, and no immediately viable options; if Mawile comes in, I gamble with the QC and also must land Play Rough; Drampa comes in, gambles with QC, OHKOs the opposing Drampa and immediately falls to Blizzard. Araquanid can survive a few Hyper Voices with a Blizzard thrown in, but Liquidation will 3HKO without defense drops and it'll just be Roosting in the meantime. This one also had Berserk.
What I did was opt to keep Araquanid in play and focus on taking down its partners, which worked- somewhat. I took down Glaceon and Volcarona (REALLY would have preferred she send in Heatran) and Mawile replaced it once it fell to LO recoil, hitting Drampa on the way out. I was really hoping her last poke would be Latios or Alakazam, and my heart sank to find out it was Heatran. Dual Rock Slides, neither missed, and Drampa flinched, so no Fire Blast KO before the Instruct; Heatran destroys Mawile, but the two Rock Slides left it with ~30%, which Devastating Drake removed.
I've replayed this battle many times, trying different things from turn one, and only one of my other attempts was successful. My first replay involved bringing in Mawile immediately, and Drampa triggered the Quick Claw immediately. This seriously had every reason to be the end of my streak. Damn. I invite anybody else to either mock battle it with me, or consider any possibility of what I could have done differently *WITHOUT knowing she was packing Heatran as her final unit and planning specifically for that eventuality.*
LCPW-WWWW-WWWJ-NXGB
Batle 1000, VS Wally, Magnezone3/Garchomp4/Altaria/Gallade
Much easier than the previous battle, but they made pretty dangerous leads. Sacking Araquanid to attempt to take down Magnezone was the correct play, as Mawile and Drampa have a number of options for dealing with any combination of his remaining three, minimizing the danger to themselves. Araquanid never missed, so I was able to send in Mawile and take relatively safe gambles with instructed Play Roughs.
Last edited: