F
rick
it, Rock-type George
Pokémon
: George the Volcano
Type
: Water/Rock
Ability
: Volcanicity* / Rain Dish /
Harvest
*Grants the user the resistances of a Fire-type (including Fire, downgrading the quad)
Signature Move
: Wild Minerals - Rock, Special, 85 BP, 100% Acc, 10 PP | If the target is Water-type, its Special Defense is lowered by 1 stage.
Other Moves
: Water Spout, Steam Eruption, Hydro Pump, Scald, Liquidation, Ancient Power, Stone Edge, Rock Slide, Earth Power, Earthquake, Bulldoze, Energy Ball, Hyper Voice, Hidden Power, Mega Punch, Smelling Salts, Wake-Up Slap, Natural Gift, Nature Power, Stockpile, Swallow, Spit Up, Life Dew, Wish, Attract, Captivate, Sweet Scent, Recycle, Refresh, Purify, Rain Dance, Soak, Stealth Rock, Spikes, Roar, Swagger, Confide
Z-Move
: Grab Life by the Conkers - Water, Other | The user recovers up to 50% max HP and has all stats boosted. Affects adjacent allies in Doubles/Triples. | Base: Life Dew | Z-Crystal: Volvium Z
Stats
: 150/80/100/90/75/5 | 500 BST
Reasoning
: An iconic character in the YouTube Poop fandom, George here is a strange type of volcano that spews filtered water instead of lava. (Volcanoes are ordinarily fiery, hence the effect of Volcanicity.) I tried to make it Ground-type last time, but now that the meta has gained a fair few Ground-types, I'm fine with going by the "handsome volcano rocks" line and making it Rock-type. (Prior to that, "rain filters down" explains Rain Dish.) Thus, his Rock-type signature move is obligatory because Ancient Power is rubbish and Power Gem doesn't fit. As for his coverage: he gets Ground moves due to being stuck in the ground; Mega Punch because he has big fists; Hyper Voice and Roar after the first commercial; natural, healing, and status-cleansing moves from the idea behind filtered water; and personality-related moves (Attract, Swagger, and the like) from how he behaves in the second commercial. Speaking of the second commercial, the fruit he happens to have in the beginning of it is the inspiration for Harvest and Recycle.
(Sorry for the potato quality, but it gets the point across.)
Commercial 1
Alan: Raaaaaaaaah! Whaddya doing, Mr. Volcano?
George: Hello, Tyrannosaurus Alan! I'm filling my water with volcanicity!
Alan: Eh?
George: Rain filters down through my handsome volcano rocks to create a wild mineral water that grabs life by the conkers and hydrates you until you shout, "Come on, world; I'll have you for breakfast!" Try some!
Alan: *drinks* Hmm, yeah, I do feel hydrated. Come on, world! I'm Tyrannosaurus Alan, and I'll have you for breakfast! Raaaaaaaaah!
*A nearby spinosaurus quivers in fear*
George: Raaaaaaaaah! *erupts with water*
Narrator: Volcano filtered so it's full of Volcanicity.
George: Yes.

Commercial 2
Alan: George, are you still filling your water with volcanicity?
George: And making it tasty for the ladies.
Alan: George, so suave.
George: Well, my birds do like a twist with their water.
Alan: Your birds!? You can't say that!
George: My birds! They like a fruit flavor when they're hydrating! *points upward to swirling pterodactyls* Look! Birds! Tasty Volvic!
Pterodactyl: Zis water is délicieuse!
George: *erupts with water* I'm the daddy now!
Narrator: Volcano filtered so it's full of Volcanicity.

Commercial 3
George: Busy day, Alan?
Alan: Yes. I'm planning to snuff out all the sabretooth tigers, and the plotting involved is astronomical! I happen to be using graphs, charts, and flow diagrams, and I merely got a brain the size of a pea!
George: How do you do it, Alan? Do you perhaps drink new, hydrating Volvic Revive? It's got ginseng and guarana and will help keep you alert!
Alan: Yes I do! Now, I'm off to eat someone's parents.
George: Well done to revive! *erupts with water*
Narrator: Volcano filtered so it's full of Volcanicity.
George: Yes.

Commercial 4
George: Stimulating new Volvic Revive will help keep Alan alert for all his busy carnivorous plotting. Right, Alan?
Alan: *mouth full of stone* Mmm, yeah!
George: New Volvic Revive.
Also throwing in more resubs because I can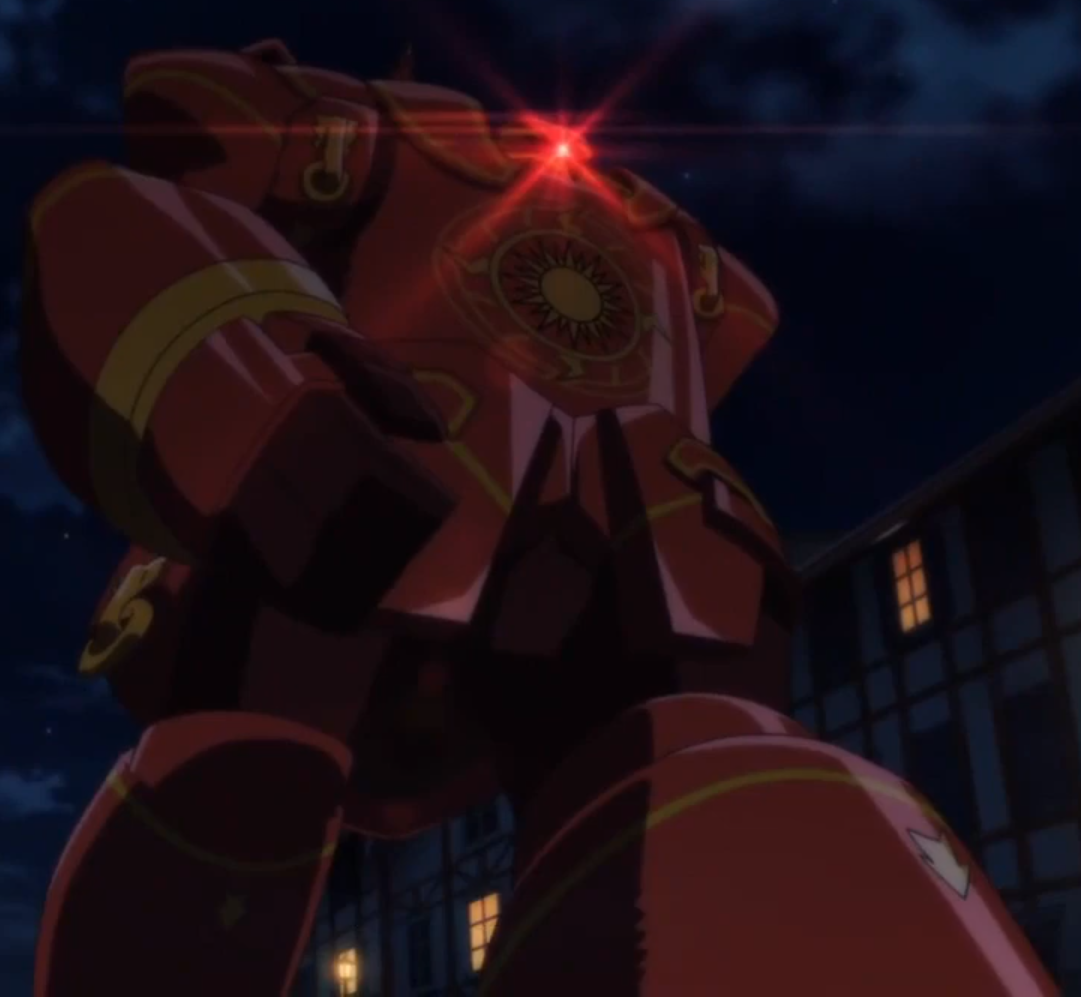 Pokémon: Deen
Type: Steel/Fairy
Ability: Forever Functioning - Deen is immune to status conditions. (Hard-coded)
Moves: Meteor Mash, Heavy Slam, Spirit Break, Earthquake, Superpower, Hammer Arm, Stone Edge, Rock Slide, Crush Grip, Knock Off, Fling, Stealth Rock, Spikes, Protect, Block
Stats: 200/100/100/50/100/50 | 600 BST

Gigantamax: Deen-Gigantamax
G-Max Move: G-Max Core Fuel - Fairy | Boosts the Attack, Defense, and Special Defense of the user.

Reasoning: Deen is described as a mobile doll crafted from Rare Sacred Iron by the Colony of Faeries. It stands over 30 feet tall, and each of its hands is the size of two humans. Even if it was infected with a disease it would not fall; the forever functioning magic being will always stand up. (Source: light novel, Volume 2)
Its Gigantamax form is a reference to how Asuka Kudou uses her Gift, Authority, to augment its size and power such as in Volume 4.
Pokémon
: Fitoria-Avian
Type
: Flying/Psychic
Ability
: Queenly Majesty / Magic Guard /
Aerilate
Signature Move
: Turbulent Cage - The user traps the target in a prison of razor-sharp winds. | Flying-type Whirlpool clone
Other Moves
: Brave Bird, Fly, Sky Attack, Psycho Cut, Hurricane, Aeroblast, Air Slash, Psychic, Psyshock, Earthquake, Close Combat, Brick Break, Aura Sphere, Play Rough, Dazzling Gleam, Double-Edge, Body Slam, Extreme Speed, Quick Attack, Nature Power, Razor Wind, Hidden Power, U-turn, Tailwind, Defog, Feather Dance, Work Up, Agility, Barrier, Cosmic Power, Light Screen, Reflect, Recover, Roost, Heal Pulse, Protect, Block, Imprison, Teleport
Z-Move
: Filolial Army - Flying, Other | Halves damage taken by the user's party for eight turns. This effect cannot be cleared like screens can (as in, only by trash man's signature move), but it can be bypassed by Infiltrator. | Base: Tailwind | Z-Crystal: Filolium Z
Stats
: 100/100/100/100/100/100 | 600 BST
Using a key item called the Royal Plume (similar to the Gracidea), Fitoria can change form between Avian and Humanoid.
Form
: Fitoria-Humanoid
Stats
: 100/100/85/125/90/100 | 600 BST
Reasoning
: Fitoria is known as the Filolial Queen, once a companion of Naofumi's predecessor (the former Shield Hero). Filolials are
basically Chocobos
an avian race in the Shield Hero universe, the heiresses of which have humanoid forms.
She meets Naofumi and co. in a bid to prevent Naofumi from using his cursed power against a rampant T-rex. Initially in avian form, she becomes humanoid to test Filo's mettle and convince Naofumi to get along with the Sword, Spear, and Bow Heroes. In the former case and the T-rex battle, she demonstrates prowess with might, magic, offense, and defense alike, all while boasting notable agility unbefitting her enormous avian form.
Her signature move was used on Melty Q. Melromarc to take her hostage, resulting in the duel with Filo. Her Z-Move refers to how she was introduced to Naofumi and co.: in the company of Filolial masses.
Last edited: