Approved by Ludicrousity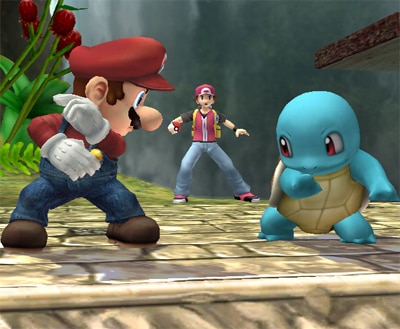 Crossover Chaos
Basic premise of Crossover Chaos is to turn characters from other video game franchises into Pokemon. Many other franchises such as Soul Calibur, Mario Kart, Sonic the Hedgehog, and of course Super Smash Brothers have had cameos from other franchises to either promote a series or create a crossover title.
For non-video game crossovers, check
here
.
Submissions
Each slate you have the opportunity to turn up to five of your favourite video game characters into Pokemon (check the Winning Crossovers tab below to make sure your character has not won before). Feel free to resubmit your character in a following slate if they did not win.
You will need to create a suitable Type, Ability, and Moves for these characters.
To keep things interesting, each character can have a new signature move, new signature ability, and/or new G-Max move.
Be sure to explain what your new signature move or ability does. Keep in mind of the abilities and affinities that the characters have in their original games and series.
As a guide
, keep your submissions as powerful relative to their own universe. A regular enemy should have average stats, protagonists should have stats similar to OU Pokemon and god-like characters should be limited to cover legendary BST.
​
Pokémon
: [Name of character]
Franchise/Origin:
Type
:
Regional Variation:
(Optional)
Ability
:
Notable moves:
Signature move:
G-Max Move:
(
Optional)
Stats
: HP/Atk/Def/SpA/SpD/Spe
Reasoning:
Explain the reasoning for the character's type, ability and moves. Include description and details of signature move or ability such as BP, secondary effects, form changes, etc. Feel free to be as creative and include as much detail as you want.
​
​
Pokémon
: Pikachu
Typing
: Electric
Ability
: Lightning Rod (Raises Special attack by one stage when attacked by an Electric type move)
Moves:
see here
Signature Move:
Volt Tackle (Scaled BP | Electric | 100% Accuracy | 100% chance to paralyse all opponents)
G-Max Move: G-Max Volt Crash
(210 BP | Electric | | Physical | must know Volt Tackle)
Stats
: 35/55/40/50/50/90
Reasoning:
Being an electric mouse, it makes sense that Pikachu is an Electric type. It's ability to conduct lightning allows it to have the ability Lightning Rod. It's new signature move, Volt Tackle, comes from the immense electrical charge Pikachu covers itself in when it charges at its opponents. Volt Tackle has 120 BP, has 10% chance to paralyse, and deals 1/3 recoil damage.
​
Voting
Vote for your three favourite submissions by others in a 3-2-1 format (positional voting).
You can only include
one
of your own submissions but it cannot be your top vote.
Late votes do not count.
Bonus Theme
Every odd slate there will be a bonus theme.
Any submission that fits the theme will get a a bonus vote at the end of the slate.
Please show that your submission matches the bonus theme like so:
**Pikachu**
Have fun!
​
Last edited: