I remade two of my cards and have some explanations set up. One team is my unofficial dream team composed of some of my all time favorite Pokémon. The other is... self explanatory.
(Team 1: HGSS Edition)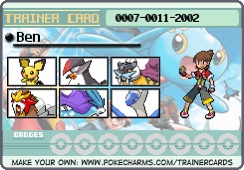 (Team 2: "Guardian SIgns" Edition)
Feraligatr: Has consistently been one of, if not my favorite Pokémon of all time. I absolutely loved using it in SoulSilver back in the day. I once made it all the way through the game with just this thing and whatever HM users I would have had, it's been so long I can't remember.
Crobat: I've instituted a new rule that I want to use at least one Poison-Type on every future in-game team I make for the foreseeable future thanks to the incredible Poison Shiny events of 2019. Crobat serves as this team's flyer, counter to Bugsy and one of three Bruno counters, and a callback to what is now the holy grail of my small collection of Shinies.
Ampharos: The textboox definition of reliable, Ampharos makes the cut as a mandatory counter to some of Clair and Lance's Pokémon, and to my surprise half of Will's team also. Not much to say here except the Ampharos in the lighthouse is memorable enough to where I always name my own "Amphy" in its honor.
Heracross: My main counter to Whitney, Jasmine, and Pryce, Heracross has always been one of the best single-stage Pokémon in history. Love its design, love its battle style, and love its great role compression on my team. Bug/Fighting is such an underrated offensive typing, and Heracross has the tools to make it work.
Dragonite: Very memorable for me because of Lance and a few other sources, and a borderline necessary addition to my team for the battle with Clair. Excellent wild-card Pokémon with a wide movepool that I'd love to try and raise some time. I also like how there's different ways to obtain a Dratini.
Espeon: This one's one here for two reasons and two reasons alone. Reason 1? I need a counter to the ridiculous amount of Poison-Types in this game. Reason 2? Because it's Espeon. I've talked about this before, people.
Pichu: Believe it or not, Pichu may actually be in contention with Feraligatr for my favorite Pokémon of all time. No prizes for guessing where I got my love for it from, but it's also in Smash Bros. Ultimate and ABSOLUTELY should have had the ukulele included in there somewhere...
Staraptor: The main flyer of that series as of the second game, and his partner if you play as the female character. Not much else to say here aside from how stupid this thing can be in a Sinnoh playthrough.
That leaves the four Legendaries, who are all involved a feature known as Ranger Signs and help the player travel around the region. The Lati Twin you get depends on your gender choice. ORAS may or may not have accidentally referenced the Lati@s part of this with the Soaring feature, one of my favorite additions to that game as a whole for this reason...