Are you interested in anything in my trade thread (should be in my sig)
Didn't stop the check your thread, but I believe you PM'd me about an egg that hatches shiny on one of my profiles. I'd love to get rights to another nicknameable monster, so let me know about that and I'll check your thread at the same time. (It's late here).
[485] Heatran

OT: Joe (14883) (Lv. 81)

Nature: Modest - Ability: Flash Fire

IVs: 31/XX/30/31/31/31

Moves: Hidden Power Ice, Earth Power

Tradeable Stock :

Notes: Reset by Impact, who said it was only re-distributable by him and me.

would you be interested in a 30/31/30/31/31/31 shiny HP ice timid heatran for this? or maybe a hexflawless calm cresselia SR'd by me?
Did you still need this Heatran? If so, I'm sure we can work something out. Will be checking threads tomorrow.
Alright, Pokeguy. I'll try as hard as I can to get the shiny snorunt for you. If I'm lucky. If someone has managed to get the shiny naive snorunt for you before I did, please let me know by sending me a pm. Thank you.
No one has traded me a Naive Shiny Snorunt and I am still interested.
Looking for cloning services if possible. I have multiple flawless Pokémon from previous generations that I need to have cloned. Thanks for your consideration
Sorry, I can't clone myself, still haven't purchased powersaves.
Pokéguy

- Hey there, I got the shiny snorunt. :)

Please let me know when you're available.
Awesome. Sorry it took so long for me to get back to you, I get kind of caught up in these reset projects. Let me know when you can trade.
Speaking of reset projects, after many months of long nights resetting, I managed to catch this a few minutes ago: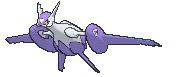 [380] Latias
OT: Pokéguy (56512) (Lv. 30)
Nature: Timid - Ability: Levitate
IVs: 31/17-19/31/31/31/31
Tradeable Stock :

: 1
Note: This was soft reset by myself on Omega Ruby with a Legit Eon Ticket. Trophy Case.
/Updates. Happy New Year Smogon! I can't wait to check all the new monsters people have reset this year!