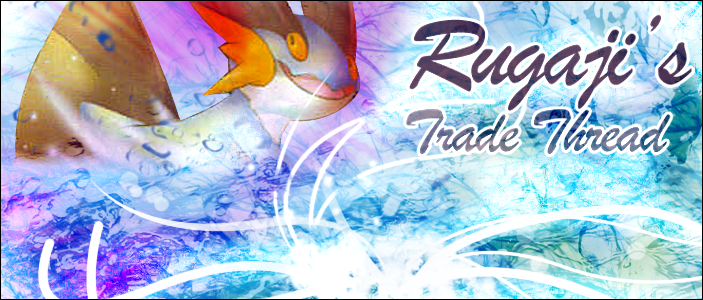 Thread Information

OT
:
MeLLoW
| ID: 57427
SoulSilver FC: 25
79-7296-4114




OT:

Rugaji

| ID: 01559
Black FC: 1850-1062-7503
OT:
Rugaji
|
ID:
26496
White FC:
N/A (Only using this to RNG)
Credits to Buckert for allowing me in using his format + some tweaks to it
Code:
Pokemon Sprites
#000.Pokemon name (Nickname:) | Availability 
 OT: | ID No.: | Gender: [COLOR=Blue]♂[/COLOR] / [COLOR=Magenta]♀[/COLOR] 
Nature: | Ability: | Type: 
Location: | Date: 
IVs: | Hidden Power: | EVs: 
Moveset: 
Notes:
Please read the rules if you haven't before asking or offering:


No hacked Pokemon's may be traded here. No Pokesav, nothing.. just don't trade me or anyone hacked Pokemons.

Fully

-Redistributable means "It can be traded everywhere on Smogon".

Semi

-Redistributable means "You have rights to trade, but whoever you trade it to doesn't have rights".

Non

-Redistributable means "I have rights to trade, you don't".

Not for trade

means "I can't trade".



Please be patient. If I don't reply right away, don't throw PMs or VMs at me. You will most definitely be ignored. Don't PM or VM me for trades unless discussed, or if you don't have a trade thread.

You MUST have a trade thread to trade with me from now on. If you don't have a trade thread, but have been on Smogon for a while and have significant amount of posts, we can work something out.

IVs will be shown as followed: HP/Atk/Def/SpAtk/SpDef/Spe

The majority of my Pokemon's will be

Semi-Redistributable. I don't want my Pokemon floating around.

All Pokemons' will be listed by Generation/Region, so they're easy to follow.

If I ever find out that the Pokemon I received was hacked, I will report you to be put on the Blacklist.

The Pokemons I bred/caught/RNG and traded to you with

Semi-Redistributable should be credited to me with a link to my trade thread. I will do the same for you.


If a Pokemon is in a shiny color, that means it's shiny.

I will only be trading 5th Gen. Pokemons with other 5th Gen Pokemons' in the meantime until that side of the thread is filled. After, 5th Gen. Pokemons can be traded with any previous Gen Pokemons. This will take a while to happen, though.

Please read the rules and have fun! c:
AR Codes I use:
Fast Egg Hatch

EV/IV Check

SID Check

Pokemon Re-battle Code

900x All Pokeballs

Cloning using the Pokemon Party and holding R to switch
Whitelist:

Exploits; for taking 48+ hours of his life in helping me with RNGing. (lol)
Winters Zombie; reminded me about roamers in the process of RNGing eggs.

Buckert; for using this awesome format layout. It just makes it so easy to layout the Pokemon c:

EV Training Service:


EV training two Pokemon for a credit or a copy from one of the two

Cloning Service:


2-6 for either a clone of the Pokemon I'm checking or a credit

EV/IV Check Service:

4-6 for either a clone of the Pokemon I'm checking or a credit


Breeding Projects:

Still doing BPs for HGSS. This is the format you'll have to fill out:

Pokemon
Gender: / Ability: / Nature:
IVs:
Moveset:
Hatched Location:
Shiny: Yes / No
Hidden Power:

HGSS Breeding Projects will be 2 credits and you will have Semi-Redistributable rights with it with credits to me.


I will not be doing B/W BPs since I don't know how to do them yet.

Credits I have from peoples' thread:
chriscobi634
- 1
Cybertron
- 2
Vagabond Aeon
- 1


Credits I owe people
:
LolcakesxD
- 1
labarith
- 1
Ericcc
- 6
​