If you go to the comments section of the

2014 VGC World Championship Finals

(the one where Sejun Park rocked the scene with a Pachirisu) you will find a particular quote spammed incessantly:

"Strong Pokémon. Weak Pokémon. That is only the selfish perception of people. Truly skilled Trainers should try to win with their favorites."

This upsets me on a few levels.

Firstly, Park didn't choose Pachirisu because it was his favorite. I mean, it probably became his favorite after the fact, but Park chose Pachirisu because its unique traits were the best fit for the team he already had. These commenters might as well be spouting off about skilled Roys. Not only is it derogatory towards competitive Pokemon as a whole, but it undermines what makes Park's choice of Pachirisu so incredible. There's a pretty stark difference between thinking outside the box and finding the right tool for the job in an unexpected place, and using something because "lol its muh favret".

Secondly, Karen is a bit of a hypocrite. Three out of her five Pokemon (Umbreon, Gengar, and Houndoom) range from decent to amazing in GSC OU, and Vileplume is pretty okay in GSC UU. For someone who preaches the importance of ignoring strength and using your favorites, a lot of her favorites just so happen to be pretty damn strong. How convenient.

Thirdly, what the fuck do you mean "that is only the selfish perception of people"? You mean to tell me that it's all in my head that Kyogre's rain-boosted Water Spouts are stronger than a dinky Water Pulse from a Feebas? That it's not true to say that DVs and IVs make some Pokemon objectively stronger than their brethren?

Bitch, you ever heard of math?

Probably not, because Pokemon exists in a goddamn shonen world were the only things that matter in life are believing in yourself and your friends and the heart of the cards and other such bullshit. Who has time for basic schooling when there is glory to be won? Certainly not the entire fucking population of every region of every game.

This concludes my ranting.
So much so that in ORAS they included a Gentleman in the Battle Resort who touts the opposite philosophy: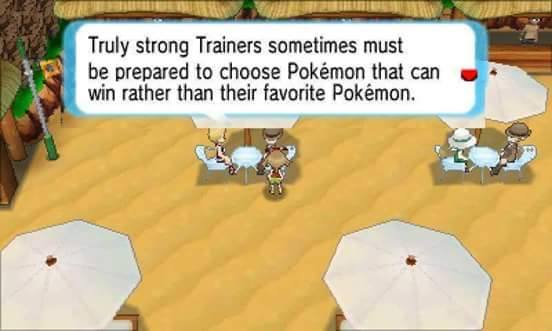 That said I think what Karen says can be justified in two ways:
1.
Karen's dialogue was written during Gen II. At that time the game only had 251 Pokemon, there was no Abilities, there was no super mechanic, and they just introduced new Types (Steel & Dark) & Breeding. Speaking of Breeding, back in Gen II
Breeding wasn't as manipulative as it is now
, you pretty much bred a Pokemon for Egg Moves
which also weren't that complex
. Also the Special Attack and Special Defense stat was all one Special Stat, and a Moves category was strictly based on the Type which left some Pokemon with a weak STAB. Combining this altogether, honestly back then I'd say it was perfectly feasible to do what Karen said cause the mechanics weren't as refined you could probably get away with it.
Of course, by HGSS things had RADICALLY change. What Karen says just doesn't fly anymore, at least if you want to battle your way through the post game battle facilities. I think it should have been changed to something like "
Strong Pokemon. Weak Pokemon. If you have a favorite Pokemon that shouldn't matter. It's more fun to try and win with what you love than following what anyone else says
". I think that keeps in tone with what they wanted Karen to say (it's fun to use your favorite Pokemon) while not hiding that there are better Pokemon then others.
2.
Karen is a Dark-type user. Many Dark-type specialists we've been given in a way have been a form of an "anti-trope". Sidney is a posh punk, Grimsley is a destitute aristocrat, Nanu is a jaded police officer, Piers is an anti-establishment goth rocker, and Marnie is a bit antisocial and stoic. So, what does that make Karen? Well, judging by her dialogue and she was the first Dark-type trainer made during the early days of Pokemon, she may just be a typical rebel character. Rebelling against what? What people are saying are the best Pokemon, of course. I guess in a way she's also a hipster. She may not even care about winning or losing, she just wants to have a good battle and the more interesting battles are with Pokemon that aren't the ones everyone is using.
So in that regard, she probably would have loved how Sejun Park won an official tournament Championship with a Pachirisu. Not because it shows that if used in just the right way any Pokemon can come out on top. No, she would have loved it because this guy found a loop hole in the metagame to let him play a trick on everyone by using a Pokemon people deemed weak to climb to first place. Instead of using a tried and true team that makes up more than 90% of all teams, here's a small Pachirisu to mess things up! And even if Sejun Park doesn't consider Pachirisu a favorite, there are people who probably do and got a kick out of seeing Pachirisu support its team to the championship.