YOU WANT FUN? WARIO SHOW YOU FUN!









Moderator
"A stranger is being shown around a village that he has just become part of. He is shown a well and his guide says "On any day except Tuesday, you can shout any question down that well and you'll be told the answer." The man seems pretty impressed, and so he shouts down, "Why not on Tuesday?" A voice from in the well shouts back, "Because on Tuesday, it's your day in the well."
OK so before we get on with our scheduled programing, I have an important PSA for anyone who is at least 18 years old and lives in the United States...
VOTE MOTHERFUCKERS!
Seriously, I've done almost nothing but sit on my ass and play Mario and Pokemon since the pandemic started, and I STILL voted early! If I can vote, you can vote too. What happens today is way more important than this thread!
Now, back to our regularly scheduled programing.
Just to warn you, as you may expect from me... this post is fucking massive, which wasn't my intention but this is what happens when I work on something for an hour uninhibited lol. You don't have to read all this stuff if you want, but I'd at least suggest going to the bottom to see a really dumb "animated" Mario sprite I made for this thread, it even has something to do with an actual well! If you do read it though, you may or may not find out some interesting stuff about me!

About Me (Smogon)
i've been here since January 14th, 2009. Damn, that's actually a long time, even if I never really considered myself "ancient" by Smogon standards! Being here for 12 yearrs means I got a TON of stories I can tell about Smogon.
I actually first started looking into competitive Pokemon in about 2005 however, and almost joined this site when I was 13 under the name "Mewrio', because I like Mario and Mewtwo! Even though I ended up never joining, I still lurked a lot.
Fast foward to 2007. I get bored of playing Pokemon the normal way, and decide I want to get into competitive Pokemon! I do this by banging my head against the RNG by doing stuff like soft reseting for a Palkia for a week (I settled on a Hasty one with a Defense IV of 15 or so lol), giving up on Giratina because I find a shiny one, and am like "yeah fuck this", and get back to my usual Mario shenigans.
Now with late 2008, when Pokemon Platiunum came out in Japan, I ended up importing it because somehow, the hype of Bullet Punch Scizor and everything getting Outrage and Heat Wave sucked me back in. I ended up breeding Garchomp, Wobbuffet Scizor, Kingdra, and a TON of Focus Sash ready mons (aka I only need two 31 IVs in my 16 year old mind), transfer them back to Pearl, and start strolling along with them online in Pokemon Battle Revolution of all things (sidenote: I also destroyed everyone in my high school with Wobbuffet + SD Garchomp lol). I actually wanted to use a ton of Ubers like say, two Palkias, but I was a goody twoshoes and refused to hack, so I'd get into situations like putting 1000 Gible eggs onto Pokemon Ranch.
Seriously, I have the images in these hide tags below of 1000 Gible eggs, and 1000 Gibles afer they hatched. Only one of them was good, and anoher was shiny, the rest were nuked with the Pokemon Ranch savefile. Now you know why I hate breeding!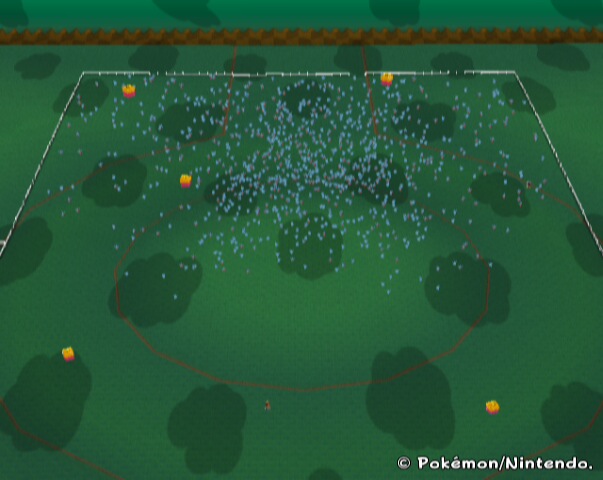 Fun fact: I also battled
Jibaku
here before I even JOINED Smogon! I recall the match going something along the lines of "switching out Honchkrow from Giratina, Encoring Giratina with Wobbuffet, smashing stuff with SD Garchomp, taking down Groudon with Custap Wobbuffet Destiny Bond". I don't know why I still remember this battle lol.
OK time to cut things short cuz I realize this is growing giganatic. I joined in 2009, focused on Ubers, and talked way too much about Wobbuffet. This wasn't just because it was successful for me on the Shoddy Battle ladder and made me a sorta notorious player, but because I liked the sadistic feeling of removing choices from my opponent (which to this day, I do enjoy to an extent lol). Around this time, I also found Smogon's IRC (an ancient internet chat program we used before Discord) around this time, and stayed throughout the various incarnations of the competitive Pokemon channels (#biuret, #stark, #dreamworld, and #pokemon). I chatted a shit ton in most of these, there's a bazillion stories you'll probably mine up if you ask me questions about this lol.
I also became notorious in 2009 for my Pokemon analyses. See, I've always had a problem with writing too much (like in this post lmao), so when the addition of Team Options to analyses in 2009, all gen 4 analyses needed new additions, and I was heavily involved with the Uberrs part. In fact, as
Colonel M
can tell you, it became such a problem that an ENTIRE temporarly section called the "concison project" needed to happen!
While I mostly stuck to Ubers (besides that fliration with Glitchmons in gen 5 lol), I eventully transitioned to Battle Spot Singles starting in 2013, when Pokemon XY brought forth an actual functional ladder on cart. Since then, I've mainly focused on that, even to this day. Probably my proudest achievement of this era so far is winning the Ultra Final Competiton, which was the final online competiton Gamefreak hosted for Ultra Sun and Moon!
About Me (outside of Pokemon)
I'm a 28 year old guy who lives in Ithaca, New York (aka the place with Cornell University). My biggest passion is science, specfically astronomy and astrophysics. As a child, my life goal was to explore the Milky Way in search of other intelligent life. When I was 8 years old, a combination of finding contradictions in the Bible (yes seriously), realizing the full nature of mortality, and realizing the vast, ever expanding nature of the universe, crushed those dreams, and led to a severe mental breakdown that took a long time to recover from.
I should probably address something I'm sorta well known for: yes I had very severe health issues when I joined Smogon. Due to severe asthma and allergies that took some pretty exceptional treatment to finally put under control, I was bedridden for a lot of my teenage years, and had to drop out of high school. That's actually why I was so active in my early days of Smogon, I didn't have much else to do! I've since entered college, but haven't completed it yet partially to do some real life issues, and especially Covid-19. So I'm currently at a frusterating stand-still this year education wise, but I plan on using online education among other things to get back on track next year. It's never too late for education!
On a much more positive note, besides LOVING stuff about space, I actually have a wider scope of interests than you may expect! I LOVE hiking and camping, and one of my fondest memories was camping outside in the Adirondacks as a final exam for a camping biology class for 8 days straight! I honestly would have gone longer if I was allowed, I love outdoorsy stuff, climbing, hiking, etc, especially since i didn't get to do that stuff often as a teenager due to health issues. Similarly, I like fishing when I get the chance (though I'm no expert lol), its a nice, quiet activity that gives me time to think, with some excitement too!
On the more nerdy side of things, I like to read books a lot, particularly hard scifi that deals with the fermi paradox. I ocasionally read manga too, though I usually focus on series that have finished already (big exception being One Piece, which you Smogon nerds got me hooked in like a decade ago lol), I've loved Godzilla related things since I was a child (except the 1998 American movie, that shit is blasphemous!), and I play a shit ton of video games. To be specfic, I casually collect video game consoles. I have about... 70-80 different video game consoles now? A lot of them are obscure and many were made before I was even born, but I'm really into video games!
And finally... yeah speaking of video games, there's one last elephant in the room to address... Mario. I'm an
MASSIVE MARIO MANIC!
Seriously, I don't think it's an understatement to say I'm at least the biggest Mario fan on Smogon. Specfically, I play through the mainline platformers at least once a year since 2010, which started as a way to celebrate the 25th anniversary... but then I never stopped! A lot of my love for Mario may be attributed to how I was introduced to it: I was given hand-me down NES when I was 2-3 years old. During that time, I was nearly deaf, but wouldn't be strong enough for surgery to fix that until I was 4 years old, so my parents would crank up the TV volume insanely loud so I could hear it.
The first video game I ever played was the original Super Mario Bros. Being able to hear what I was doing, my own ACTIONS, had a really profound impact on me as a kid. The controls of Mario felt extremely natural, and I was hooked already! While Super Mario Bros is not actually my favorite Mario game ever made, it's easily the one I've played the most. To this day, I always find good excuses out of nowhere to go "hmm I should play Super Mario Bros", its basically digital comfort food for me!
OK I've rambled long enough. Here's that stupid "well" sprite I promised. Feel free to ask me anything. I don't care how many questions you have or how complicated they are, I'll answer them if you want them answered!