Robot from the Future




Orange Islands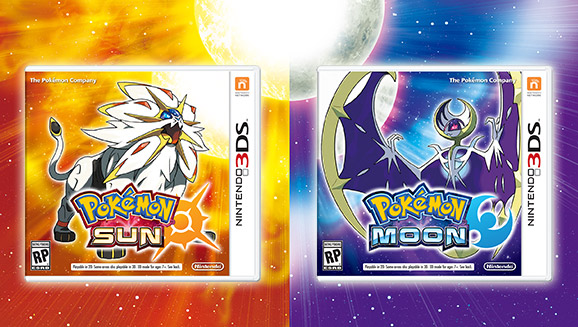 Welcome to Alola!​
​
So for the final time before launch, we are relaunching this thread in conjunction with another thread I will be putting up shortly. The other thread has reached over 200 pages of great discussion (and some not so great discussion) of all the
Official Releases Of Material
.
This thread will be where people can talk about those pieces of
Official media which either come from the Pokemon Youtube channels or other official sources. We do not want to talk about the demo here as there are still many people who do not want any spoilers APART from the official media
.
At this point, if you are still scared of Spoilers, I suggest you leave this subforum as there will be a LOT of information posted here over the coming days if GameFreak have done what they did with the ORAS demo and put most of the data in it. Data mines will be happening sooner than you think, and with less than 24 hours until the Demo reaches Japan/Australia, I suggest you go and hide for the next month. That data will be placed in new threads here, with the SPOILERS!!! tag, just to you know, reinforce the point.
If you post data sets from any data mining or demo spoilers in this thread you will be infracted.​
The Official Youtube channel can be found here:
https://www.youtube.com/channel/UCFctpiB_Hnlk3ejWfHqSm6Q
And the Japanese one can be found here:
https://www.youtube.com/user/PokemonCoJp
Current SM Timeline
10th February 2016:
Magearna
is revealed via early issues of CoroCoro.
14th February 2016:
Magearna is officially revealed
26th February 2016: Pokemon Sun and Moon are officially revealed in a Nintendo Direct
15th April 2016: Magerna's
typing is revealed
to be Steel/Fairy.
10th May 2016: Alola and Starter Pokemon are officially revealed. Rowlet, Litten and Popplio.
2nd June 2016: Cover Legendaries are revealed, Solgaleo and Lunala. As well as
high resolution images of Alola
10th June 2016: Corocoro leaks reveal
Komala
and
Rockruff
11th June 2016: Zygarde 10% and 100% are shown at Taiwan nationals.
14th June 2016: Nintendo E3 Treehouse reveals
Pikipek
and
Yungoos
. The trailer then goes on to reveal
Grubbin
. Battle Royale mode is also teased.
Treehouse Video (Approx 45 minutes):
30th June 2016: New trailers revealing 7 new Pokemon: Tapu Koko, Charjabug, Vikavolt, Drampa, Bruxish, Cutiefly and Togedemaru.
7th July 2016: Salandit is revealed as well as Rockruff and Komala.
12th July 2016: CoroCoro leaks and reveals Bewear and Mimikyu.
19th July 2016: Another 6 Pokemon are revealed. Wimpod, Bounsweet, Comfey, Mudsdale, Mimikyu and Bewear. Hyper Training which allows you to change IVs is also revealed.
1st August 2016: Pokemon Youtube channels reveal 6 new Pokemon: Fomantis, Lurantis, Gumshoos (Yungoos' evolution), Minior, Mudbray (Mudsdale's prevolution) and Oricorio (A bird with four different formes depending on the island it is from). It also reveals 5 new formes for Kanto Pokemon: Exeguttor, Vulpix, Ninetales, Sandshrew and Sandslash. It also introduces Z-Moves, Kahuna's and the Island Challenge Trials.
9th August 2016: Corocoro leaks and reveals Alolan Marowak and Meowth as well as several new Pokemon. A Ground/Ghost Sandcastle two stage line, a fish which can appear to change formes and Bewear's prevolution.
10th August 2016: Leaks surfaced pointing towards August 12ths new information
11th August 2016: The Japanese Pokemon Youtube Channel releases a trailer showcasing the Pokemon from the leaks and some new Alola formes of Raichu, Marowak and Meowth. No English names as of yet. English trailer was announced mid afternoon. New Pokemon are called Wishiwashi, Pyukumuku and Morelull.
18th August 2016: GamesCon Germany goes in depth with Battle Royale, showing off some of the moves the new Pokemon have. Check out this post:
http://www.smogon.com/forums/thread...-discussion-mkii.3578318/page-79#post-6950882
For more information. They also showed us a new Pokemon; Turtonator.
19th August 2016: Sandygast and Palossand are the english names of the Sandcastle Pokemon revealed in Corocoro, as well as Stufful being the prevolution of Bewear. Crabrawler is also shown.
1st September 2016: More information on Z moves and Alolan Rattata are revealed in a Nintendo 3DS Direct. There is also an "early buyer" Munchlax available. Pulverizing Pancake is revealed to be Snorlax's own Z Move. It
requires
Giga Impact to be in Snorlax's moveset in order to be used.
6th September 2016: Team Aether is introduced as another Team that appear to be on the right side of the law... Type: Null, Jangmo-o, Alolan
Faticate
Raticate are revealed as well as the mysterious and ethereal UB-01 who appears to be an "Ultra Beast". Dexio from Kalos appears to give you the Zygarde collection quest. They also introduced the version differences.
7th September 2016: Japan gets an exclusive trailer which highlights Solgaleo and Lunala. It also has lots of imagery of new locations and Alolan Professor Oak.
https://www.youtube.com/watch?v=8oO_P4GX_RA
12th September 2016: Corocoro leaks revealing UB-02 Beauty and UB-02 Expansion. It also shows off the evolutions to Rockruff (Jap Name: Lugarugan, Midday and Midnight forme). It also gave some details on the Munchlax and also some untranslated information about Pokemon GO.
14th September 2016: Japanese Pokemon website updates and the West gets their first footage of Ultra Beasts:
https://www.youtube.com/watch?v=7Z8hARTlZrE
UB02 is called Absorption in English. Beauty retains its name.
20th September 2016: New youtube video presents 3 new Pokemon: Passimian, Oranguru, and both formes of Lycanroc. It also shows off even more trainer customization and Pokemon Refresh (which we presume to be analogous to Pokemon Amie). Eevee and Pikachu also get exclusive Z Moves.
https://youtu.be/m8lfI66T5II
4th October 2016: Youtube released the middle stages of the Starters; Dartrix, Torracat and Brionne. It gives us a teaser of many different play aspects called the festival Plaza. It also confirms Mega Evolution. Demo is due for release on the 18th of October, one month before the games are released internationally.
https://www.youtube.com/watch?v=ciqAkdXQ9dw
12th October 2016: Corocoro leaks and shows us Alolan Grimer and Jangmo-O's evolutions as well as Type:Nulls evolution
14th October 2016: Youtube releases a new video showing Silvally (Type: Nulls apparent evolution), Hakamo-O (the evolution of Jangmo-O), Kommo-O (the final form of Jangmo-O), Ribombee (the evolution of Cutiefly), Steenee (evolution of Bounsweet), Tsareena (Final evolution of Bounsweet), Alolan Grimer and Alolan Muk.
https://www.youtube.com/watch?v=RQ4I_0DP4fc
Last edited: