Burning 3DSes before the virus known as GSC hits.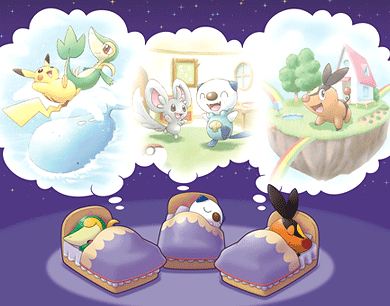 Hey, moderator status feels good! Almost like a dream! May is also the most badass month of the year. And...it's been a good time to get new Pokemon. Entralink Pokemon...So, this month features a collection of all Entralink abused Pokemon (by me), giving them away to people who would like some semi-rarities!
But, as some of you know, you gotta play to win!
Santa Chu's Rules:
1. All entries must be posted here. Your response must include the following stipulation: a Munna sprite (to show you read the rules!-heck, look, here's one:
).
2. I will be distributing these Pokemon. Winners may vm/pm me to pick up the Pokemon if they see their name on the list.
3. This is a 5th Generation giveaway, so B/W fc is needed.
4. One Pokemon per person. You may choose which one (and mention it in your post). In that aspect, one entry per person (no editing your post!). Once a Pokemon is won, it cannot be claimed by another.
5. ICBB/Blacklisted members may not participate.
6. All Pokemon are non-redistributable.
7. Breaking any of these rules disqualifies you from this giveaway. Don't forget. I am a moderator now. Fail to follow the rules, and I'll ban you!!!! :P

Just messing, but please, do follow the rules.
​
So, how about those prizes? Well, there are five separate tiers for a Pokemon. The higher the tier, the more difficult the requirement. So...onto the giveaway and the requirement to win.
(Click on the Poke for more details)
Tier 1
Task: A riddle
I can fly like a bird not in the sky,
Which can always swim and always dry,
I say goodbye at night and morning hi,
I'm part of you, what am I?
Winner:
Plusle (Arceus)
Tier 2
Task: Find (and link) another place where the username "religiousjedi" is linked to.
Winner:
Victini (Poliwag)
popzmaster (Vulpix)
Tier 3
Task: Of the 16 teams in the 2012 NBA Playoffs, choose four of them and represent them with a Pokemon sprite and logo.
Winner:
Tan (Spinda)

Tier 4
Task: Name at least five of the Ambassador Program games given away to early adopters of the Nintendo 3DS.
Winner:
devstar (Gligar)
czechm8 (Absol)
Tier 5
Task: I like Pokemon music. Show me your favorite Pokemon tune and the reason you enjoy it. It can be anime or game.
Winner:
Advancer (Magikarp)
TrollFreak (Anorith)
TalkingLion (Cacnea)
Jer (Butterfree)
mhybear (Koffing)

Tier 6
Task: Choose the Pokemon you want and give it an EV spread and moveset. Explain the reason you chose the intended spread.
Winner:
Drizzin123 (Aerodacyl)
JackieChun (Exeggcute)
Drifblim (Oddish)
​
This giveaway ends May 29th at 11:59p EST.